Integrating Our Theory of School Improvement
& the OECD Learning Compass
What is the role of conceptual understanding in developing student agency?
As part of our participation in OECD Focus Group 2B, we have developed an integrated model of our core Theory of School Improvement, as it relates to the Learning Compass metaphor of the OECD Well-Being 2030 vision.
Watch the short video below from the OECD about the basic vision of the Learning Compass model. Then, explore the graphic to the right and use the resources below to further engage the conceptual elements of our model.
A conceptual understanding of agency?
At the heart of the OECD Learning Compass metaphor is the concept of student agency, including co-agency, and collective agency in relation to the Well-Being 2030 vision. The idea is simple and compelling: students should be empowered to become the drivers of their own learning, together with teachers and community members around the world. 
We agree with the central importance of agency as a concept in educational innovation, and suggest this begs further critical questions:
What does it mean for students to understand the concept of agency?
How does our conceptual understanding of agency relate to our actual capacities for agency, our adaptive flexibility, that is, our

ability to alter or sustain behaviors in relation to identified values and goals?
All humans have an intuitive sense of the nature of
agency
in themselves and others, and yet we vary widely in the concepts (e.g. words and symbols) we use to understand and communicate about it. 
Our concept of the
metacognitive loop
(
see
Eirdosh & Hanisch, 2023
) suggests that the well-justified emphasis on the concept of
agency
within the Learning Compass can provide one central focus for interdisciplinary conceptual learning across the curriculum.
That is, the concept of agency is one important entry point into developing an interdisciplinary conceptual understanding of human behavior, cognition, and culture more broadly (see Hanisch & Eirdosh, 2023). Human agency is central to the human condition (see Sokol et al. 2015; Atkins et al. 2019; Tomasello 2022), and this can serve as an interdisciplinary theme across subject areas (see our Educational Design Concept). The resources found across OpenEvo and our partner projects offer just a few examples of the landscape of educational potential, however, there are clearly mountains of opportunities that remain to be explored with school communities around the world.
University-assisted educational innovation
Our Theory of School Improvement is focused around systems levels change, and includes a foundational role for higher education teaching and research insititions as catalyzers of innovation. We suggest a pragmatic approach can be found in our "twin lab" model, developing community-based research projects within the frame of Educational Design Labs and Community Science Labs.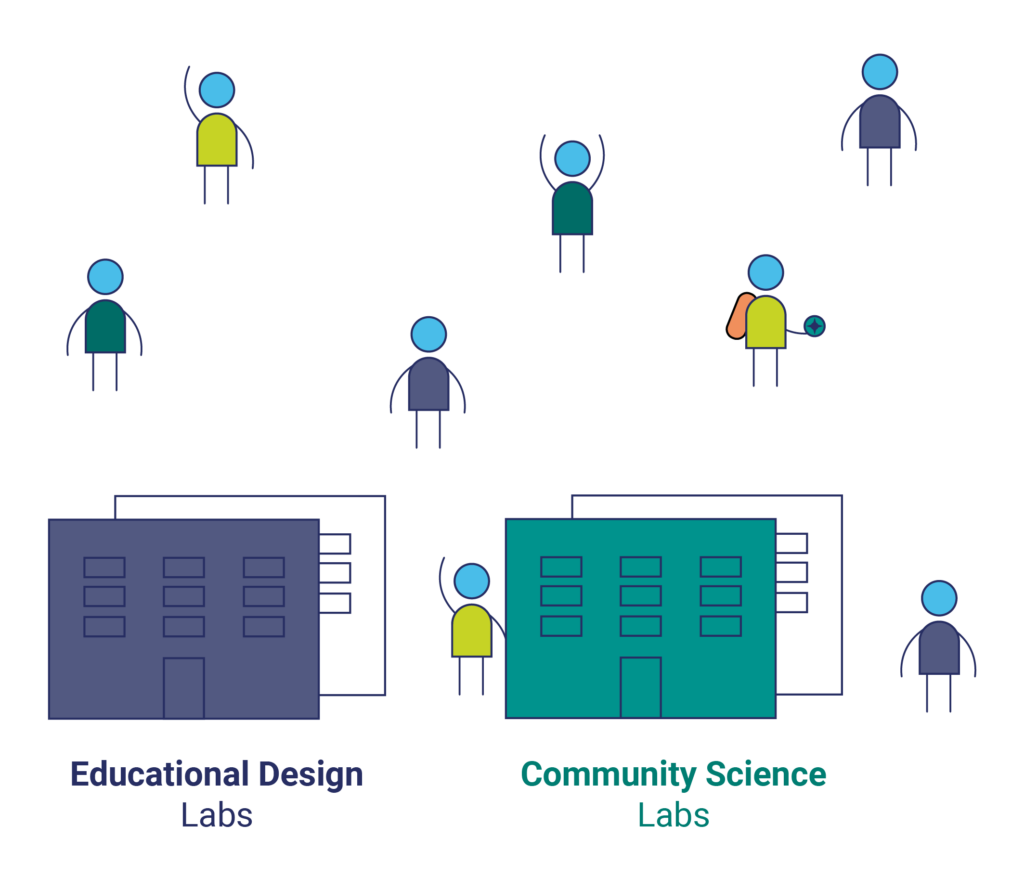 Our educational innovation labs at the Max Planck Institute for Evolutionary Anthropology are just a model for consideration by any community-focused research group aiming to involve students and teachers as agents in school improvement and sustainable community development.
We suggest more broadly that, in particular, university-based teacher education programs must play a key role in the driving and sustaining some aspects of regional school improvement efforts. We offer that our twin lab model may provide a flexible framework for thinking simultaneously about the content and context of school curricula. Importantly, universities can help, but are not required – even students alone can organize to become a school-based community science lab!
Navigating the landscapes of educational innovation
With the help of educational innovation labs, motivated students and teachers can explore many exciting directions in school improvement and sustainable community development. Our approach focuses on integrating innovative school content with new ways of thinking about student participation in designing the context, or processes of the school itself. 
Curriculum overload is a concept to describe when the actual and percieved demands of modern schooling are not in line with what students and teachers care about (sensu OECD, 2020). How schools learn to manage and prevent curriculum overload will be a significant driver of school improvement and efficacy.
How can schools adapt to the exponential expansion of cumulative cultural knowledge?
How can our local school work understand, address, and/or prevent curriculum overload?
How can our school help students develop an interdisciplinary, practical, and valued understanding of agency, and the human condition more broadly?
How schools govern themselves will be one significant driver of school improvement and efficacy. 
How can schools optimize stakeholder participation in the governance and management of their own communities?
How can participatory school governance systems serve as a platform for helping students also develop a conceptual understanding of agency and related cognitive, behavioral, and cultural concepts?
How schools learn from each other and with the surrounding global communities they engage with will be one driver of school improvement and efficacy.
How can schools and communities around the world learn to work together to learn and improve?
How does the diversity of conceptual understandings of agency and related concepts influence how individuals or schools can or should learn from each other?
Learn more with Prosocial Schools.
Other tools for Understanding Agency
Deepen your understanding of agency across diverse contexts through other resources in the collection.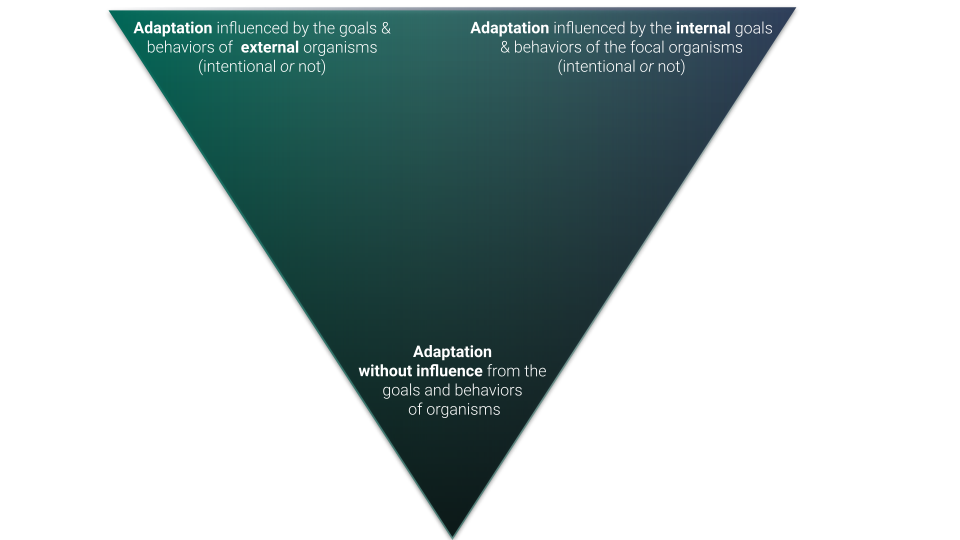 What is the role of agency in the processes of evolution and learning? The Triad is a conceptual tool for helping us to think about this question.
Atkins, P. W., Wilson, D. S., & Hayes, S. C. (2019). Prosocial: Using evolutionary science to build productive, equitable, and collaborative groups. New Harbinger Publications.

Eirdosh, D. & Hanisch, S. (2023). A community science model for interdisciplinary evolution education and school improvement. Preprint of in review chapter in du Crest et al. (forthcoming). Evolutionary Thinking Across Disciplines. Problems and Perspectives in Generalized Darwinism

http://dx.doi.org/10.13140/RG.2.2.34359.80806/1

 

Hanisch, S. & Eirdosh, D. (in press). Teaching for the interdisciplinary understanding of evolutionary concepts.Chapter in du Crest et al. (forthcoming). Evolutionary Thinking Across Disciplines.Problems and Perspectives in Generalized Darwinism. http://dx.doi.org/10.13140/RG.2.2.19260.31365/1 
OECD (2020). Curriculum Overload: A Way Forward, OECD Publishing, Paris, https://doi.org/10.1787/3081ceca-en.

Sokol, B. W., Hammond, S. I., Kuebli, J., & Sweetman, L. (2015). The development of agency.

Handbook of child psychology and developmental science

, 1-39.

Tomasello, M. (2022). The Evolution of Agency: Behavioral Organization from Lizards to Humans. Penguin Random House.