Academic Publications and Media
We actively publish our scientific outputs in peer reviewed journals in evolution education, science education, sustainability education, and the interdisciplinary human sciences. 
We are also committed to advancing open science practices in educational design research, and feature our most current preprints as well as general audience science communications media below. 
Other Media and Science Communications
Max Planck Society - Keynote talk
Understanding Humans, AIs, and the evolution of equitable societies
Watch OpenEvo co-founder, Dustin Eirdosh, deliver a keynote talk to members of the Max Planck Society on the role of understanding humans and AIs in education for sustainable development.
TEDxLeipzigInternationalSchool
Why human behavior is at the center of education and learning 
Watch OpenEvo co-founder, Dustin Eirdosh, deliver a TEDx talk on teaching human behavior as an interdisciplinary theme.
Frontiers for Young Minds
Our lab has produced one Frontiers for Young Minds article, as well as facilitated the Youth Review of another.
Our blog posts and articles
We have written a range of articles for general audiences interested in issues of evolution, behavior, and sustainability science education.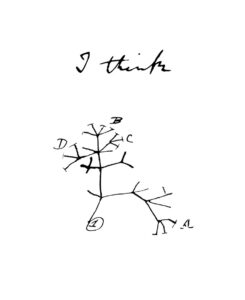 To understand how the theory of evolution has developed, we have to understand what exactly Darwin was thinking. Rather, I should say we have to understand how he was thinking.
Read More »