Our Community Science Lab model engages school students in applied projects that seek to understand and influence the cooperation dynamics relevant to the everyday lives of school communities.
What is community science?
Community science is a broad term for community-based approaches to research, often including a range of practices including citizen science and service-learning.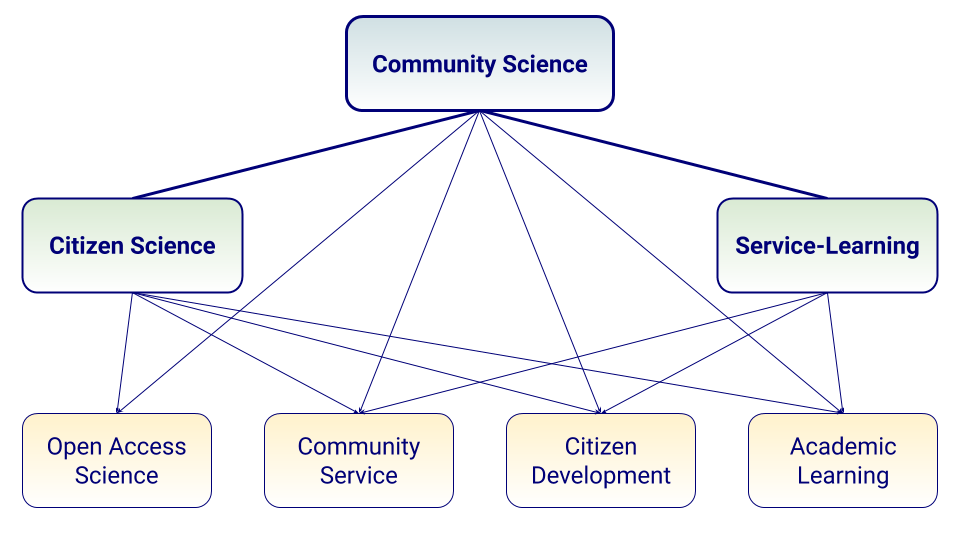 Through our Community Science Lab Model, we focus on the collaborative use of scientific methods to better understand and inform the cultural evolution of cooperation and well-being in our own communities. It is an approach to youth empowerment that works to bridge our evolutionary past with our preferred futures on issues that matter to students and their communities.
Schools as Field Sites for Community-Based
Cultural Evolution
Part of our Community Science Lab model involves the active development of conceptualizing schools as field sites for community-based cultural evolution.
This means supporting school communities in thinking about their own freely chosen identity as a field site for creating the conditions for valued human development and sustainable development outcomes. 
The Cultural Evolution of Cooperation
Humans are a uniquely cooperative species, having evolved capacities to work together at scales of time and social organization unparalleled in the natural world. Despite these abilities, the challenges of cooperation seem to be at the heart of nearly every sustainability dilemma that modern communities must face. The science of cultural evolution provides a theoretical framework for understanding the complex conditions that favor or hinder our capacities for cooperation towards the well-being of all. In this context, we are building on the Prosocial World framework applied and community-based cultural evolution.

Prosocial World (www.Prosocial.world) is an international research community for working better together through a shared understanding of the cultural evolution of cooperation and psychological flexibility


Prosocial Schools (www.ProsocialSchools.org) has the mission to catalyze school improvement with the same set of design principles needed to achieve social, economic and environmental wellbeing on a planetary scale. 
Community-Based Research in Education
Students are in a unique position within their own communities to be able to learn about and advocate for valued changes to the world they are inheriting . By grounding community science investigations within cultural evolutionary perspectives on human cooperation, students can engage a powerful set of theoretical and methodological tools to investigate and communicate the sustainability issues that directly impact their lives.
YPAR Hub – Youth-Led Participatory Action Research – a research toolkit for students to lead investigations into the issues that impact their lives

Youth Mayors Field Guide – The Youth Mayors Field Guide is written for students who want to make change in their communities. It is intended to be a flexible source of information, instruction and tools that can be used by students, in groups or alone, to investigate and initiate change. It can also be used in or out of the classroom by teachers and mentors who are supporting students with their projects.
We are seeking motivated students and teachers of all levels and backgrounds to engage in thinking with us about your school or community as a field site for community-based cultural evolution. Contact Dustin Eirdosh directly, and/or join OpenEvo.