The themes of evolution and sustainability are associated with several learning difficulties, because they are the result of complex interrelationships between organisms and their environments, and evolutionary processes usually take place over larger dimensions of space and time. These processes are far removed from our everyday experience, in which we experience more short-term and direct interactions, and in which we perceive individuals rather than changing populations.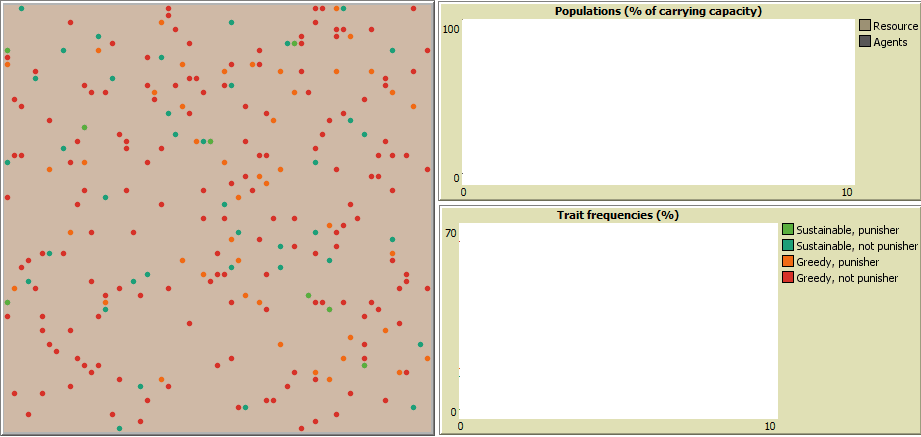 Computer simulations or dynamic models can help to overcome these learning difficulties – similar to telescopes and microscopes, they allow us to see things that are not visible to the "naked eye". Computer simulations can model processes over larger scales of time and space and are therefore particularly suitable for observing, investigating and understanding ecological relationships, population patterns, and evolutionary processes.
We develop computer simulations around evolution and sustainability with the free modelling software NetLogo.
The presentation on the right gives an introduction to NetLogo and agent-based modelling.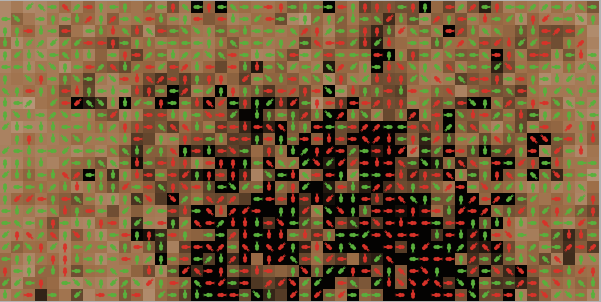 This NetLogo model lets students explore how competition for resources can affect the evolution of a population and can result in resource overuse. This model is similar to the Evolution and competition for forest resources model, but more abstract.
4869801
SYDUSCWH
items
1
0
author
asc
21199
%7B%22status%22%3A%22success%22%2C%22updateneeded%22%3Afalse%2C%22instance%22%3A%22zotpress-04b6d0657e6719650c4e1b9c0c58d10d%22%2C%22meta%22%3A%7B%22request_last%22%3A50%2C%22request_next%22%3A50%2C%22used_cache%22%3Atrue%7D%2C%22data%22%3A%5B%7B%22key%22%3A%22Z82LXYG7%22%2C%22library%22%3A%7B%22id%22%3A4869801%7D%2C%22meta%22%3A%7B%22creatorSummary%22%3A%22Aktipis%20et%20al.%22%2C%22parsedDate%22%3A%222011%22%2C%22numChildren%22%3A0%7D%2C%22bib%22%3A%22%3Cdiv%20class%3D%5C%22csl-bib-body%5C%22%20style%3D%5C%22line-height%3A%202%3B%20padding-left%3A%201em%3B%20text-indent%3A-1em%3B%5C%22%3E%5Cn%20%20%3Cdiv%20class%3D%5C%22csl-entry%5C%22%3EAktipis%2C%20C.%20A.%2C%20Cronk%2C%20L.%2C%20%26amp%3B%20de%20Aguiar%2C%20R.%20%282011%29.%20Risk-Pooling%20and%20Herd%20Survival%3A%20An%20Agent-Based%20Model%20of%20a%20Maasai%20Gift-Giving%20System.%20%3Ci%3EHuman%20Ecology%3C%5C%2Fi%3E%2C%20%3Ci%3E39%3C%5C%2Fi%3E%282%29%2C%20131%26%23x2013%3B140.%20%3Ca%20href%3D%27https%3A%5C%2F%5C%2Fdoi.org%5C%2F10.1007%5C%2Fs10745-010-9364-9%27%3Ehttps%3A%5C%2F%5C%2Fdoi.org%5C%2F10.1007%5C%2Fs10745-010-9364-9%3C%5C%2Fa%3E%3C%5C%2Fdiv%3E%5Cn%3C%5C%2Fdiv%3E%22%2C%22data%22%3A%7B%22itemType%22%3A%22journalArticle%22%2C%22title%22%3A%22Risk-Pooling%20and%20Herd%20Survival%3A%20An%20Agent-Based%20Model%20of%20a%20Maasai%20Gift-Giving%20System%22%2C%22creators%22%3A%5B%7B%22creatorType%22%3A%22author%22%2C%22firstName%22%3A%22C.%20Athena%22%2C%22lastName%22%3A%22Aktipis%22%7D%2C%7B%22creatorType%22%3A%22author%22%2C%22firstName%22%3A%22Lee%22%2C%22lastName%22%3A%22Cronk%22%7D%2C%7B%22creatorType%22%3A%22author%22%2C%22firstName%22%3A%22Rolando%22%2C%22lastName%22%3A%22de%20Aguiar%22%7D%5D%2C%22abstractNote%22%3A%22We%20use%20agent-based%20modeling%20to%20study%20osotua%2C%20a%20gift%20giving%20system%20used%20by%20the%20Maasai%20of%20East%20Africa.%20Osotua%27s%20literal%20meaning%20is%20%5C%22umbilical%20cord%2C%5C%22%20but%20it%20is%20used%20metaphorically%20to%20refer%20to%20a%20specific%20type%20of%20gift-giving%20relationship.%20Osotua%20relationships%20are%20characterized%20by%20respect%2C%20responsibility%20and%20restraint.%20Osotua%20partners%20ask%20each%20other%20for%20help%20only%20if%20they%20are%20in%20need%20and%20provide%20help%20only%20when%20asked%20and%20only%20if%20they%20are%20able.%20We%20hypothesize%20that%20under%20the%20ecologically%20volatile%20conditions%20in%20which%20Maasai%20pastoralists%20have%20traditionally%20lived%2C%20such%20a%20system%20is%20particularly%20suited%20to%20risk%20pooling.%20Here%20we%20explore%20whether%20osotua%20increases%20the%20viability%20of%20herds%20by%20comparing%20herd%20survivorship%20and%20stability%20under%20osotua%20rules%20to%20a%29%20no%20exchange%20and%20b%29%20probabilistic%20rules%20for%20requesting%20and%20giving%20livestock.%20Results%20from%20this%20model%20suggest%20that%20this%20gift-giving%20system%20can%20dramatically%20increase%20herd%20longevity%20through%20a%20limited%20pooling%20of%20risk.%20%5Cu00a9%202011%20Springer%20Science%2BBusiness%20Media%2C%20LLC.%22%2C%22date%22%3A%222011%22%2C%22language%22%3A%22%22%2C%22DOI%22%3A%2210.1007%5C%2Fs10745-010-9364-9%22%2C%22ISSN%22%3A%2203007839%22%2C%22url%22%3A%22https%3A%5C%2F%5C%2Fdoi.org%5C%2F10.1007%5C%2Fs10745-010-9364-9%22%2C%22collections%22%3A%5B%22SYDUSCWH%22%5D%2C%22dateModified%22%3A%222022-11-25T13%3A46%3A55Z%22%7D%7D%2C%7B%22key%22%3A%22JJAKECX6%22%2C%22library%22%3A%7B%22id%22%3A4869801%7D%2C%22meta%22%3A%7B%22creatorSummary%22%3A%22Aktipis%20et%20al.%22%2C%22parsedDate%22%3A%222016%22%2C%22numChildren%22%3A0%7D%2C%22bib%22%3A%22%3Cdiv%20class%3D%5C%22csl-bib-body%5C%22%20style%3D%5C%22line-height%3A%202%3B%20padding-left%3A%201em%3B%20text-indent%3A-1em%3B%5C%22%3E%5Cn%20%20%3Cdiv%20class%3D%5C%22csl-entry%5C%22%3EAktipis%2C%20C.%20A.%2C%20De%20Aguiar%2C%20R.%2C%20Flaherty%2C%20A.%2C%20Iyer%2C%20P.%2C%20Sonkoi%2C%20D.%2C%20%26amp%3B%20Cronk%2C%20L.%20%282016%29.%20Cooperation%20in%20an%20Uncertain%20World%3A%20For%20the%20Maasai%20of%20East%20Africa%2C%20Need-Based%20Transfers%20Outperform%20Account-Keeping%20in%20Volatile%20Environments.%20%3Ci%3EHuman%20Ecology%3C%5C%2Fi%3E%2C%20%3Ci%3E44%3C%5C%2Fi%3E%283%29%2C%20353%26%23x2013%3B364.%20%3Ca%20href%3D%27https%3A%5C%2F%5C%2Fdoi.org%5C%2F10.1007%5C%2Fs10745-016-9823-z%27%3Ehttps%3A%5C%2F%5C%2Fdoi.org%5C%2F10.1007%5C%2Fs10745-016-9823-z%3C%5C%2Fa%3E%3C%5C%2Fdiv%3E%5Cn%3C%5C%2Fdiv%3E%22%2C%22data%22%3A%7B%22itemType%22%3A%22journalArticle%22%2C%22title%22%3A%22Cooperation%20in%20an%20Uncertain%20World%3A%20For%20the%20Maasai%20of%20East%20Africa%2C%20Need-Based%20Transfers%20Outperform%20Account-Keeping%20in%20Volatile%20Environments%22%2C%22creators%22%3A%5B%7B%22creatorType%22%3A%22author%22%2C%22firstName%22%3A%22C.%20Athena%22%2C%22lastName%22%3A%22Aktipis%22%7D%2C%7B%22creatorType%22%3A%22author%22%2C%22firstName%22%3A%22Rolando%22%2C%22lastName%22%3A%22De%20Aguiar%22%7D%2C%7B%22creatorType%22%3A%22author%22%2C%22firstName%22%3A%22Anna%22%2C%22lastName%22%3A%22Flaherty%22%7D%2C%7B%22creatorType%22%3A%22author%22%2C%22firstName%22%3A%22Padmini%22%2C%22lastName%22%3A%22Iyer%22%7D%2C%7B%22creatorType%22%3A%22author%22%2C%22firstName%22%3A%22Dennis%22%2C%22lastName%22%3A%22Sonkoi%22%7D%2C%7B%22creatorType%22%3A%22author%22%2C%22firstName%22%3A%22Lee%22%2C%22lastName%22%3A%22Cronk%22%7D%5D%2C%22abstractNote%22%3A%22Using%20an%20agent-based%20model%20to%20study%20risk-pooling%20in%20herder%20dyads%20using%20rules%20derived%20from%20Maasai%20osotua%20%28%5C%22umbilical%20cord%5C%22%29%20relationships%2C%20Aktipis%20et%20al.%20%282011%29%20found%20that%20osotua%20transfers%20led%20to%20more%20risk-pooling%20and%20better%20herd%20survival%20than%20both%20no%20transfers%20and%20transfers%20that%20occurred%20at%20frequencies%20tied%20to%20those%20seen%20in%20the%20osotua%20simulations.%20Here%20we%20expand%20this%20approach%20by%20comparing%20osotua-style%20transfers%20to%20another%20type%20of%20livestock%20transfer%20among%20Maasai%20known%20as%20esile%20%28%5C%22debt%5C%22%29.%20In%20osotua%2C%20one%20asks%20if%20in%20need%2C%20and%20one%20gives%20in%20response%20to%20such%20requests%20if%20doing%20so%20will%20not%20threaten%20one%27s%20own%20survival.%20In%20esile%20relationships%2C%20accounts%20are%20kept%20and%20debts%20must%20be%20repaid.%20We%20refer%20to%20these%20as%20%5C%22need-based%5C%22%20and%20%5C%22account-keeping%5C%22%20systems%2C%20respectively.%20Need-based%20transfers%20lead%20to%20more%20risk%20pooling%20and%20higher%20survival%20than%20account%20keeping.%20Need-based%20transfers%20also%20lead%20to%20greater%20wealth%20equality%20and%20are%20game%20theoretically%20dominant%20to%20account-keeping%20rules.%22%2C%22date%22%3A%222016%22%2C%22language%22%3A%22%22%2C%22DOI%22%3A%2210.1007%5C%2Fs10745-016-9823-z%22%2C%22ISSN%22%3A%2215729915%22%2C%22url%22%3A%22http%3A%5C%2F%5C%2Fdx.doi.org%5C%2F10.1007%5C%2Fs10745-016-9823-z%22%2C%22collections%22%3A%5B%22SYDUSCWH%22%5D%2C%22dateModified%22%3A%222022-11-25T13%3A46%3A55Z%22%7D%7D%2C%7B%22key%22%3A%2259BLHDWW%22%2C%22library%22%3A%7B%22id%22%3A4869801%7D%2C%22meta%22%3A%7B%22lastModifiedByUser%22%3A%7B%22id%22%3A9911611%2C%22username%22%3A%22dustin_eirdosh%22%2C%22name%22%3A%22Dustin%20Eirdosh%22%2C%22links%22%3A%7B%22alternate%22%3A%7B%22href%22%3A%22https%3A%5C%2F%5C%2Fwww.zotero.org%5C%2Fdustin_eirdosh%22%2C%22type%22%3A%22text%5C%2Fhtml%22%7D%7D%7D%2C%22creatorSummary%22%3A%22Alonso-Betanzos%20et%20al.%22%2C%22parsedDate%22%3A%222017%22%2C%22numChildren%22%3A0%7D%2C%22bib%22%3A%22%3Cdiv%20class%3D%5C%22csl-bib-body%5C%22%20style%3D%5C%22line-height%3A%202%3B%20padding-left%3A%201em%3B%20text-indent%3A-1em%3B%5C%22%3E%5Cn%20%20%3Cdiv%20class%3D%5C%22csl-entry%5C%22%3EAlonso-Betanzos%2C%20A.%2C%20Sanchez-Marono%2C%20N.%2C%20Fontenla-Romero%2C%20O.%2C%20Polhill%2C%20J.%20G.%2C%20Craig%2C%20T.%2C%20Bajo%2C%20J.%2C%20%26amp%3B%20Corchado%2C%20J.%20M.%20%282017%29.%20%3Ci%3EAgent-Based%20Modeling%20of%20Sustainable%20Behaviors%3C%5C%2Fi%3E%20%28A.%20Alonso-Betanzos%2C%20N.%20Sanchez-Marono%2C%20O.%20Fontenla-Romero%2C%20J.%20G.%20Polhill%2C%20T.%20Craig%2C%20J.%20Bajo%2C%20%26amp%3B%20J.%20M.%20Corchado%2C%20Eds.%29.%20Springer.%20https%3A%5C%2F%5C%2Fdoi.org%5C%2F10.1007%5C%2F978-3-319-46331-5%3C%5C%2Fdiv%3E%5Cn%3C%5C%2Fdiv%3E%22%2C%22data%22%3A%7B%22itemType%22%3A%22book%22%2C%22title%22%3A%22Agent-Based%20Modeling%20of%20Sustainable%20Behaviors%22%2C%22creators%22%3A%5B%7B%22creatorType%22%3A%22author%22%2C%22firstName%22%3A%22Amparo%22%2C%22lastName%22%3A%22Alonso-Betanzos%22%7D%2C%7B%22creatorType%22%3A%22author%22%2C%22firstName%22%3A%22Noelia%22%2C%22lastName%22%3A%22Sanchez-Marono%22%7D%2C%7B%22creatorType%22%3A%22author%22%2C%22firstName%22%3A%22Oscar%22%2C%22lastName%22%3A%22Fontenla-Romero%22%7D%2C%7B%22creatorType%22%3A%22author%22%2C%22firstName%22%3A%22J.%20Gary%22%2C%22lastName%22%3A%22Polhill%22%7D%2C%7B%22creatorType%22%3A%22author%22%2C%22firstName%22%3A%22Tony%22%2C%22lastName%22%3A%22Craig%22%7D%2C%7B%22creatorType%22%3A%22author%22%2C%22firstName%22%3A%22Javier%22%2C%22lastName%22%3A%22Bajo%22%7D%2C%7B%22creatorType%22%3A%22author%22%2C%22firstName%22%3A%22Juan%20Manuel%22%2C%22lastName%22%3A%22Corchado%22%7D%2C%7B%22creatorType%22%3A%22editor%22%2C%22firstName%22%3A%22Amparo%22%2C%22lastName%22%3A%22Alonso-Betanzos%22%7D%2C%7B%22creatorType%22%3A%22editor%22%2C%22firstName%22%3A%22Noelia%22%2C%22lastName%22%3A%22Sanchez-Marono%22%7D%2C%7B%22creatorType%22%3A%22editor%22%2C%22firstName%22%3A%22Oscar%22%2C%22lastName%22%3A%22Fontenla-Romero%22%7D%2C%7B%22creatorType%22%3A%22editor%22%2C%22firstName%22%3A%22J.%20Gary%22%2C%22lastName%22%3A%22Polhill%22%7D%2C%7B%22creatorType%22%3A%22editor%22%2C%22firstName%22%3A%22Tony%22%2C%22lastName%22%3A%22Craig%22%7D%2C%7B%22creatorType%22%3A%22editor%22%2C%22firstName%22%3A%22Javier%22%2C%22lastName%22%3A%22Bajo%22%7D%2C%7B%22creatorType%22%3A%22editor%22%2C%22firstName%22%3A%22Juan%20Manuel%22%2C%22lastName%22%3A%22Corchado%22%7D%5D%2C%22abstractNote%22%3A%22Using%20the%20O.D.D.%20%28Overview%2C%20Design%20concepts%2C%20Detail%29%20protocol%2C%20this%20title%20explores%20the%20role%20of%20agent-based%20modeling%20in%20predicting%20the%20feasibility%20of%20various%20approaches%20to%20sustainability.%20The%20chapters%20incorporated%20in%20this%20volume%20consist%20of%20real%20case%20studies%20to%20illustrate%20the%20utility%20of%20agent-based%20modeling%20and%20complexity%20theory%20in%20discovering%20a%20path%20to%20more%20efficient%20and%20sustainable%20lifestyles.%20The%20topics%20covered%20within%20include%3A%20households%27%20attitudes%20toward%20recycling%2C%20designing%20decision%20trees%20for%20representing%20sustainable%20behaviors%2C%20negotiation-based%20parking%20allocation%2C%20auction-based%20traffic%20signal%20control%2C%20and%20others.%20This%20selection%20of%20papers%20will%20be%20of%20interest%20to%20social%20scientists%20who%20wish%20to%20learn%20more%20about%20agent-based%20modeling%20as%20well%20as%20experts%20in%20the%20field%20of%20agent-based%20modeling.%20Psychologically%20Plausible%20Models%20in%20Agent-Based%20Simulations%20of%20Sustainable%20Behavior%20--%20Modelling%20Everyday%20Pro-Environmental%20Norm%20Transmission%20and%20Diffusion%20in%20Workplace%20Networks%20--%20Empirically-Derived%20Behavioral%20Rules%20in%20Agent-Based%20Models%20Using%20Decision%20Trees%20Learned%20From%20Questionnaire%20Data%20--%20The%20Implementation%20of%20the%20Theory%20of%20Planned%20Behavior%20in%20an%20Agent-Based%20Model%20for%20Waste%20Recycling%3A%20A%20Review%20and%20a%20Proposal%20--%20Social%20Simulations%20Through%20an%20Agent-Based%20Platform%2C%20Location%20Data%20and%203D%20Models%20--%20An%20Intersection-Centric%20Auction-Based%20Traffic%20Signal%20Control%20Framework%20--%20Agentdrive%3A%20Agent-Based%20Simulator%20for%20Intelligent%20Cars%20and%20its%20Application%20for%20Development%20of%20a%20Lane-Changing%20Assistant%20--%20City%20Parking%20Allocations%20as%20a%20Bundle%20of%20Society-Aware%20Deals%20--%20Sustainable%20Farming%20Behaviours%3A%20an%20Agent%20Based%20Modelling%20and%20LCA%20Perspective%20--%20Agent-Based%20Simulation%20of%20Electricity%20Markets%3A%20Risk%20Management%20and%20Contracts%20for%20Difference%20--%20Energy%20Management%20in%20the%20Smart%20Grids%20via%20Intelligent%20Storage%20Systems.%22%2C%22date%22%3A%222017%22%2C%22language%22%3A%22%22%2C%22ISBN%22%3A%22978-3-319-46330-8%22%2C%22url%22%3A%22http%3A%5C%2F%5C%2Flink.springer.com%5C%2F10.1007%5C%2F978-3-319-46331-5%22%2C%22collections%22%3A%5B%22SYDUSCWH%22%5D%2C%22dateModified%22%3A%222022-11-25T13%3A46%3A55Z%22%7D%7D%2C%7B%22key%22%3A%22L7WXM7N9%22%2C%22library%22%3A%7B%22id%22%3A4869801%7D%2C%22meta%22%3A%7B%22lastModifiedByUser%22%3A%7B%22id%22%3A9911611%2C%22username%22%3A%22dustin_eirdosh%22%2C%22name%22%3A%22Dustin%20Eirdosh%22%2C%22links%22%3A%7B%22alternate%22%3A%7B%22href%22%3A%22https%3A%5C%2F%5C%2Fwww.zotero.org%5C%2Fdustin_eirdosh%22%2C%22type%22%3A%22text%5C%2Fhtml%22%7D%7D%7D%2C%22creatorSummary%22%3A%22Bauduin%20et%20al.%22%2C%22parsedDate%22%3A%222019%22%2C%22numChildren%22%3A0%7D%2C%22bib%22%3A%22%3Cdiv%20class%3D%5C%22csl-bib-body%5C%22%20style%3D%5C%22line-height%3A%202%3B%20padding-left%3A%201em%3B%20text-indent%3A-1em%3B%5C%22%3E%5Cn%20%20%3Cdiv%20class%3D%5C%22csl-entry%5C%22%3EBauduin%2C%20S.%2C%20McIntire%2C%20E.%20J.%20B.%2C%20%26amp%3B%20Chubaty%2C%20A.%20M.%20%282019%29.%20NetLogoR%3A%20a%20package%20to%20build%20and%20run%20spatially%20explicit%20agent-based%20models%20in%20R.%20%3Ci%3EEcography%3C%5C%2Fi%3E%2C%20%3Ci%3E42%3C%5C%2Fi%3E%2811%29%2C%201841%26%23x2013%3B1849.%20%3Ca%20href%3D%27https%3A%5C%2F%5C%2Fdoi.org%5C%2F10.1111%5C%2Fecog.04516%27%3Ehttps%3A%5C%2F%5C%2Fdoi.org%5C%2F10.1111%5C%2Fecog.04516%3C%5C%2Fa%3E%3C%5C%2Fdiv%3E%5Cn%3C%5C%2Fdiv%3E%22%2C%22data%22%3A%7B%22itemType%22%3A%22journalArticle%22%2C%22title%22%3A%22NetLogoR%3A%20a%20package%20to%20build%20and%20run%20spatially%20explicit%20agent-based%20models%20in%20R%22%2C%22creators%22%3A%5B%7B%22creatorType%22%3A%22author%22%2C%22firstName%22%3A%22Sarah%22%2C%22lastName%22%3A%22Bauduin%22%7D%2C%7B%22creatorType%22%3A%22author%22%2C%22firstName%22%3A%22Eliot%20J.B.%22%2C%22lastName%22%3A%22McIntire%22%7D%2C%7B%22creatorType%22%3A%22author%22%2C%22firstName%22%3A%22Alex%20M.%22%2C%22lastName%22%3A%22Chubaty%22%7D%5D%2C%22abstractNote%22%3A%22NetLogoR%20is%20an%20R%20package%20to%20build%20and%20run%20spatially%20explicit%20agent-based%20models%20%28SE-ABMs%29%20using%20the%20R%20language.%20SE-ABMs%20are%20models%20that%20simulate%20the%20fate%20of%20entities%20at%20the%20individual%20level%20within%20a%20spatial%20context%20and%20where%20patterns%20emerge%20at%20the%20population%20level.%20NetLogoR%20follows%20the%20same%20framework%20as%20the%20NetLogo%20software%20%28Wilensky%201999%29.%20Rather%20than%20a%20call%20function%20to%20use%20the%20NetLogo%20software%2C%20NetLogoR%20is%20a%20translation%20into%20the%20R%20language%20of%20the%20structure%20and%20functions%20of%20NetLogo.%20Models%20built%20with%20NetLogoR%20are%20written%20in%20R%20language%20and%20are%20run%20on%20the%20R%20platform%3B%20no%20other%20software%20or%20language%20has%20to%20be%20involved.%20NetLogoR%20provides%20new%20R%20classes%20to%20define%20model%20agent%20objects%20and%20functions%20to%20implement%20spatially%20explicit%20agent-based%20models%20in%20the%20R%20environment.%20Users%20of%20this%20package%20benefit%20from%20the%20fast%20and%20easy%20coding%20provided%20by%20the%20highly%20developed%20NetLogo%20framework%2C%20coupled%20with%20the%20versatility%2C%20power%20and%20massive%20resources%20of%20the%20R%20language.%22%2C%22date%22%3A%222019%22%2C%22language%22%3A%22%22%2C%22DOI%22%3A%2210.1111%5C%2Fecog.04516%22%2C%22ISSN%22%3A%2216000587%22%2C%22url%22%3A%22https%3A%5C%2F%5C%2Fdoi.org%5C%2F10.1111%5C%2Fecog.04516%22%2C%22collections%22%3A%5B%22SYDUSCWH%22%5D%2C%22dateModified%22%3A%222022-11-25T13%3A46%3A55Z%22%7D%7D%2C%7B%22key%22%3A%223HLIZEJB%22%2C%22library%22%3A%7B%22id%22%3A4869801%7D%2C%22meta%22%3A%7B%22creatorSummary%22%3A%22Belzen%20et%20al.%22%2C%22parsedDate%22%3A%222019%22%2C%22numChildren%22%3A0%7D%2C%22bib%22%3A%22%3Cdiv%20class%3D%5C%22csl-bib-body%5C%22%20style%3D%5C%22line-height%3A%202%3B%20padding-left%3A%201em%3B%20text-indent%3A-1em%3B%5C%22%3E%5Cn%20%20%3Cdiv%20class%3D%5C%22csl-entry%5C%22%3EBelzen%2C%20A.%20U.%20zu%2C%20Kr%26%23xFC%3Bger%2C%20D.%2C%20%26amp%3B%20Editors%2C%20J.%20van%20D.%20%282019%29.%20%3Ci%3ETowards%20a%20Competence-Based%20View%20on%20Models%20and%20Modeling%20in%20Science%20Education%3C%5C%2Fi%3E%20%28A.%20U.%20zu%20Belzen%2C%20D.%20Kr%26%23xFC%3Bger%2C%20%26amp%3B%20J.%20van%20D.%20Editors%2C%20Eds.%29.%20Springer.%20%3Ca%20href%3D%27https%3A%5C%2F%5C%2Fdoi.org%5C%2F10.1007%5C%2F978-3-030-30255-9%27%3Ehttps%3A%5C%2F%5C%2Fdoi.org%5C%2F10.1007%5C%2F978-3-030-30255-9%3C%5C%2Fa%3E_7%3C%5C%2Fdiv%3E%5Cn%3C%5C%2Fdiv%3E%22%2C%22data%22%3A%7B%22itemType%22%3A%22book%22%2C%22title%22%3A%22Towards%20a%20Competence-Based%20View%20on%20Models%20and%20Modeling%20in%20Science%20Education%22%2C%22creators%22%3A%5B%7B%22creatorType%22%3A%22author%22%2C%22firstName%22%3A%22Annette%20Upmeier%20zu%22%2C%22lastName%22%3A%22Belzen%22%7D%2C%7B%22creatorType%22%3A%22author%22%2C%22firstName%22%3A%22Dirk%22%2C%22lastName%22%3A%22Kr%5Cu00fcger%22%7D%2C%7B%22creatorType%22%3A%22author%22%2C%22firstName%22%3A%22Jan%20van%20Driel%22%2C%22lastName%22%3A%22Editors%22%7D%2C%7B%22creatorType%22%3A%22editor%22%2C%22firstName%22%3A%22Annette%20Upmeier%20zu%22%2C%22lastName%22%3A%22Belzen%22%7D%2C%7B%22creatorType%22%3A%22editor%22%2C%22firstName%22%3A%22Dirk%22%2C%22lastName%22%3A%22Kr%5Cu00fcger%22%7D%2C%7B%22creatorType%22%3A%22editor%22%2C%22firstName%22%3A%22Jan%20van%20Driel%22%2C%22lastName%22%3A%22Editors%22%7D%5D%2C%22abstractNote%22%3A%22%22%2C%22date%22%3A%222019%22%2C%22language%22%3A%22%22%2C%22ISBN%22%3A%22978-3-030-30254-2%22%2C%22url%22%3A%22https%3A%5C%2F%5C%2Fdoi.org%5C%2F10.1007%5C%2F978-3-030-30255-9%22%2C%22collections%22%3A%5B%22SYDUSCWH%22%5D%2C%22dateModified%22%3A%222022-11-25T13%3A47%3A59Z%22%7D%7D%2C%7B%22key%22%3A%22JAQCH7PE%22%2C%22library%22%3A%7B%22id%22%3A4869801%7D%2C%22meta%22%3A%7B%22lastModifiedByUser%22%3A%7B%22id%22%3A9911611%2C%22username%22%3A%22dustin_eirdosh%22%2C%22name%22%3A%22Dustin%20Eirdosh%22%2C%22links%22%3A%7B%22alternate%22%3A%7B%22href%22%3A%22https%3A%5C%2F%5C%2Fwww.zotero.org%5C%2Fdustin_eirdosh%22%2C%22type%22%3A%22text%5C%2Fhtml%22%7D%7D%7D%2C%22creatorSummary%22%3A%22Boersma%20et%20al.%22%2C%22parsedDate%22%3A%222011%22%2C%22numChildren%22%3A0%7D%2C%22bib%22%3A%22%3Cdiv%20class%3D%5C%22csl-bib-body%5C%22%20style%3D%5C%22line-height%3A%202%3B%20padding-left%3A%201em%3B%20text-indent%3A-1em%3B%5C%22%3E%5Cn%20%20%3Cdiv%20class%3D%5C%22csl-entry%5C%22%3EBoersma%2C%20K.%2C%20Waarlo%2C%20A.%20J.%2C%20%26amp%3B%20Klaassen%2C%20K.%20%282011%29.%20The%20feasibility%20of%20system%20thinking%20in%20biology%20education.%20%3Ci%3EJournal%20of%20Biological%20Education%3C%5C%2Fi%3E%2C%20%3Ci%3E45%3C%5C%2Fi%3E%284%29%2C%20190%26%23x2013%3B197.%20%3Ca%20href%3D%27https%3A%5C%2F%5C%2Fdoi.org%5C%2F10.1080%5C%2F00219266.2011.627139%27%3Ehttps%3A%5C%2F%5C%2Fdoi.org%5C%2F10.1080%5C%2F00219266.2011.627139%3C%5C%2Fa%3E%3C%5C%2Fdiv%3E%5Cn%3C%5C%2Fdiv%3E%22%2C%22data%22%3A%7B%22itemType%22%3A%22journalArticle%22%2C%22title%22%3A%22The%20feasibility%20of%20system%20thinking%20in%20biology%20education%22%2C%22creators%22%3A%5B%7B%22creatorType%22%3A%22author%22%2C%22firstName%22%3A%22Kerst%22%2C%22lastName%22%3A%22Boersma%22%7D%2C%7B%22creatorType%22%3A%22author%22%2C%22firstName%22%3A%22Arend%20Jan%22%2C%22lastName%22%3A%22Waarlo%22%7D%2C%7B%22creatorType%22%3A%22author%22%2C%22firstName%22%3A%22Kees%22%2C%22lastName%22%3A%22Klaassen%22%7D%5D%2C%22abstractNote%22%3A%22%22%2C%22date%22%3A%222011%22%2C%22language%22%3A%22%22%2C%22DOI%22%3A%2210.1080%5C%2F00219266.2011.627139%22%2C%22ISSN%22%3A%22%22%2C%22url%22%3A%22http%3A%5C%2F%5C%2Fdx.doi.org%5C%2F10.1080%5C%2F00219266.2011.627139%22%2C%22collections%22%3A%5B%22SYDUSCWH%22%5D%2C%22dateModified%22%3A%222022-11-25T13%3A47%3A59Z%22%7D%7D%2C%7B%22key%22%3A%22ZB2T3GFC%22%2C%22library%22%3A%7B%22id%22%3A4869801%7D%2C%22meta%22%3A%7B%22lastModifiedByUser%22%3A%7B%22id%22%3A9911611%2C%22username%22%3A%22dustin_eirdosh%22%2C%22name%22%3A%22Dustin%20Eirdosh%22%2C%22links%22%3A%7B%22alternate%22%3A%7B%22href%22%3A%22https%3A%5C%2F%5C%2Fwww.zotero.org%5C%2Fdustin_eirdosh%22%2C%22type%22%3A%22text%5C%2Fhtml%22%7D%7D%7D%2C%22creatorSummary%22%3A%22Boissau%20and%20Castella%22%2C%22parsedDate%22%3A%222003%22%2C%22numChildren%22%3A0%7D%2C%22bib%22%3A%22%3Cdiv%20class%3D%5C%22csl-bib-body%5C%22%20style%3D%5C%22line-height%3A%202%3B%20padding-left%3A%201em%3B%20text-indent%3A-1em%3B%5C%22%3E%5Cn%20%20%3Cdiv%20class%3D%5C%22csl-entry%5C%22%3EBoissau%2C%20S.%2C%20%26amp%3B%20Castella%2C%20J.-C.%20%282003%29.%20Constructing%20a%20Common%20Representation%20of%20Local%20Institutions%20and%20Land%20Use%20Systems%20through%20Simulation-Gaming%20and%20Multiagent%20Modeling%20in%20Rural%20Areas%20of%20Northern%20Vietnam%3A%20The%20SAMBA-Week%20Methodology.%20%3Ci%3ESimulation%20%26amp%3B%20Gaming%3C%5C%2Fi%3E%2C%20%3Ci%3E34%3C%5C%2Fi%3E%283%29%2C%20342%26%23x2013%3B357.%20%3Ca%20href%3D%27https%3A%5C%2F%5C%2Fdoi.org%5C%2F10.1177%5C%2F1046878103255789%27%3Ehttps%3A%5C%2F%5C%2Fdoi.org%5C%2F10.1177%5C%2F1046878103255789%3C%5C%2Fa%3E%3C%5C%2Fdiv%3E%5Cn%3C%5C%2Fdiv%3E%22%2C%22data%22%3A%7B%22itemType%22%3A%22journalArticle%22%2C%22title%22%3A%22Constructing%20a%20Common%20Representation%20of%20Local%20Institutions%20and%20Land%20Use%20Systems%20through%20Simulation-Gaming%20and%20Multiagent%20Modeling%20in%20Rural%20Areas%20of%20Northern%20Vietnam%3A%20The%20SAMBA-Week%20Methodology%22%2C%22creators%22%3A%5B%7B%22creatorType%22%3A%22author%22%2C%22firstName%22%3A%22Stanislas%22%2C%22lastName%22%3A%22Boissau%22%7D%2C%7B%22creatorType%22%3A%22author%22%2C%22firstName%22%3A%22Jean-Christophe%22%2C%22lastName%22%3A%22Castella%22%7D%5D%2C%22abstractNote%22%3A%22The%20authors%20propose%20to%20exploit%20the%20similitude%20and%20complementarity%20between%20simulation-gaming%20and%20multi-agent%20modeling%20through%20the%20development%20of%20a%20new%20methodology%20called%20SAMBA-Week%2C%20which%20is%20used%20for%20agricultural%20research%20and%20development.%20The%20need%20for%20such%20a%20new%20methodology%20came%20from%20the%20context%20of%20mountainous%20areas%20of%20Northern%20Vietnam%20characterized%20by%20a%20high%20social%20and%20natural%20diversity.%20As%20actions%20of%20research%20and%20development%20typically%20involve%20multiple%20actors%2C%20a%20precondition%20for%20communication%20is%20a%20mutual%20understanding%20of%20each%20other%27s%20point%20of%20view.%20The%20authors%20thus%20used%20simulation-gaming%2C%20individual%20interviews%2C%20and%20multiagent%20modeling%20to%20enhance%20communication%20by%20constructing%20with%20the%20stakeholders%20a%20shared%20representation%20of%20their%20system%20as%20a%20basis%20for%20discussion.%22%2C%22date%22%3A%222003%22%2C%22language%22%3A%22%22%2C%22DOI%22%3A%2210.1177%5C%2F1046878103255789%22%2C%22ISSN%22%3A%2210468781%22%2C%22url%22%3A%22http%3A%5C%2F%5C%2Fsag.sagepub.com%5C%2Fcontent%5C%2F34%5C%2F3%5C%2F342.refs%22%2C%22collections%22%3A%5B%22SYDUSCWH%22%5D%2C%22dateModified%22%3A%222022-11-25T13%3A46%3A55Z%22%7D%7D%2C%7B%22key%22%3A%229B3MXMDJ%22%2C%22library%22%3A%7B%22id%22%3A4869801%7D%2C%22meta%22%3A%7B%22creatorSummary%22%3A%22Boyd%20and%20Richerson%22%2C%22parsedDate%22%3A%222002%22%2C%22numChildren%22%3A0%7D%2C%22bib%22%3A%22%3Cdiv%20class%3D%5C%22csl-bib-body%5C%22%20style%3D%5C%22line-height%3A%202%3B%20padding-left%3A%201em%3B%20text-indent%3A-1em%3B%5C%22%3E%5Cn%20%20%3Cdiv%20class%3D%5C%22csl-entry%5C%22%3EBoyd%2C%20R.%20T.%2C%20%26amp%3B%20Richerson%2C%20P.%20J.%20%282002%29.%20Group%20beneficial%20norms%20can%20spread%20rapidly%20in%20a%20structured%20population.%20%3Ci%3EJournal%20of%20Theoretical%20Biology%3C%5C%2Fi%3E%2C%20%3Ci%3E215%3C%5C%2Fi%3E%283%29%2C%20287%26%23x2013%3B296.%20%3Ca%20href%3D%27https%3A%5C%2F%5C%2Fdoi.org%5C%2F10.1006%5C%2Fjtbi.2001.2515%27%3Ehttps%3A%5C%2F%5C%2Fdoi.org%5C%2F10.1006%5C%2Fjtbi.2001.2515%3C%5C%2Fa%3E%3C%5C%2Fdiv%3E%5Cn%3C%5C%2Fdiv%3E%22%2C%22data%22%3A%7B%22itemType%22%3A%22journalArticle%22%2C%22title%22%3A%22Group%20beneficial%20norms%20can%20spread%20rapidly%20in%20a%20structured%20population%22%2C%22creators%22%3A%5B%7B%22creatorType%22%3A%22author%22%2C%22firstName%22%3A%22Robert%20T%22%2C%22lastName%22%3A%22Boyd%22%7D%2C%7B%22creatorType%22%3A%22author%22%2C%22firstName%22%3A%22Peter%20J.%22%2C%22lastName%22%3A%22Richerson%22%7D%5D%2C%22abstractNote%22%3A%22Group%20beneficial%20norms%20are%20common%20in%20human%20societies.%20The%20persistence%20of%20such%20norms%20is%20consistent%20with%20evolutionary%20game%20theory%2C%20but%20existing%20models%20do%20not%20provide%20a%20plausible%20explanation%20for%20why%20they%20are%20common.%20We%20show%20that%20when%20a%20model%20of%20imitation%20used%20to%20derive%20replicator%20dynamics%20in%20isolated%20populations%20is%20generalized%20to%20allow%20for%20population%20structure%2C%20group%20beneficial%20norms%20can%20spread%20rapidly%20under%20plausible%20conditions.%20We%20also%20show%20that%20this%20mechanism%20allows%20recombination%20of%20different%20group%20beneficial%20norms%20arising%20in%20different%20populations.%20%5Cu00a9%202002%20Elsevier%20Science%20Ltd.%20All%20rights%20reserved.%22%2C%22date%22%3A%222002%22%2C%22language%22%3A%22%22%2C%22DOI%22%3A%2210.1006%5C%2Fjtbi.2001.2515%22%2C%22ISSN%22%3A%2200225193%22%2C%22url%22%3A%22https%3A%5C%2F%5C%2Fdoi.org%5C%2F10.1006%5C%2Fjtbi.2001.2515%22%2C%22collections%22%3A%5B%22SYDUSCWH%22%5D%2C%22dateModified%22%3A%222022-11-25T14%3A56%3A23Z%22%7D%7D%2C%7B%22key%22%3A%22XALDRZ7Y%22%2C%22library%22%3A%7B%22id%22%3A4869801%7D%2C%22meta%22%3A%7B%22lastModifiedByUser%22%3A%7B%22id%22%3A9911611%2C%22username%22%3A%22dustin_eirdosh%22%2C%22name%22%3A%22Dustin%20Eirdosh%22%2C%22links%22%3A%7B%22alternate%22%3A%7B%22href%22%3A%22https%3A%5C%2F%5C%2Fwww.zotero.org%5C%2Fdustin_eirdosh%22%2C%22type%22%3A%22text%5C%2Fhtml%22%7D%7D%7D%2C%22creatorSummary%22%3A%22Bravo%22%2C%22parsedDate%22%3A%222011%22%2C%22numChildren%22%3A0%7D%2C%22bib%22%3A%22%3Cdiv%20class%3D%5C%22csl-bib-body%5C%22%20style%3D%5C%22line-height%3A%202%3B%20padding-left%3A%201em%3B%20text-indent%3A-1em%3B%5C%22%3E%5Cn%20%20%3Cdiv%20class%3D%5C%22csl-entry%5C%22%3EBravo%2C%20G.%20%282011%29.%20Agents%26%23x2019%3B%20beliefs%20and%20the%20evolution%20of%20institutions%20for%20common-pool%20resource%20management.%20%3Ci%3ERationality%20and%20Society%3C%5C%2Fi%3E%2C%20%3Ci%3E23%3C%5C%2Fi%3E%281%29%2C%20117%26%23x2013%3B152.%20%3Ca%20href%3D%27https%3A%5C%2F%5C%2Fdoi.org%5C%2F10.1177%5C%2F1043463110387268%27%3Ehttps%3A%5C%2F%5C%2Fdoi.org%5C%2F10.1177%5C%2F1043463110387268%3C%5C%2Fa%3E%3C%5C%2Fdiv%3E%5Cn%3C%5C%2Fdiv%3E%22%2C%22data%22%3A%7B%22itemType%22%3A%22journalArticle%22%2C%22title%22%3A%22Agents%27%20beliefs%20and%20the%20evolution%20of%20institutions%20for%20common-pool%20resource%20management%22%2C%22creators%22%3A%5B%7B%22creatorType%22%3A%22author%22%2C%22firstName%22%3A%22G.%22%2C%22lastName%22%3A%22Bravo%22%7D%5D%2C%22abstractNote%22%3A%22The%20joint%20exploitation%20of%20open-access%20natural%20resources%20is%20often%20modeled%20as%20a%20social%20dilemma%20with%20no%20escape%20for%20rational%20actors.%20Nevertheless%2C%20real%20individuals%20are%20not%20helplessly%20trapped%20in%20this%20dilemma%20and%20are%20often%20able%20to%20sustainably%20manage%20their%20commons%20by%20building%20endogenous%20institutions.This%20paper%20proposes%20both%20a%20simple%20analytical%20model%20and%20a%20more%20complex%20agent-based%20one%20designed%20to%20study%20common-%20pool%20resource%20management%20problems%20with%20a%20specific%20focus%20on%20the%20relation%20between%20agents%5Cu2019%20beliefs%20and%20institutions.The%20conditions%20where%20agents%20are%20allowed%20to%20build%20management%20institutions%20lead%20to%20much%20better%20outcomes%20than%20the%20ones%20where%20agents%20can%20only%20rely%20on%20individual%20beliefs%20in%20order%20to%20limit%20the%20resource%20consumption.This%20happens%20despite%20the%20fact%20that%20agents%20act%20in%20a%20competitive%20environment%20favoring%20high%20resource%20consumers.%22%2C%22date%22%3A%222011%22%2C%22language%22%3A%22%22%2C%22DOI%22%3A%2210.1177%5C%2F1043463110387268%22%2C%22ISSN%22%3A%221043-4631%22%2C%22url%22%3A%22https%3A%5C%2F%5C%2Fdoi.org%5C%2F10.1177%5C%2F1043463110387268%22%2C%22collections%22%3A%5B%22SYDUSCWH%22%2C%2299GRK5IK%22%5D%2C%22dateModified%22%3A%222022-11-25T13%3A46%3A55Z%22%7D%7D%2C%7B%22key%22%3A%228NV7KCK3%22%2C%22library%22%3A%7B%22id%22%3A4869801%7D%2C%22meta%22%3A%7B%22creatorSummary%22%3A%22Brennan%20and%20Resnick%22%2C%22parsedDate%22%3A%222012%22%2C%22numChildren%22%3A0%7D%2C%22bib%22%3A%22%3Cdiv%20class%3D%5C%22csl-bib-body%5C%22%20style%3D%5C%22line-height%3A%202%3B%20padding-left%3A%201em%3B%20text-indent%3A-1em%3B%5C%22%3E%5Cn%20%20%3Cdiv%20class%3D%5C%22csl-entry%5C%22%3EBrennan%2C%20K.%2C%20%26amp%3B%20Resnick%2C%20M.%20%282012%29.%20New%20frameworks%20for%20studying%20and%20assessing%20the%20development%20of%20computational%20thinking.%20%3Ci%3EAERA%3C%5C%2Fi%3E.%3C%5C%2Fdiv%3E%5Cn%3C%5C%2Fdiv%3E%22%2C%22data%22%3A%7B%22itemType%22%3A%22journalArticle%22%2C%22title%22%3A%22New%20frameworks%20for%20studying%20and%20assessing%20the%20development%20of%20computational%20thinking%22%2C%22creators%22%3A%5B%7B%22creatorType%22%3A%22author%22%2C%22firstName%22%3A%22Karen%22%2C%22lastName%22%3A%22Brennan%22%7D%2C%7B%22creatorType%22%3A%22author%22%2C%22firstName%22%3A%22Mitchel%22%2C%22lastName%22%3A%22Resnick%22%7D%5D%2C%22abstractNote%22%3A%22Computational%20thinking%20is%20a%20phrase%20that%20has%20received%20considerable%20attention%20over%20the%20past%20several%20years%20%5Cu2013%20but%20there%20is%20little%20agreement%20about%20what%20computational%20thinking%20encompasses%2C%20and%20even%20less%20agreement%20about%20strategies%20for%20assessing%20the%20development%20of%20computational%20thinking%20in%20young%20people.%20We%20are%20interested%20in%20the%20ways%20that%20design-based%20learning%20activities%20%5Cu2013%20in%20particular%2C%20programming%20interactive%20media%20%5Cu2013%20support%20the%20development%20of%20computational%20thinking%20in%20young%20people.%20Over%20the%20past%20several%20years%2C%20we%20have%20developed%20a%20computational%20thinking%20framework%20that%20emerged%20from%20our%20studies%20of%20the%20activities%20of%20interactive%20media%20designers.%20Our%20context%20is%20Scratch%20%5Cu2013%20a%20programming%20environment%20that%20enables%20young%20people%20to%20create%20their%20own%20interactive%20stories%2C%20games%2C%20and%20simulations%2C%20and%20then%20share%20those%20creations%20in%20an%20online%20community%20with%20other%20young%20programmers%20from%20around%20the%20world.%20The%20first%20part%20of%20the%20paper%20describes%20the%20key%20dimensions%20of%20our%20computational%20thinking%20framework%3A%20computational%20concepts%20%28the%20concepts%20designers%20engage%20with%20as%20they%20program%2C%20such%20as%20iteration%2C%20parallelism%2C%20etc.%29%2C%20computational%20practices%20%28the%20practices%20designers%20develop%20as%20they%20engage%20with%20the%20concepts%2C%20such%20as%20debugging%20projects%20or%20remixing%20others%5Cu2019%20work%29%2C%20and%20computational%20perspectives%20%28the%20perspectives%20designers%20form%20about%20the%20world%20around%20them%20and%20about%20themselves%29.%20The%20second%20part%20of%20the%20paper%20describes%20our%20evolving%20approach%20to%20assessing%20these%20dimensions%2C%20including%20project%20portfolio%20analysis%2C%20artifact-based%20interviews%2C%20and%20design%20scenarios.%20We%20end%20with%20a%20set%20of%20suggestions%20for%20assessing%20the%20learning%20that%20takes%20place%20when%20young%20people%20engage%20in%20programming.%20Designing%22%2C%22date%22%3A%222012%22%2C%22language%22%3A%22%22%2C%22DOI%22%3A%22%22%2C%22ISSN%22%3A%22%22%2C%22url%22%3A%22%22%2C%22collections%22%3A%5B%22SYDUSCWH%22%5D%2C%22dateModified%22%3A%222022-11-25T13%3A47%3A59Z%22%7D%7D%2C%7B%22key%22%3A%22LIJHFNYI%22%2C%22library%22%3A%7B%22id%22%3A4869801%7D%2C%22meta%22%3A%7B%22lastModifiedByUser%22%3A%7B%22id%22%3A9911611%2C%22username%22%3A%22dustin_eirdosh%22%2C%22name%22%3A%22Dustin%20Eirdosh%22%2C%22links%22%3A%7B%22alternate%22%3A%7B%22href%22%3A%22https%3A%5C%2F%5C%2Fwww.zotero.org%5C%2Fdustin_eirdosh%22%2C%22type%22%3A%22text%5C%2Fhtml%22%7D%7D%7D%2C%22creatorSummary%22%3A%22Castella%20et%20al.%22%2C%22parsedDate%22%3A%222005%22%2C%22numChildren%22%3A0%7D%2C%22bib%22%3A%22%3Cdiv%20class%3D%5C%22csl-bib-body%5C%22%20style%3D%5C%22line-height%3A%202%3B%20padding-left%3A%201em%3B%20text-indent%3A-1em%3B%5C%22%3E%5Cn%20%20%3Cdiv%20class%3D%5C%22csl-entry%5C%22%3ECastella%2C%20J.%2C%20Trung%2C%20T.%20N.%2C%20%26amp%3B%20Boissau%2C%20S.%20%282005%29.%20Participatory%20Simulation%20of%20Land-Use%20Changes%20in%20the%20Northern%20Mountains%20of%20Vietnam%3A%20the%20Combined%20Use%20of%20an%20Agent-Based%20Model%2C%20a%20Role-Playing%20Game%2C%20and%20a%20Geographic%20Information%20System.%20%3Ci%3EEcology%20and%20Society%3C%5C%2Fi%3E%2C%20%3Ci%3E10%3C%5C%2Fi%3E%281%29.%3C%5C%2Fdiv%3E%5Cn%3C%5C%2Fdiv%3E%22%2C%22data%22%3A%7B%22itemType%22%3A%22journalArticle%22%2C%22title%22%3A%22Participatory%20Simulation%20of%20Land-Use%20Changes%20in%20the%20Northern%20Mountains%20of%20Vietnam%3A%20the%20Combined%20Use%20of%20an%20Agent-Based%20Model%2C%20a%20Role-Playing%20Game%2C%20and%20a%20Geographic%20Information%20System%22%2C%22creators%22%3A%5B%7B%22creatorType%22%3A%22author%22%2C%22firstName%22%3A%22Jean-christophe%22%2C%22lastName%22%3A%22Castella%22%7D%2C%7B%22creatorType%22%3A%22author%22%2C%22firstName%22%3A%22Tran%20Ngoc%22%2C%22lastName%22%3A%22Trung%22%7D%2C%7B%22creatorType%22%3A%22author%22%2C%22firstName%22%3A%22Stanislas%22%2C%22lastName%22%3A%22Boissau%22%7D%5D%2C%22abstractNote%22%3A%22%22%2C%22date%22%3A%222005%22%2C%22language%22%3A%22%22%2C%22DOI%22%3A%22%22%2C%22ISSN%22%3A%22%22%2C%22url%22%3A%22%22%2C%22collections%22%3A%5B%22SYDUSCWH%22%5D%2C%22dateModified%22%3A%222022-11-25T13%3A46%3A55Z%22%7D%7D%2C%7B%22key%22%3A%22S9QN4RAZ%22%2C%22library%22%3A%7B%22id%22%3A4869801%7D%2C%22meta%22%3A%7B%22lastModifiedByUser%22%3A%7B%22id%22%3A9911611%2C%22username%22%3A%22dustin_eirdosh%22%2C%22name%22%3A%22Dustin%20Eirdosh%22%2C%22links%22%3A%7B%22alternate%22%3A%7B%22href%22%3A%22https%3A%5C%2F%5C%2Fwww.zotero.org%5C%2Fdustin_eirdosh%22%2C%22type%22%3A%22text%5C%2Fhtml%22%7D%7D%7D%2C%22creatorSummary%22%3A%22Centola%20et%20al.%22%2C%22parsedDate%22%3A%222000%22%2C%22numChildren%22%3A0%7D%2C%22bib%22%3A%22%3Cdiv%20class%3D%5C%22csl-bib-body%5C%22%20style%3D%5C%22line-height%3A%202%3B%20padding-left%3A%201em%3B%20text-indent%3A-1em%3B%5C%22%3E%5Cn%20%20%3Cdiv%20class%3D%5C%22csl-entry%5C%22%3ECentola%2C%20D.%2C%20Wilensky%2C%20U.%2C%20%26amp%3B%20McKenzie%2C%20E.%20%282000%29.%20A%20hands-on%20modeling%20approach%20to%20evolution%3A%20Learning%20about%20the%20evolution%20of%20cooperation%20and%20altruism%20through%20multi-agent%20modeling-The%20EACH%20Project.%20%3Ci%3EProceedings%20of%20the%20Fourth%20International%20Conference%20of%20the%20Learning%20Sciences%3C%5C%2Fi%3E%2C%20166%26%23x2013%3B173.%3C%5C%2Fdiv%3E%5Cn%3C%5C%2Fdiv%3E%22%2C%22data%22%3A%7B%22itemType%22%3A%22conferencePaper%22%2C%22title%22%3A%22A%20hands-on%20modeling%20approach%20to%20evolution%3A%20Learning%20about%20the%20evolution%20of%20cooperation%20and%20altruism%20through%20multi-agent%20modeling-The%20EACH%20Project%22%2C%22creators%22%3A%5B%7B%22creatorType%22%3A%22author%22%2C%22firstName%22%3A%22D%22%2C%22lastName%22%3A%22Centola%22%7D%2C%7B%22creatorType%22%3A%22author%22%2C%22firstName%22%3A%22Uri%22%2C%22lastName%22%3A%22Wilensky%22%7D%2C%7B%22creatorType%22%3A%22author%22%2C%22firstName%22%3A%22E%22%2C%22lastName%22%3A%22McKenzie%22%7D%5D%2C%22abstractNote%22%3A%22This%20paper%20presents%20a%20hands-on%20approach%20to%20learning%5C%5Cnabout%20evolution%3B%20specifically%2C%20the%20evolution%20of%5C%5Cnaltruistic%20and%20cooperative%20behavior.%20The%20classical%5C%5Cnview%20of%20individual%20selection%20stresses%20the%20importance%5C%5Cnof%20competition%20between%20individuals%20for%20resources%20and%5C%5Cnsurvival.%20On%20this%20view%2C%20altruistic%20and%20cooperative%5C%5Cnbehavior%20appear%20to%20be%20disadvantageous%20for%5C%5Cnevolutionary%20success.%20However%2C%20looking%20at%20evolution%5C%5Cnas%20a%20complex%20system%2C%20altruism%20and%20cooperation%20can%20be%5C%5Cnseen%20as%20valuable%20traits%20for%20individual%20survival.%20The%5C%5CnEACH%20project%20developed%20hands-on%20materials%20that%5C%5Cnenabled%20students%20to%20engage%20and%20test%20their%20intuitions%5C%5Cnabout%20the%20fitness%20and%20evolutionary%20success%20of%5C%5Cnaltruistic%20behavior.%20The%20primary%20materials%20consisted%5C%5Cnof%20a%20set%20of%20multi-agent%20models%20%28written%20in%5C%5CnStarLogoT%29%20and%20associated%20activities%20that%20guided%5C%5Cnstudents%20in%20exploring%20evolutionary%20scenarios.%5C%5CnThrough%20their%20involvement%20in%20the%20EACH%20project%2C%20many%5C%5Cnstudents%20who%20had%20started%20with%20an%20understanding%20of%5C%5Cnevolutionary%20fitness%20as%20a%20trait%20of%20isolated%5C%5Cnindividuals%20came%20to%20appreciate%20the%20complexity%20of%5C%5Cnenvironmental%20and%20social%20factors%20in%20the%20evolutionary%5C%5Cnprocess.%22%2C%22date%22%3A%222000%22%2C%22proceedingsTitle%22%3A%22Proceedings%20of%20the%20Fourth%20International%20Conference%20of%20the%20Learning%20Sciences%22%2C%22conferenceName%22%3A%22%22%2C%22language%22%3A%22%22%2C%22DOI%22%3A%22%22%2C%22ISBN%22%3A%22%22%2C%22url%22%3A%22%22%2C%22collections%22%3A%5B%22SYDUSCWH%22%5D%2C%22dateModified%22%3A%222022-11-25T13%3A46%3A55Z%22%7D%7D%2C%7B%22key%22%3A%22BQ7XFSBH%22%2C%22library%22%3A%7B%22id%22%3A4869801%7D%2C%22meta%22%3A%7B%22lastModifiedByUser%22%3A%7B%22id%22%3A9911611%2C%22username%22%3A%22dustin_eirdosh%22%2C%22name%22%3A%22Dustin%20Eirdosh%22%2C%22links%22%3A%7B%22alternate%22%3A%7B%22href%22%3A%22https%3A%5C%2F%5C%2Fwww.zotero.org%5C%2Fdustin_eirdosh%22%2C%22type%22%3A%22text%5C%2Fhtml%22%7D%7D%7D%2C%22creatorSummary%22%3A%22Clarke-Midura%20et%20al.%22%2C%22parsedDate%22%3A%222018%22%2C%22numChildren%22%3A0%7D%2C%22bib%22%3A%22%3Cdiv%20class%3D%5C%22csl-bib-body%5C%22%20style%3D%5C%22line-height%3A%202%3B%20padding-left%3A%201em%3B%20text-indent%3A-1em%3B%5C%22%3E%5Cn%20%20%3Cdiv%20class%3D%5C%22csl-entry%5C%22%3EClarke-Midura%2C%20J.%2C%20Pope%2C%20D.%20S.%2C%20Maruca%2C%20S.%2C%20Abraham%2C%20J.%20K.%2C%20%26amp%3B%20Meir%2C%20E.%20%282018%29.%20Iterative%20design%20of%20a%20simulation-based%20module%20for%20teaching%20evolution%20by%20natural%20selection.%20%3Ci%3EEvolution%3A%20Education%20and%20Outreach%3C%5C%2Fi%3E%2C%20%3Ci%3E11%3C%5C%2Fi%3E%281%29%2C%204.%20%3Ca%20href%3D%27https%3A%5C%2F%5C%2Fdoi.org%5C%2F10.1186%5C%2Fs12052-018-0078-6%27%3Ehttps%3A%5C%2F%5C%2Fdoi.org%5C%2F10.1186%5C%2Fs12052-018-0078-6%3C%5C%2Fa%3E%3C%5C%2Fdiv%3E%5Cn%3C%5C%2Fdiv%3E%22%2C%22data%22%3A%7B%22itemType%22%3A%22journalArticle%22%2C%22title%22%3A%22Iterative%20design%20of%20a%20simulation-based%20module%20for%20teaching%20evolution%20by%20natural%20selection%22%2C%22creators%22%3A%5B%7B%22creatorType%22%3A%22author%22%2C%22firstName%22%3A%22Jody%22%2C%22lastName%22%3A%22Clarke-Midura%22%7D%2C%7B%22creatorType%22%3A%22author%22%2C%22firstName%22%3A%22Denise%20S.%22%2C%22lastName%22%3A%22Pope%22%7D%2C%7B%22creatorType%22%3A%22author%22%2C%22firstName%22%3A%22Susan%22%2C%22lastName%22%3A%22Maruca%22%7D%2C%7B%22creatorType%22%3A%22author%22%2C%22firstName%22%3A%22Joel%20K.%22%2C%22lastName%22%3A%22Abraham%22%7D%2C%7B%22creatorType%22%3A%22author%22%2C%22firstName%22%3A%22Eli%22%2C%22lastName%22%3A%22Meir%22%7D%5D%2C%22abstractNote%22%3A%22This%20research%20builds%20on%20a%20previous%20study%20that%20looked%20at%20the%20effectiveness%20of%20a%20simulation-based%20module%20for%20teaching%20students%20about%20the%20process%20of%20evolution%20by%20natural%20selection.%20While%20the%20previous%20study%20showed%20that%20the%20module%20was%20successful%20in%20teaching%20how%20natural%20selection%20works%2C%20the%20research%20uncovered%20some%20weaknesses%20in%20the%20design.%20In%20this%20paper%2C%20we%20used%20design-based%20research%20to%20investigate%20how%20design%20changes%20to%20the%20module%20affected%20not%20only%20students%27%20understanding%20of%20the%20concepts%20but%20also%20their%20usage%20of%20misconceptions%20in%20the%20assessments.%20We%20present%20results%20from%20two%20studies.%20In%20study%201%2C%20we%20looked%20at%20gains%20in%20understanding%20on%20a%20pre%20and%20post-assessment%20for%20students%20who%20used%20the%20revised%20version%20of%20the%20module.%20We%20also%20examined%20misconception%20uses%20in%20their%20answer%20selections.%20In%20study%202%2C%20we%20compared%20the%20performance%20on%20a%20summative%20assessment%20between%20students%20who%20used%20the%20revised%20version%20and%20students%20who%20used%20the%20original%20version%20of%20the%20module.%20We%20also%20looked%20at%20misconception%20uses%20in%20their%20answer%20selections.%20In%20study%201%2C%20we%20saw%20a%20significant%20improvement%20in%20the%20pre-post%20assessment%20for%20students%20who%20used%20the%20revised%20version.%20In%20study%202%2C%20we%20did%20not%20find%20a%20significant%20difference%20on%20the%20overall%20performance%20outcome%20between%20students%20who%20used%20the%20revised%20and%20those%20that%20used%20the%20original%20version%20of%20the%20module.%20In%20both%20studies%2C%20however%2C%20we%20saw%20a%20lower%20use%20of%20misconceptions%20after%20students%20used%20the%20revised%20module.%20In%20particular%2C%20we%20saw%20less%20use%20of%20the%20adaptive%20mutation%20misconception%2C%20the%20belief%20that%20mutations%20are%20adaptive%20responses%20to%20the%20environment%20and%20are%20biased%20towards%20advantageous%20mutations.%20This%20is%20promising%20because%20in%20the%20previous%20study%20there%20was%20no%20evidence%20of%20decreased%20use%20of%20this%20misconception.%20Students%20showed%20learning%20gains%20on%20all%20targeted%20key%20concepts%2C%20and%20reduced%20expression%20of%20all%20targeted%20misconceptions%2C%20which%20was%20not%20found%20previously%20for%20students%20using%20the%20older%20workbook%20version%20of%20the%20module.%20In%20particular%2C%20the%20revised%20version%20appears%20to%20help%20students%20overcome%20the%20adaptive%20mutation%20misconception.%20This%20article%20demonstrates%20how%20design-based%20research%20can%20contribute%20to%20the%20ongoing%20improvement%20of%20evidence-based%20instruction%20in%20undergraduate%20biology%20classrooms.%22%2C%22date%22%3A%222018%22%2C%22language%22%3A%22%22%2C%22DOI%22%3A%2210.1186%5C%2Fs12052-018-0078-6%22%2C%22ISSN%22%3A%221936-6426%22%2C%22url%22%3A%22https%3A%5C%2F%5C%2Fevolution-outreach.springeropen.com%5C%2Farticles%5C%2F10.1186%5C%2Fs12052-018-0078-6%22%2C%22collections%22%3A%5B%22SYDUSCWH%22%2C%22GKIYCK9E%22%5D%2C%22dateModified%22%3A%222022-11-26T12%3A20%3A44Z%22%7D%7D%2C%7B%22key%22%3A%22WNPYBZ6V%22%2C%22library%22%3A%7B%22id%22%3A4869801%7D%2C%22meta%22%3A%7B%22creatorSummary%22%3A%22Currie%20et%20al.%22%2C%22parsedDate%22%3A%222021-07-05%22%2C%22numChildren%22%3A0%7D%2C%22bib%22%3A%22%3Cdiv%20class%3D%5C%22csl-bib-body%5C%22%20style%3D%5C%22line-height%3A%202%3B%20padding-left%3A%201em%3B%20text-indent%3A-1em%3B%5C%22%3E%5Cn%20%20%3Cdiv%20class%3D%5C%22csl-entry%5C%22%3ECurrie%2C%20T.%20E.%2C%20Campenni%2C%20M.%2C%20Flitton%2C%20A.%2C%20Njagi%2C%20T.%2C%20Ontiri%2C%20E.%2C%20Perret%2C%20C.%2C%20%26amp%3B%20Walker%2C%20L.%20%282021%29.%20The%20cultural%20evolution%20and%20ecology%20of%20institutions.%20%3Ci%3EPhilosophical%20Transactions%20of%20the%20Royal%20Society%20B%3A%20Biological%20Sciences%3C%5C%2Fi%3E%2C%20%3Ci%3E376%3C%5C%2Fi%3E%281828%29%2C%20rstb.2020.0047.%20%3Ca%20href%3D%27https%3A%5C%2F%5C%2Fdoi.org%5C%2F10.1098%5C%2Frstb.2020.0047%27%3Ehttps%3A%5C%2F%5C%2Fdoi.org%5C%2F10.1098%5C%2Frstb.2020.0047%3C%5C%2Fa%3E%3C%5C%2Fdiv%3E%5Cn%3C%5C%2Fdiv%3E%22%2C%22data%22%3A%7B%22itemType%22%3A%22journalArticle%22%2C%22title%22%3A%22The%20cultural%20evolution%20and%20ecology%20of%20institutions%22%2C%22creators%22%3A%5B%7B%22creatorType%22%3A%22author%22%2C%22firstName%22%3A%22Thomas%20E.%22%2C%22lastName%22%3A%22Currie%22%7D%2C%7B%22creatorType%22%3A%22author%22%2C%22firstName%22%3A%22Marco%22%2C%22lastName%22%3A%22Campenni%22%7D%2C%7B%22creatorType%22%3A%22author%22%2C%22firstName%22%3A%22Adam%22%2C%22lastName%22%3A%22Flitton%22%7D%2C%7B%22creatorType%22%3A%22author%22%2C%22firstName%22%3A%22Tim%22%2C%22lastName%22%3A%22Njagi%22%7D%2C%7B%22creatorType%22%3A%22author%22%2C%22firstName%22%3A%22Enoch%22%2C%22lastName%22%3A%22Ontiri%22%7D%2C%7B%22creatorType%22%3A%22author%22%2C%22firstName%22%3A%22Cedric%22%2C%22lastName%22%3A%22Perret%22%7D%2C%7B%22creatorType%22%3A%22author%22%2C%22firstName%22%3A%22Lindsay%22%2C%22lastName%22%3A%22Walker%22%7D%5D%2C%22abstractNote%22%3A%22Human%20societies%20are%20structured%20by%20what%20we%20refer%20to%20as%20%5Cu2018institutions%5Cu2019%2C%20which%20are%20socially%20created%20and%20culturally%20inherited%20proscriptions%20on%20behaviour%20that%20define%20roles%20and%20set%20expectations%20about%20social%20interactions.%20The%20study%20of%20institutions%20in%20several%20social%20science%20fields%20has%20provided%20many%20important%20insights%20that%20have%20not%20been%20fully%20appreciated%20in%20the%20evolutionary%20human%20sciences.%20However%2C%20such%20research%20has%20often%20lacked%20a%20shared%20understanding%20of%20general%20processes%20of%20change%20that%20shape%20institutional%20diversity%20across%20space%20and%20time.%20We%20argue%20that%20evolutionary%20theory%20can%20provide%20a%20useful%20framework%20for%20synthesizing%20information%20from%20different%20disciplines%20to%20address%20issues%20such%20as%20how%20and%20why%20institutions%20change%20over%20time%2C%20how%20institutional%20rules%20co-evolve%20with%20other%20culturally%20inherited%20traits%2C%20and%20the%20role%20that%20ecological%20factors%20might%20play%20in%20shaping%20institutional%20diversity.%20We%20argue%20that%20we%20can%20gain%20important%20insights%20by%20applying%20cultural%20evolutionary%20thinking%20to%20the%20study%20of%20institutions%2C%20but%20that%20we%20also%20need%20to%20expand%20and%20adapt%20our%20approaches%20to%20better%20handle%20the%20ways%20that%20institutions%20work%2C%20and%20how%20they%20might%20change%20over%20time.%20In%20this%20paper%2C%20we%20illustrate%20our%20approach%20by%20describing%20macro-scale%20empirical%20comparative%20analyses%20that%20demonstrate%20how%20evolutionary%20theory%20can%20be%20used%20to%20generate%20and%20test%20hypotheses%20about%20the%20processes%20that%20have%20shaped%20some%20of%20the%20major%20patterns%20we%20see%20in%20institutional%20diversity%20over%20time%20and%20across%20the%20world%20today.%20We%20then%20go%20on%20to%20discuss%20how%20we%20might%20usefully%20develop%20micro-scale%20models%20of%20institutional%20change%20by%20adapting%20concepts%20from%20game%20theory%20and%20agent-based%20modelling.%20We%20end%20by%20considering%20current%20challenges%20and%20areas%20for%20future%20research%2C%20and%20the%20potential%20implications%20for%20other%20areas%20of%20study%20and%20real-world%20applications.%22%2C%22date%22%3A%222021-07-05%22%2C%22language%22%3A%22%22%2C%22DOI%22%3A%2210.1098%5C%2Frstb.2020.0047%22%2C%22ISSN%22%3A%220962-8436%22%2C%22url%22%3A%22https%3A%5C%2F%5C%2Froyalsocietypublishing.org%5C%2Fdoi%5C%2F10.1098%5C%2Frstb.2020.0047%22%2C%22collections%22%3A%5B%22SYDUSCWH%22%5D%2C%22dateModified%22%3A%222022-11-25T13%3A46%3A55Z%22%7D%7D%2C%7B%22key%22%3A%229Y4JFB4D%22%2C%22library%22%3A%7B%22id%22%3A4869801%7D%2C%22meta%22%3A%7B%22lastModifiedByUser%22%3A%7B%22id%22%3A9911611%2C%22username%22%3A%22dustin_eirdosh%22%2C%22name%22%3A%22Dustin%20Eirdosh%22%2C%22links%22%3A%7B%22alternate%22%3A%7B%22href%22%3A%22https%3A%5C%2F%5C%2Fwww.zotero.org%5C%2Fdustin_eirdosh%22%2C%22type%22%3A%22text%5C%2Fhtml%22%7D%7D%7D%2C%22creatorSummary%22%3A%22d%27Aquino%20et%20al.%22%2C%22parsedDate%22%3A%222003%22%2C%22numChildren%22%3A0%7D%2C%22bib%22%3A%22%3Cdiv%20class%3D%5C%22csl-bib-body%5C%22%20style%3D%5C%22line-height%3A%202%3B%20padding-left%3A%201em%3B%20text-indent%3A-1em%3B%5C%22%3E%5Cn%20%20%3Cdiv%20class%3D%5C%22csl-entry%5C%22%3Ed%26%23x2019%3BAquino%2C%20P.%2C%20Le%20Page%2C%20C.%2C%20Bousquet%2C%20F.%2C%20%26amp%3B%20Bah%2C%20A.%20%282003%29.%20Using%20Self-Designed%20Role-Playing%20Games%20and%20a%20Multi-Agent%20System%20to%20Empower%20a%20Local%20Decision-Making%20Process%20for%20Land%20Use%20Management%3A%20The%20SelfCormas%20Experiment%20in%20Senegal.%20%3Ci%3EJournal%20of%20Artificial%20Societies%20and%20Social%20Simulation%3C%5C%2Fi%3E%2C%20%3Ci%3E6%3C%5C%2Fi%3E%283%29.%20%3Ca%20href%3D%27http%3A%5C%2F%5C%2Fjasss.soc.surrey.ac.uk%5C%2F6%5C%2F3%5C%2F5.html%27%3Ehttp%3A%5C%2F%5C%2Fjasss.soc.surrey.ac.uk%5C%2F6%5C%2F3%5C%2F5.html%3C%5C%2Fa%3E%3C%5C%2Fdiv%3E%5Cn%3C%5C%2Fdiv%3E%22%2C%22data%22%3A%7B%22itemType%22%3A%22journalArticle%22%2C%22title%22%3A%22Using%20Self-Designed%20Role-Playing%20Games%20and%20a%20Multi-Agent%20System%20to%20Empower%20a%20Local%20Decision-Making%20Process%20for%20Land%20Use%20Management%3A%20The%20SelfCormas%20Experiment%20in%20Senegal%22%2C%22creators%22%3A%5B%7B%22creatorType%22%3A%22author%22%2C%22firstName%22%3A%22Patrick%22%2C%22lastName%22%3A%22d%27Aquino%22%7D%2C%7B%22creatorType%22%3A%22author%22%2C%22firstName%22%3A%22Christophe%22%2C%22lastName%22%3A%22Le%20Page%22%7D%2C%7B%22creatorType%22%3A%22author%22%2C%22firstName%22%3A%22Fran%5Cu00e7ois%22%2C%22lastName%22%3A%22Bousquet%22%7D%2C%7B%22creatorType%22%3A%22author%22%2C%22firstName%22%3A%22Alassane%22%2C%22lastName%22%3A%22Bah%22%7D%5D%2C%22abstractNote%22%3A%22As%20agricultural%20and%20environmental%20issues%20are%20more%20and%20more%20inter-linked%2C%20the%20increasing%20multiplicity%20of%20stakeholders%2C%20with%20differing%20and%20often%20conflicting%20land%20use%20representations%20and%20strategies%2C%20underlines%20the%20need%20for%20innovative%20methods%20and%20tools%20to%20support%20their%20coordination%2C%20mediation%20and%20negotiation%20processes%20aiming%20at%20an%20improved%2C%20more%20decentralized%20and%20integrated%20natural%20resources%20management.%20But%20how%20can%20technology%20fit%20best%20with%20such%20a%20novel%20means%20of%20support%3F%20Even%20the%20present%20participatory%20modeling%20method%20is%20not%20really%20designed%20to%20avoid%20this%20technocratic%20drift%20and%20encourage%20the%20empowerment%20of%20stakeholders%20in%20the%20land%20use%20planning%20process.%20In%20fact%2C%20to%20truly%20integrate%20people%20and%20principals%20in%20the%20decision-making%20process%20of%20land%20use%20management%20and%20planning%2C%20information%20technology%20should%20not%20only%20support%20a%20mere%20access%20to%20information%20but%20also%20help%20people%20to%20participate%20fully%20in%20its%20design%2C%20process%20and%20usage.%20That%20means%20allow%20people%20to%20use%20the%20modeling%20support%20not%20to%20provide%20solutions%2C%20but%20to%20help%20people%20to%20steer%20their%20course%20within%20an%20incremental%2C%20iterative%2C%20and%20shared%20decision-making%20process.%20To%20this%20end%2C%20since%201997%20we%20have%20experimented%20at%20an%20operational%20level%20%282500%20km2%29%20in%20the%20Senegal%20River%20valley%20a%20Self-Design%20Method%20that%20places%20modeling%20tools%20at%20stakeholders%27%20and%20principals%27%20disposal%2C%20right%20from%20the%20initial%20stages.%20The%20experiment%20presented%20here%20links%20Multi-Agent%20Systems%20and%20Role-Playing%20Games%20within%20a%20self-design%20and%20use%20process.%20The%20main%20objective%20was%20to%20test%20direct%20modeling%20design%20of%20these%20tools%20by%20stakeholders%2C%20with%20as%20little%20prior%20design%20work%20by%20the%20modeler%20as%20possible.%20This%20%5C%22self-design%5C%22%20experiment%20was%20organized%20in%20the%20form%20of%20participatory%20workshops%20which%20has%20led%20on%20discussions%2C%20appraisals%2C%20and%20decisions%20about%20planning%20land%20use%20management%2C%20already%20applied%20two%20years%20after%20the%20first%20workshops.%22%2C%22date%22%3A%222003%22%2C%22language%22%3A%22%22%2C%22DOI%22%3A%22%22%2C%22ISSN%22%3A%22%22%2C%22url%22%3A%22http%3A%5C%2F%5C%2Fjasss.soc.surrey.ac.uk%5C%2F6%5C%2F3%5C%2F5.html%22%2C%22collections%22%3A%5B%22SYDUSCWH%22%5D%2C%22dateModified%22%3A%222022-11-25T13%3A46%3A55Z%22%7D%7D%2C%7B%22key%22%3A%22699HX8WU%22%2C%22library%22%3A%7B%22id%22%3A4869801%7D%2C%22meta%22%3A%7B%22lastModifiedByUser%22%3A%7B%22id%22%3A9911611%2C%22username%22%3A%22dustin_eirdosh%22%2C%22name%22%3A%22Dustin%20Eirdosh%22%2C%22links%22%3A%7B%22alternate%22%3A%7B%22href%22%3A%22https%3A%5C%2F%5C%2Fwww.zotero.org%5C%2Fdustin_eirdosh%22%2C%22type%22%3A%22text%5C%2Fhtml%22%7D%7D%7D%2C%22creatorSummary%22%3A%22Darling%20et%20al.%22%2C%22parsedDate%22%3A%222021%22%2C%22numChildren%22%3A0%7D%2C%22bib%22%3A%22%3Cdiv%20class%3D%5C%22csl-bib-body%5C%22%20style%3D%5C%22line-height%3A%202%3B%20padding-left%3A%201em%3B%20text-indent%3A-1em%3B%5C%22%3E%5Cn%20%20%3Cdiv%20class%3D%5C%22csl-entry%5C%22%3EDarling%2C%20N.%2C%20Salter%2C%20R.%2C%20%26amp%3B%20Burns%2C%20I.%20%282021%29.%20Nova%3A%20A%20Novel%20Tool%20for%20Collaborative%20Agent-Based%20and%20Dynamic%20Systems%20Modeling.%20In%20L.%20Schmitt%20Olabisi%2C%20M.%20McNall%2C%20W.%20Porter%2C%20%26amp%3B%20I.%20Zhao%20%28Eds.%29%2C%20%3Ci%3EInnovations%20in%20Collaborative%20Modeling%3C%5C%2Fi%3E%20%28pp.%2029%26%23x2013%3B46%29.%20Michigan%20State%20University%20Press.%3C%5C%2Fdiv%3E%5Cn%3C%5C%2Fdiv%3E%22%2C%22data%22%3A%7B%22itemType%22%3A%22bookSection%22%2C%22title%22%3A%22Nova%3A%20A%20Novel%20Tool%20for%20Collaborative%20Agent-Based%20and%20Dynamic%20Systems%20Modeling%22%2C%22creators%22%3A%5B%7B%22creatorType%22%3A%22author%22%2C%22firstName%22%3A%22Nancy%22%2C%22lastName%22%3A%22Darling%22%7D%2C%7B%22creatorType%22%3A%22author%22%2C%22firstName%22%3A%22Richard%22%2C%22lastName%22%3A%22Salter%22%7D%2C%7B%22creatorType%22%3A%22author%22%2C%22firstName%22%3A%22Ian%22%2C%22lastName%22%3A%22Burns%22%7D%2C%7B%22creatorType%22%3A%22editor%22%2C%22firstName%22%3A%22Laura%22%2C%22lastName%22%3A%22Schmitt%20Olabisi%22%7D%2C%7B%22creatorType%22%3A%22editor%22%2C%22firstName%22%3A%22Miles%22%2C%22lastName%22%3A%22McNall%22%7D%2C%7B%22creatorType%22%3A%22editor%22%2C%22firstName%22%3A%22William%22%2C%22lastName%22%3A%22Porter%22%7D%2C%7B%22creatorType%22%3A%22editor%22%2C%22firstName%22%3A%22Inhua%22%2C%22lastName%22%3A%22Zhao%22%7D%5D%2C%22abstractNote%22%3A%22%22%2C%22bookTitle%22%3A%22Innovations%20in%20Collaborative%20Modeling%22%2C%22date%22%3A%222021%22%2C%22language%22%3A%22%22%2C%22ISBN%22%3A%22978-1-60917-629-7%22%2C%22url%22%3A%22%22%2C%22collections%22%3A%5B%22SYDUSCWH%22%5D%2C%22dateModified%22%3A%222022-11-25T13%3A46%3A55Z%22%7D%7D%2C%7B%22key%22%3A%224CA5MGF5%22%2C%22library%22%3A%7B%22id%22%3A4869801%7D%2C%22meta%22%3A%7B%22creatorSummary%22%3A%22Deffuant%20et%20al.%22%2C%22parsedDate%22%3A%222000%22%2C%22numChildren%22%3A0%7D%2C%22bib%22%3A%22%3Cdiv%20class%3D%5C%22csl-bib-body%5C%22%20style%3D%5C%22line-height%3A%202%3B%20padding-left%3A%201em%3B%20text-indent%3A-1em%3B%5C%22%3E%5Cn%20%20%3Cdiv%20class%3D%5C%22csl-entry%5C%22%3EDeffuant%2C%20G.%2C%20Neau%2C%20D.%2C%20Amblard%2C%20F.%2C%20%26amp%3B%20Weisbuch%2C%20G.%20%282000%29.%20Mixing%20beliefs%20among%20interacting%20agents.%20%3Ci%3EAdvances%20in%20Complex%20Systems%3C%5C%2Fi%3E%2C%20%3Ci%3E03%3C%5C%2Fi%3E%2801n04%29%2C%2087%26%23x2013%3B98.%20%3Ca%20href%3D%27https%3A%5C%2F%5C%2Fdoi.org%5C%2F10.1142%5C%2FS0219525900000078%27%3Ehttps%3A%5C%2F%5C%2Fdoi.org%5C%2F10.1142%5C%2FS0219525900000078%3C%5C%2Fa%3E%3C%5C%2Fdiv%3E%5Cn%3C%5C%2Fdiv%3E%22%2C%22data%22%3A%7B%22itemType%22%3A%22journalArticle%22%2C%22title%22%3A%22Mixing%20beliefs%20among%20interacting%20agents%22%2C%22creators%22%3A%5B%7B%22creatorType%22%3A%22author%22%2C%22firstName%22%3A%22Guillaume%22%2C%22lastName%22%3A%22Deffuant%22%7D%2C%7B%22creatorType%22%3A%22author%22%2C%22firstName%22%3A%22David%22%2C%22lastName%22%3A%22Neau%22%7D%2C%7B%22creatorType%22%3A%22author%22%2C%22firstName%22%3A%22Frederic%22%2C%22lastName%22%3A%22Amblard%22%7D%2C%7B%22creatorType%22%3A%22author%22%2C%22firstName%22%3A%22G%5Cu00e9rard%22%2C%22lastName%22%3A%22Weisbuch%22%7D%5D%2C%22abstractNote%22%3A%22We%20present%20a%20model%20of%20opinion%20dynamics%20in%20which%20agents%20adjust%20continuous%20opinions%20as%20a%20result%20of%20random%20binary%20encounters%20whenever%20their%20difference%20in%20opinion%20is%20below%20a%20given%20threshold.%20High%20thresholds%20yield%20convergence%20of%20opinions%20towards%20an%20average%20opinion%2C%20whereas%20low%20thresholds%20result%20in%20several%20opinion%20clusters%3A%20members%20of%20the%20same%20cluster%20share%20the%20same%20opinion%20but%20are%20no%20longer%20influenced%20by%20members%20of%20other%20clusters.%22%2C%22date%22%3A%222000%22%2C%22language%22%3A%22%22%2C%22DOI%22%3A%2210.1142%5C%2Fs0219525900000078%22%2C%22ISSN%22%3A%220219-5259%22%2C%22url%22%3A%22https%3A%5C%2F%5C%2Fdoi.org%5C%2F10.1142%5C%2FS0219525900000078%22%2C%22collections%22%3A%5B%22SYDUSCWH%22%5D%2C%22dateModified%22%3A%222022-11-25T13%3A46%3A55Z%22%7D%7D%2C%7B%22key%22%3A%22AQLLZXTH%22%2C%22library%22%3A%7B%22id%22%3A4869801%7D%2C%22meta%22%3A%7B%22creatorSummary%22%3A%22Deffuant%20et%20al.%22%2C%22parsedDate%22%3A%222004%22%2C%22numChildren%22%3A0%7D%2C%22bib%22%3A%22%3Cdiv%20class%3D%5C%22csl-bib-body%5C%22%20style%3D%5C%22line-height%3A%202%3B%20padding-left%3A%201em%3B%20text-indent%3A-1em%3B%5C%22%3E%5Cn%20%20%3Cdiv%20class%3D%5C%22csl-entry%5C%22%3EDeffuant%2C%20G.%2C%20Amblard%2C%20F.%2C%20%26amp%3B%20Weisbuch%2C%20G.%20%282004%29.%20Modelling%20Group%20Opinion%20Shift%20to%20Extreme%3A%20the%20Smooth%20Bounded%20Confidence%20Model.%20%3Ci%3EArXiv%20Preprint%3C%5C%2Fi%3E%2C%201%26%23x2013%3B12.%20%3Ca%20href%3D%27https%3A%5C%2F%5C%2Farxiv.org%5C%2Fabs%5C%2Fcond-mat%5C%2F0410199%27%3Ehttps%3A%5C%2F%5C%2Farxiv.org%5C%2Fabs%5C%2Fcond-mat%5C%2F0410199%3C%5C%2Fa%3E%3C%5C%2Fdiv%3E%5Cn%3C%5C%2Fdiv%3E%22%2C%22data%22%3A%7B%22itemType%22%3A%22journalArticle%22%2C%22title%22%3A%22Modelling%20Group%20Opinion%20Shift%20to%20Extreme%3A%20the%20Smooth%20Bounded%20Confidence%20Model%22%2C%22creators%22%3A%5B%7B%22creatorType%22%3A%22author%22%2C%22firstName%22%3A%22Guillaume%22%2C%22lastName%22%3A%22Deffuant%22%7D%2C%7B%22creatorType%22%3A%22author%22%2C%22firstName%22%3A%22Fr%5Cu00e9d%5Cu00e9ric%22%2C%22lastName%22%3A%22Amblard%22%7D%2C%7B%22creatorType%22%3A%22author%22%2C%22firstName%22%3A%22G%5Cu00e9rard%22%2C%22lastName%22%3A%22Weisbuch%22%7D%5D%2C%22abstractNote%22%3A%22We%20consider%20the%20phenomenon%20of%20opinion%20shift%20to%20the%20extreme%20reported%20in%20the%20social%20psychology%20literature.%20We%20argue%20that%20a%20good%20candidate%20to%20model%20this%20phenomenon%20can%20be%20a%20new%20variant%20of%20the%20bounded%20confidence%20%28BC%29%20model%2C%20the%20smooth%20BC%20model%20which%20we%20propose%20in%20this%20paper.%20This%20model%20considers%20individuals%20with%20a%20continuous%20opinion%20and%20an%20uncertainty.%20Individuals%20interact%20by%20random%20pairs%2C%20and%20attract%20each%20other%268217%3Bs%20opinion%20proportionally%20to%20a%20Gaussian%20function%20of%20the%20distance%20between%20their%20opinions.%20We%20first%20show%20that%20this%20model%20presents%20a%20shift%20to%20the%20extreme%20when%20we%20introduce%20extremists%20%28very%20convinced%20individuals%20with%20extreme%20opinions%29%20in%20the%20population%2C%20even%20if%20there%20is%20the%20same%20number%20of%20extremists%20located%20at%20each%20extreme.%20This%20behaviour%20is%20similar%20to%20the%20one%20already%20identified%20with%20other%20versions%20of%20BC%20model.%20Then%20we%20propose%20a%20modification%20of%20the%20smooth%20BC%20model%20to%20account%20for%20the%20social%20psychology%20data%20and%20theories%20related%20to%20this%20phenomenon.%20The%20modification%20is%20based%20on%20the%20hypothesis%20of%20perspective%20taking%20%28empathy%29%20in%20the%20context%20of%20consensus%20seeking.%22%2C%22date%22%3A%222004%22%2C%22language%22%3A%22%22%2C%22DOI%22%3A%22%22%2C%22ISSN%22%3A%22%22%2C%22url%22%3A%22https%3A%5C%2F%5C%2Farxiv.org%5C%2Fabs%5C%2Fcond-mat%5C%2F0410199%22%2C%22collections%22%3A%5B%22SYDUSCWH%22%5D%2C%22dateModified%22%3A%222022-11-25T14%3A54%3A45Z%22%7D%7D%2C%7B%22key%22%3A%22K7X86ZMC%22%2C%22library%22%3A%7B%22id%22%3A4869801%7D%2C%22meta%22%3A%7B%22lastModifiedByUser%22%3A%7B%22id%22%3A9911611%2C%22username%22%3A%22dustin_eirdosh%22%2C%22name%22%3A%22Dustin%20Eirdosh%22%2C%22links%22%3A%7B%22alternate%22%3A%7B%22href%22%3A%22https%3A%5C%2F%5C%2Fwww.zotero.org%5C%2Fdustin_eirdosh%22%2C%22type%22%3A%22text%5C%2Fhtml%22%7D%7D%7D%2C%22creatorSummary%22%3A%22Dickes%20and%20Sengupta%22%2C%22parsedDate%22%3A%222013%22%2C%22numChildren%22%3A0%7D%2C%22bib%22%3A%22%3Cdiv%20class%3D%5C%22csl-bib-body%5C%22%20style%3D%5C%22line-height%3A%202%3B%20padding-left%3A%201em%3B%20text-indent%3A-1em%3B%5C%22%3E%5Cn%20%20%3Cdiv%20class%3D%5C%22csl-entry%5C%22%3EDickes%2C%20A.%20C.%2C%20%26amp%3B%20Sengupta%2C%20P.%20%282013%29.%20Learning%20Natural%20Selection%20in%204th%20Grade%20with%20Multi-Agent-Based%20Computational%20Models.%20%3Ci%3EResearch%20in%20Science%20Education%3C%5C%2Fi%3E%2C%20%3Ci%3E43%3C%5C%2Fi%3E%283%29%2C%20921%26%23x2013%3B953.%20%3Ca%20href%3D%27https%3A%5C%2F%5C%2Fdoi.org%5C%2F10.1007%5C%2Fs11165-012-9293-2%27%3Ehttps%3A%5C%2F%5C%2Fdoi.org%5C%2F10.1007%5C%2Fs11165-012-9293-2%3C%5C%2Fa%3E%3C%5C%2Fdiv%3E%5Cn%3C%5C%2Fdiv%3E%22%2C%22data%22%3A%7B%22itemType%22%3A%22journalArticle%22%2C%22title%22%3A%22Learning%20Natural%20Selection%20in%204th%20Grade%20with%20Multi-Agent-Based%20Computational%20Models%22%2C%22creators%22%3A%5B%7B%22creatorType%22%3A%22author%22%2C%22firstName%22%3A%22Amanda%20Catherine%22%2C%22lastName%22%3A%22Dickes%22%7D%2C%7B%22creatorType%22%3A%22author%22%2C%22firstName%22%3A%22Pratim%22%2C%22lastName%22%3A%22Sengupta%22%7D%5D%2C%22abstractNote%22%3A%22In%20this%20paper%2C%20we%20investigate%20how%20elementary%20school%20students%20develop%20multi-level%20explanations%20of%20population%20dynamics%20in%20a%20simple%20predator%5Cu2013prey%20ecosystem%2C%20through%20scaffolded%20interactions%20with%20a%20multi-agent-based%20computational%20model%20%28MABM%29.%20The%20term%20%5Cu201cagent%5Cu201d%20in%20an%20MABMindicates%20individual%20computational%20objects%20or%20actors%20%28e.g.%2C%20cars%29%2C%20and%20these%20agents%20obey%20simple%20rules%20assigned%20ormanipulated%20by%20the%20user%20%28e.g.%2C%20speeding%20up%2C%20slowing%20down%2C%20etc.%29.%20It%20is%20the%20interactions%20between%20these%20agents%2C%20based%20on%20the%20rules%20assigned%20by%20the%20user%2C%20that%20give%20rise%20to%20emergent%2C%20aggregate-level%20behavior%20%28e.g.%2C%20formation%20and%20movement%20of%20the%20traffic%20jam%29.%20Natural%20selection%20is%20such%20an%20emergent%20phenomenon%2C%20which%20has%20been%20shown%20to%20be%20challenging%20for%20novices%20%28K16%20students%29%20to%20understand.%20Whereas%20prior%20research%20on%20learning%20evolutionary%20phe-%20nomena%20with%20MABMs%20has%20typically%20focused%20on%20high%20school%20students%20and%20beyond%2C%20we%20investi-%20gate%20how%20elementary%20students%20%284th%20graders%29%20develop%20multi-level%20explanations%20of%20some%20introductory%20aspects%20of%20natural%20selection%5Cu2014species%20differentiation%20and%20population%20change%5Cu2014%20through%20scaffolded%20interactions%20with%20an%20MABM%20that%20simulates%20predator%5Cu2013prey%20dynamics%20in%20a%20simple%20birds-butterflies%20ecosystem.We%20conducted%20a%20semi-clinical%20interviewbased%20studywith%20ten%20participants%2C%20in%20which%20we%20focused%20on%20the%20following%3A%20a%29%20identifying%20the%20nature%20of%20learners%5Cu2019%20initial%20interpretations%20of%20salient%20events%20or%20elements%20of%20the%20represented%20phenomena%2C%20b%29%20identifying%20the%20roles%20these%20interpretations%20play%20in%20the%20development%20of%20their%20multi-level%20explanations%2C%20and%20c%29%20how%20attending%20to%20different%20levels%20of%20the%20relevant%20phenomena%20can%20make%20explicit%20differentmechanisms%20to%20the%20learners.%20In%20addition%2C%20our%20analysis%20also%20shows%20that%20although%20there%20were%20differences%20between%20high-%20and%20low-performing%20students%20%28in%20terms%20of%20being%20able%20to%20explain%20population-level%20behav-%20iors%29%20in%20the%20pre-test%2C%20these%20differences%20disappeared%20in%20the%20post-test.%22%2C%22date%22%3A%222013%22%2C%22language%22%3A%22%22%2C%22DOI%22%3A%2210.1007%5C%2Fs11165-012-9293-2%22%2C%22ISSN%22%3A%220157244X%22%2C%22url%22%3A%22https%3A%5C%2F%5C%2Flink.springer.com%5C%2Farticle%5C%2F10.1007%5C%2Fs11165-012-9293-2%22%2C%22collections%22%3A%5B%22SYDUSCWH%22%2C%22H2J874U5%22%2C%22GKIYCK9E%22%5D%2C%22dateModified%22%3A%222022-11-25T13%3A16%3A41Z%22%7D%7D%2C%7B%22key%22%3A%22SP49UFGI%22%2C%22library%22%3A%7B%22id%22%3A4869801%7D%2C%22meta%22%3A%7B%22lastModifiedByUser%22%3A%7B%22id%22%3A9911611%2C%22username%22%3A%22dustin_eirdosh%22%2C%22name%22%3A%22Dustin%20Eirdosh%22%2C%22links%22%3A%7B%22alternate%22%3A%7B%22href%22%3A%22https%3A%5C%2F%5C%2Fwww.zotero.org%5C%2Fdustin_eirdosh%22%2C%22type%22%3A%22text%5C%2Fhtml%22%7D%7D%7D%2C%22creatorSummary%22%3A%22Dickes%20et%20al.%22%2C%22parsedDate%22%3A%222016%22%2C%22numChildren%22%3A0%7D%2C%22bib%22%3A%22%3Cdiv%20class%3D%5C%22csl-bib-body%5C%22%20style%3D%5C%22line-height%3A%202%3B%20padding-left%3A%201em%3B%20text-indent%3A-1em%3B%5C%22%3E%5Cn%20%20%3Cdiv%20class%3D%5C%22csl-entry%5C%22%3EDickes%2C%20A.%20C.%2C%20Sengupta%2C%20P.%2C%20Farris%2C%20A.%20V.%2C%20%26amp%3B%20Basu%2C%20S.%20%282016%29.%20Development%20of%20Mechanistic%20Reasoning%20and%20Multilevel%20Explanations%20of%20Ecology%20in%20Third%20Grade%20Using%20Agent-Based%20Models.%20%3Ci%3EScience%20Education%3C%5C%2Fi%3E%2C%20%3Ci%3E100%3C%5C%2Fi%3E%284%29%2C%20734%26%23x2013%3B776.%20%3Ca%20href%3D%27https%3A%5C%2F%5C%2Fdoi.org%5C%2F10.1002%5C%2Fsce.21217%27%3Ehttps%3A%5C%2F%5C%2Fdoi.org%5C%2F10.1002%5C%2Fsce.21217%3C%5C%2Fa%3E%3C%5C%2Fdiv%3E%5Cn%3C%5C%2Fdiv%3E%22%2C%22data%22%3A%7B%22itemType%22%3A%22journalArticle%22%2C%22title%22%3A%22Development%20of%20Mechanistic%20Reasoning%20and%20Multilevel%20Explanations%20of%20Ecology%20in%20Third%20Grade%20Using%20Agent-Based%20Models%22%2C%22creators%22%3A%5B%7B%22creatorType%22%3A%22author%22%2C%22firstName%22%3A%22Amanda%20Catherine%22%2C%22lastName%22%3A%22Dickes%22%7D%2C%7B%22creatorType%22%3A%22author%22%2C%22firstName%22%3A%22Pratim%22%2C%22lastName%22%3A%22Sengupta%22%7D%2C%7B%22creatorType%22%3A%22author%22%2C%22firstName%22%3A%22Amy%20Voss%22%2C%22lastName%22%3A%22Farris%22%7D%2C%7B%22creatorType%22%3A%22author%22%2C%22firstName%22%3A%22Satabdi%22%2C%22lastName%22%3A%22Basu%22%7D%5D%2C%22abstractNote%22%3A%22In%20this%20paper%2C%20we%20present%20a%20third-grade%20ecology%20learning%20environment%20that%20integrates%20two%20forms%20of%20modeling%5Cu2013%5Cu2013embodied%20modeling%20and%20agent-based%20modeling%20%28ABMs%29%5Cu2013%5Cu2013through%20the%20generation%20of%20mathematical%20representations%20that%20are%20common%20to%20both%20forms%20of%20modeling.%20The%20term%20%5Cu201cagent%5Cu201d%20in%20the%20context%20of%20ABMs%20indicates%20individual%20computational%20objects%20or%20actors%20that%20obey%20simple%20rules%20assigned%20or%20controlled%20by%20the%20user.%20It%20is%20the%20interactions%20between%20these%20agents%20that%20give%20rise%20to%20emergent%2C%20aggregate-level%20behaviors%20in%20complex%20systems.%20While%20several%20researchers%20have%20argued%20for%20the%20effectiveness%20of%20ABMs%20for%20learning%20about%20complex%20systems%2C%20the%20design%20of%20classroom%20activity%20systems%20using%20ABMs%2C%20especially%20for%20elementary%20students%2C%20has%20received%20relatively%20less%20attention.%20In%20this%20paper%2C%20we%20report%20on%20a%202-week%20long%20proof-of-concept%20study%20conducted%20in%20a%20third-grade%20classroom%20of%2015%20students%20in%20which%20students%20began%20with%20an%20embodied%20modeling%20activity%20of%20foraging%20behavior%2C%20followed%20with%20the%20generation%20of%20mathematical%20inscriptions%20based%20on%20their%20embodied%20actions%2C%20and%20finally%2C%20conducted%20further%20inquiry%20of%20interdependence%20in%20an%20ecosystem%20using%20two%20separate%20ABMs.%20Furthermore%2C%20we%20show%20that%20the%20lens%20of%20mechanistic%20reasoning%20can%20be%20productively%20used%20to%20identify%20the%20process%20of%20students%5Cu2019%20conceptual%20development%20of%20interdependence%20in%20an%20ecosystem%20as%20they%20engage%20in%20the%20modeling%20activities.%22%2C%22date%22%3A%222016%22%2C%22language%22%3A%22%22%2C%22DOI%22%3A%2210.1002%5C%2Fsce.21217%22%2C%22ISSN%22%3A%221098237X%22%2C%22url%22%3A%22http%3A%5C%2F%5C%2Fdx.doi.org%5C%2F10.1002%5C%2Fsce.21217%22%2C%22collections%22%3A%5B%22SYDUSCWH%22%5D%2C%22dateModified%22%3A%222022-11-25T13%3A46%3A55Z%22%7D%7D%2C%7B%22key%22%3A%22DCAENBUI%22%2C%22library%22%3A%7B%22id%22%3A4869801%7D%2C%22meta%22%3A%7B%22lastModifiedByUser%22%3A%7B%22id%22%3A9911611%2C%22username%22%3A%22dustin_eirdosh%22%2C%22name%22%3A%22Dustin%20Eirdosh%22%2C%22links%22%3A%7B%22alternate%22%3A%7B%22href%22%3A%22https%3A%5C%2F%5C%2Fwww.zotero.org%5C%2Fdustin_eirdosh%22%2C%22type%22%3A%22text%5C%2Fhtml%22%7D%7D%7D%2C%22creatorSummary%22%3A%22Filatova%20et%20al.%22%2C%22parsedDate%22%3A%222013%22%2C%22numChildren%22%3A0%7D%2C%22bib%22%3A%22%3Cdiv%20class%3D%5C%22csl-bib-body%5C%22%20style%3D%5C%22line-height%3A%202%3B%20padding-left%3A%201em%3B%20text-indent%3A-1em%3B%5C%22%3E%5Cn%20%20%3Cdiv%20class%3D%5C%22csl-entry%5C%22%3EFilatova%2C%20T.%2C%20Verburg%2C%20P.%20H.%2C%20Parker%2C%20D.%20C.%2C%20%26amp%3B%20Stannard%2C%20C.%20A.%20%282013%29.%20Spatial%20agent-based%20models%20for%20socio-ecological%20systems%3A%20Challenges%20and%20prospects.%20%3Ci%3EEnvironmental%20Modelling%20and%20Software%3C%5C%2Fi%3E%2C%20%3Ci%3E45%3C%5C%2Fi%3E%2C%201%26%23x2013%3B7.%20%3Ca%20href%3D%27https%3A%5C%2F%5C%2Fdoi.org%5C%2F10.1016%5C%2Fj.envsoft.2013.03.017%27%3Ehttps%3A%5C%2F%5C%2Fdoi.org%5C%2F10.1016%5C%2Fj.envsoft.2013.03.017%3C%5C%2Fa%3E%3C%5C%2Fdiv%3E%5Cn%3C%5C%2Fdiv%3E%22%2C%22data%22%3A%7B%22itemType%22%3A%22journalArticle%22%2C%22title%22%3A%22Spatial%20agent-based%20models%20for%20socio-ecological%20systems%3A%20Challenges%20and%20prospects%22%2C%22creators%22%3A%5B%7B%22creatorType%22%3A%22author%22%2C%22firstName%22%3A%22Tatiana%22%2C%22lastName%22%3A%22Filatova%22%7D%2C%7B%22creatorType%22%3A%22author%22%2C%22firstName%22%3A%22Peter%20H.%22%2C%22lastName%22%3A%22Verburg%22%7D%2C%7B%22creatorType%22%3A%22author%22%2C%22firstName%22%3A%22Dawn%20Cassandra%22%2C%22lastName%22%3A%22Parker%22%7D%2C%7B%22creatorType%22%3A%22author%22%2C%22firstName%22%3A%22Carol%20Ann%22%2C%22lastName%22%3A%22Stannard%22%7D%5D%2C%22abstractNote%22%3A%22Departing%20from%20the%20comprehensive%20reviews%20carried%20out%20in%20the%20field%2C%20we%20identify%20the%20key%20challenges%20that%20agent-based%20methodology%20faces%20when%20modeling%20coupled%20socio-ecological%20systems.%20Focusing%20primarily%20on%20the%20papers%20presented%20in%20this%20thematic%20issue%2C%20we%20review%20progress%20in%20spatial%20agent-based%20models%20along%20the%20lines%20of%20four%20methodological%20challenges%3A%20%281%29%20design%20and%20parameterizing%20of%20agent%20decision%20models%2C%20%282%29%20verification%2C%20validation%20and%20sensitivity%20analysis%2C%20%283%29%20integration%20of%20socio-demographic%2C%20ecological%2C%20and%20biophysical%20models%2C%20and%20%284%29%20spatial%20representation.%20Based%20on%20this%20we%20critically%20reflect%20on%20the%20future%20work%20that%20is%20required%20to%20make%20agent-based%20modeling%20widely%20accepted%20as%20a%20tool%20to%20support%20the%20real%20world%20policy.%20%5Cu2022Progress%20of%20agent-based%20methodology%20in%20modeling%20coupled%20socio-ecological%20systems.%5Cu2022Key%20methodological%20challenges%20for%20ABM.%5Cu2022Societal%20issues%20and%20critical%20reflection%20on%20the%20prospects%20of%20ABM.%20%5Cu00a9%202013%20Elsevier%20Ltd.%22%2C%22date%22%3A%222013%22%2C%22language%22%3A%22%22%2C%22DOI%22%3A%2210.1016%5C%2Fj.envsoft.2013.03.017%22%2C%22ISSN%22%3A%2213648152%22%2C%22url%22%3A%22http%3A%5C%2F%5C%2Fdx.doi.org%5C%2F10.1016%5C%2Fj.envsoft.2013.03.017%22%2C%22collections%22%3A%5B%22SYDUSCWH%22%5D%2C%22dateModified%22%3A%222022-11-25T13%3A46%3A55Z%22%7D%7D%2C%7B%22key%22%3A%22H4V8JLI5%22%2C%22library%22%3A%7B%22id%22%3A4869801%7D%2C%22meta%22%3A%7B%22lastModifiedByUser%22%3A%7B%22id%22%3A9911611%2C%22username%22%3A%22dustin_eirdosh%22%2C%22name%22%3A%22Dustin%20Eirdosh%22%2C%22links%22%3A%7B%22alternate%22%3A%7B%22href%22%3A%22https%3A%5C%2F%5C%2Fwww.zotero.org%5C%2Fdustin_eirdosh%22%2C%22type%22%3A%22text%5C%2Fhtml%22%7D%7D%7D%2C%22creatorSummary%22%3A%22Galliard%20et%20al.%22%2C%22parsedDate%22%3A%222003%22%2C%22numChildren%22%3A0%7D%2C%22bib%22%3A%22%3Cdiv%20class%3D%5C%22csl-bib-body%5C%22%20style%3D%5C%22line-height%3A%202%3B%20padding-left%3A%201em%3B%20text-indent%3A-1em%3B%5C%22%3E%5Cn%20%20%3Cdiv%20class%3D%5C%22csl-entry%5C%22%3EGalliard%2C%20J.-F.%20L.%2C%20Ferriere%2C%20R.%2C%20%26amp%3B%20Dieckmann%2C%20U.%20%282003%29.%20The%20adaptive%20dynamics%20of%20altruism%20in%20spatially%20heterogeneous%20populations.%20%3Ci%3EEvolution%3C%5C%2Fi%3E%2C%20%3Ci%3E57%3C%5C%2Fi%3E%281%29%2C%201%26%23x2013%3B17.%20%3Ca%20href%3D%27http%3A%5C%2F%5C%2Flinks.jstor.org%5C%2Fsici%3Fsici%3D0014-3820%2528200301%252957%253A1%253C1%253ATADOAI%253E2.0.CO%253B2-6%27%3Ehttp%3A%5C%2F%5C%2Flinks.jstor.org%5C%2Fsici%3Fsici%3D0014-3820%2528200301%252957%253A1%253C1%253ATADOAI%253E2.0.CO%253B2-6%3C%5C%2Fa%3E%3C%5C%2Fdiv%3E%5Cn%3C%5C%2Fdiv%3E%22%2C%22data%22%3A%7B%22itemType%22%3A%22journalArticle%22%2C%22title%22%3A%22The%20adaptive%20dynamics%20of%20altruism%20in%20spatially%20heterogeneous%20populations%22%2C%22creators%22%3A%5B%7B%22creatorType%22%3A%22author%22%2C%22firstName%22%3A%22Jean-Francois%20Le%22%2C%22lastName%22%3A%22Galliard%22%7D%2C%7B%22creatorType%22%3A%22author%22%2C%22firstName%22%3A%22Regis%22%2C%22lastName%22%3A%22Ferriere%22%7D%2C%7B%22creatorType%22%3A%22author%22%2C%22firstName%22%3A%22Ulf%22%2C%22lastName%22%3A%22Dieckmann%22%7D%5D%2C%22abstractNote%22%3A%22We%20study%20the%20spatial%20adaptive%20dynamics%20of%20a%20continuous%20trait%20that%20measures%20individual%20investment%20in%20altruism.%20Our%20study%20is%20based%20on%20an%20ecological%20model%20of%20a%20spatially%20heterogeneous%20population%20from%20which%20we%20derive%20an%20appropriate%20measure%20of%20fitness.%20The%20analysis%20of%20this%20fitness%20measure%20uncovers%20three%20different%20selective%20processes%20controlling%20the%20evolution%20of%20altruism%3A%20the%20direct%20physiological%20cost%2C%20the%20indirect%20genetic%20benefits%20of%20cooperative%20interactions%2C%20and%20the%20indirect%20genetic%20costs%20of%20competition%20for%20space.%20In%20our%20model%2C%20habitat%20structure%20and%20a%20continuous%20life%20cycle%20makes%20the%20cost%20of%20competing%20for%20space%20with%20relatives%20negligible.%20Our%20study%20yields%20a%20classification%20of%20adaptive%20patterns%20of%20altruism%20according%20to%20the%20shape%20of%20the%20costs%20of%20altruism%20%28with%20decelerating%2C%20linear%2C%20or%20accelerating%20dependence%20on%20the%20investment%20in%20altruism%29.%20The%20invasion%20of%20altruism%20occurs%20readily%20in%20species%20with%20accelerating%20costs%2C%20but%20large%20mutations%20are%20critical%20for%20altruism%20to%20evolve%20in%20selfish%20species%20with%20decelerating%20costs.%20Strict%20selfishness%20is%20maintained%20by%20natural%20selection%20only%20under%20very%20restricted%20conditions.%20In%20species%20with%20rapidly%20accelerating%20costs%2C%20adaptation%20leads%20to%20an%20evolutionarily%20stable%20rate%20of%20investment%20in%20altruism%20that%20decreases%20smoothly%20with%20the%20level%20of%20mobility.%20A%20rather%20different%20adaptive%20pattern%20emerges%20in%20species%20with%20slowly%20accelerating%20costs%3A%20high%20altruism%20evolves%20at%20low%20mobility%2C%20whereas%20a%20quasi-selfish%20state%20is%20promoted%20in%20more%20mobile%20species.%20The%20high%20adaptive%20level%20of%20altruism%20can%20be%20predicted%20solely%20from%20habitat%20connectedness%20and%20physiological%20parameters%20that%20characterize%20the%20pattern%20of%20cost.%20We%20also%20show%20that%20environmental%20changes%20that%20cause%20increased%20mobility%20in%20those%20highly%20altruistic%20species%20can%20beget%20selection-driven%20self-extinction%2C%20which%20may%20contribute%20to%20the%20rarity%20of%20social%20species.%22%2C%22date%22%3A%222003%22%2C%22language%22%3A%22%22%2C%22DOI%22%3A%22%22%2C%22ISSN%22%3A%2200143820%22%2C%22url%22%3A%22http%3A%5C%2F%5C%2Flinks.jstor.org%5C%2Fsici%3Fsici%3D0014-3820%2528200301%252957%253A1%253C1%253ATADOAI%253E2.0.CO%253B2-6%22%2C%22collections%22%3A%5B%22SYDUSCWH%22%5D%2C%22dateModified%22%3A%222022-11-25T14%3A53%3A37Z%22%7D%7D%2C%7B%22key%22%3A%22SGPG4V5N%22%2C%22library%22%3A%7B%22id%22%3A4869801%7D%2C%22meta%22%3A%7B%22lastModifiedByUser%22%3A%7B%22id%22%3A9911611%2C%22username%22%3A%22dustin_eirdosh%22%2C%22name%22%3A%22Dustin%20Eirdosh%22%2C%22links%22%3A%7B%22alternate%22%3A%7B%22href%22%3A%22https%3A%5C%2F%5C%2Fwww.zotero.org%5C%2Fdustin_eirdosh%22%2C%22type%22%3A%22text%5C%2Fhtml%22%7D%7D%7D%2C%22creatorSummary%22%3A%22Garretson%20and%20Crerar%22%2C%22parsedDate%22%3A%222021%22%2C%22numChildren%22%3A0%7D%2C%22bib%22%3A%22%3Cdiv%20class%3D%5C%22csl-bib-body%5C%22%20style%3D%5C%22line-height%3A%202%3B%20padding-left%3A%201em%3B%20text-indent%3A-1em%3B%5C%22%3E%5Cn%20%20%3Cdiv%20class%3D%5C%22csl-entry%5C%22%3EGarretson%2C%20A.%2C%20%26amp%3B%20Crerar%2C%20L.%20D.%20%282021%29.%20Moths%20and%20Frogs%20and%20E.%20coli%2C%20Oh%20My%21%3A%20Agent-based%20Modeling%20of%20Evolutionary%20Systems.%20%3Ci%3ECourseSource%3C%5C%2Fi%3E%2C%20%3Ci%3E8%3C%5C%2Fi%3E.%20%3Ca%20href%3D%27https%3A%5C%2F%5C%2Fdoi.org%5C%2F10.24918%5C%2Fcs.2021.35%27%3Ehttps%3A%5C%2F%5C%2Fdoi.org%5C%2F10.24918%5C%2Fcs.2021.35%3C%5C%2Fa%3E%3C%5C%2Fdiv%3E%5Cn%3C%5C%2Fdiv%3E%22%2C%22data%22%3A%7B%22itemType%22%3A%22journalArticle%22%2C%22title%22%3A%22Moths%20and%20Frogs%20and%20E.%20coli%2C%20Oh%20My%21%3A%20Agent-based%20Modeling%20of%20Evolutionary%20Systems%22%2C%22creators%22%3A%5B%7B%22creatorType%22%3A%22author%22%2C%22firstName%22%3A%22Alexis%22%2C%22lastName%22%3A%22Garretson%22%7D%2C%7B%22creatorType%22%3A%22author%22%2C%22firstName%22%3A%22Lorelei%20D.%22%2C%22lastName%22%3A%22Crerar%22%7D%5D%2C%22abstractNote%22%3A%22In%20evolution%20classrooms%2C%20introducing%20and%20reinforcing%20the%20idea%20of%20genetic%20drift%20and%20random%20selection%20can%20be%20challenging%2C%20as%20can%20be%20reinforcing%20appropriate%20mental%20models%20of%20evolution.%20Agent-based%20models%20offer%20students%20the%20opportunity%20to%20conduct%20a%20model-based%20inquiry%20into%20the%20impacts%20of%20different%20features%20on%20the%20outcomes%20in%20evolutionary%20systems%2C%20helping%20to%20build%2C%20test%2C%20and%20expand%20their%20mental%20models%20of%20evolution.%20In%20this%20lesson%5Cu2014through%20independent%20investigation%2C%20model-based%20inquiry%2C%20and%20discussions%20with%20peers%5Cu2014students%20are%20introduced%20to%20the%20ways%20that%20agent-based%20models%20can%20be%20used%20to%20make%20predictions%20and%20test%20hypotheses%20about%20evolutionary%20systems.%20This%20lesson%20uses%20the%20NetLogo%20modeling%20environment%2C%20which%20comes%20preloaded%20with%20several%20useful%20teaching%20models%20and%20can%20be%20manipulated%20in%20an%20easy-to-use%20graphical%20interface.%20We%20use%20three%20models%3A%20a%20model%20of%20peppered%20moths%20focused%20on%20environmental%20pressures%20and%20natural%20selection%2C%20a%20red%20queen%20model%20focused%20on%20the%20competitive%20coevolution%20of%20snakes%20and%20frogs%2C%20and%20a%20genetic%20drift%20model%20of%20E.%20coli.%20Together%2C%20these%20models%20help%20reinforce%20evolutionary%20concepts%20in%20a%20hands-on%2C%20student-driven%20environment%20while%20improving%20their%20understanding%20of%20the%20utility%20of%20computing%20in%20evolution%20research.%20This%20lesson%20can%20be%20modified%20to%20suit%20courses%20of%20varying%20student%20levels%20and%20has%20been%20successfully%20adapted%20to%20online%20or%20lecture-based%20learning%20environments.%22%2C%22date%22%3A%222021%22%2C%22language%22%3A%22%22%2C%22DOI%22%3A%2210.24918%5C%2Fcs.2021.35%22%2C%22ISSN%22%3A%22%22%2C%22url%22%3A%22https%3A%5C%2F%5C%2Fdoi.org%5C%2F10.24918%5C%2Fcs.2021.35%22%2C%22collections%22%3A%5B%22SYDUSCWH%22%2C%22GKIYCK9E%22%5D%2C%22dateModified%22%3A%222022-11-25T13%3A17%3A15Z%22%7D%7D%2C%7B%22key%22%3A%22WHRT7XRC%22%2C%22library%22%3A%7B%22id%22%3A4869801%7D%2C%22meta%22%3A%7B%22lastModifiedByUser%22%3A%7B%22id%22%3A9911611%2C%22username%22%3A%22dustin_eirdosh%22%2C%22name%22%3A%22Dustin%20Eirdosh%22%2C%22links%22%3A%7B%22alternate%22%3A%7B%22href%22%3A%22https%3A%5C%2F%5C%2Fwww.zotero.org%5C%2Fdustin_eirdosh%22%2C%22type%22%3A%22text%5C%2Fhtml%22%7D%7D%7D%2C%22creatorSummary%22%3A%22Ghorbani%20and%20Bravo%22%2C%22parsedDate%22%3A%222016%22%2C%22numChildren%22%3A0%7D%2C%22bib%22%3A%22%3Cdiv%20class%3D%5C%22csl-bib-body%5C%22%20style%3D%5C%22line-height%3A%202%3B%20padding-left%3A%201em%3B%20text-indent%3A-1em%3B%5C%22%3E%5Cn%20%20%3Cdiv%20class%3D%5C%22csl-entry%5C%22%3EGhorbani%2C%20A.%2C%20%26amp%3B%20Bravo%2C%20G.%20%282016%29.%20Managing%20the%20commons%3A%20A%20simple%20model%20of%20the%20emergence%20of%20institutions%20through%20collective%20action.%20%3Ci%3EInternational%20Journal%20of%20the%20Commons%3C%5C%2Fi%3E%2C%20%3Ci%3E10%3C%5C%2Fi%3E%281%29%2C%20200%26%23x2013%3B219.%20%3Ca%20href%3D%27https%3A%5C%2F%5C%2Fdoi.org%5C%2F10.18352%5C%2Fijc.606%27%3Ehttps%3A%5C%2F%5C%2Fdoi.org%5C%2F10.18352%5C%2Fijc.606%3C%5C%2Fa%3E%3C%5C%2Fdiv%3E%5Cn%3C%5C%2Fdiv%3E%22%2C%22data%22%3A%7B%22itemType%22%3A%22journalArticle%22%2C%22title%22%3A%22Managing%20the%20commons%3A%20A%20simple%20model%20of%20the%20emergence%20of%20institutions%20through%20collective%20action%22%2C%22creators%22%3A%5B%7B%22creatorType%22%3A%22author%22%2C%22firstName%22%3A%22Amineh%22%2C%22lastName%22%3A%22Ghorbani%22%7D%2C%7B%22creatorType%22%3A%22author%22%2C%22firstName%22%3A%22Giangiacomo%22%2C%22lastName%22%3A%22Bravo%22%7D%5D%2C%22abstractNote%22%3A%22In%20this%20paper%20we%20present%20an%20abstract%20replication%20of%20institutional%20emergence%20patterns%20observed%20in%20common%20pool%20resource%20%28CPR%29%20problems.%20We%20used%20the%20ADICO%20grammar%20of%20institutions%20as%20the%20basic%20structure%20to%20model%20both%20agents%5Cu2019%20strategies%20and%20institutions.%20Through%20an%20evolutionary%20process%2C%20agents%20modify%20their%20behaviours%20and%20eventually%20establish%20a%20management%20institution%20for%20their%20CPR%20system%2C%20leading%20to%20significant%20benefits%20both%20for%20them%20and%20for%20the%20commons%20as%20a%20whole.%20We%20showed%20that%2C%20even%20if%20our%20model%20has%20a%20high%20level%20of%20abstraction%2C%20by%20taking%20an%20evolutionary%20perspective%20and%20using%20the%20ADICO%20structure%20we%20are%20able%20to%20observe%20common%20institutional%20patterns.%20We%20confirmed%20that%2C%20even%20within%20this%20simplified%20environment%2C%20institutions%20significantly%20contributed%20to%20the%20sustainable%20management%20of%20common-pool%20resource%20systems.%22%2C%22date%22%3A%222016%22%2C%22language%22%3A%22%22%2C%22DOI%22%3A%2210.18352%5C%2Fijc.606%22%2C%22ISSN%22%3A%2218750281%22%2C%22url%22%3A%22https%3A%5C%2F%5C%2Fwww.thecommonsjournal.org%5C%2Farticles%5C%2F10.18352%5C%2Fijc.606%5C%2F%22%2C%22collections%22%3A%5B%22SYDUSCWH%22%2C%2299GRK5IK%22%5D%2C%22dateModified%22%3A%222022-11-25T13%3A46%3A55Z%22%7D%7D%2C%7B%22key%22%3A%22IV99WE93%22%2C%22library%22%3A%7B%22id%22%3A4869801%7D%2C%22meta%22%3A%7B%22lastModifiedByUser%22%3A%7B%22id%22%3A9911611%2C%22username%22%3A%22dustin_eirdosh%22%2C%22name%22%3A%22Dustin%20Eirdosh%22%2C%22links%22%3A%7B%22alternate%22%3A%7B%22href%22%3A%22https%3A%5C%2F%5C%2Fwww.zotero.org%5C%2Fdustin_eirdosh%22%2C%22type%22%3A%22text%5C%2Fhtml%22%7D%7D%7D%2C%22creatorSummary%22%3A%22Gintis%20and%20Helbing%2C%20Dirk%22%2C%22parsedDate%22%3A%222015-07-29%22%2C%22numChildren%22%3A0%7D%2C%22bib%22%3A%22%3Cdiv%20class%3D%5C%22csl-bib-body%5C%22%20style%3D%5C%22line-height%3A%202%3B%20padding-left%3A%201em%3B%20text-indent%3A-1em%3B%5C%22%3E%5Cn%20%20%3Cdiv%20class%3D%5C%22csl-entry%5C%22%3EGintis%2C%20H.%2C%20%26amp%3B%20Helbing%2C%20Dirk.%20%282015%29.%20Homo%20Socialis%3A%20An%20Analytical%20Core%20for%20Sociological%20Theory.%20%3Ci%3EReview%20of%20Behavioral%20Economics%3C%5C%2Fi%3E%2C%20%3Ci%3E2%3C%5C%2Fi%3E%281%26%23x2013%3B2%29%2C%201%26%23x2013%3B59.%20%3Ca%20href%3D%27https%3A%5C%2F%5C%2Fdoi.org%5C%2F10.1561%5C%2F105.00000016%27%3Ehttps%3A%5C%2F%5C%2Fdoi.org%5C%2F10.1561%5C%2F105.00000016%3C%5C%2Fa%3E%3C%5C%2Fdiv%3E%5Cn%3C%5C%2Fdiv%3E%22%2C%22data%22%3A%7B%22itemType%22%3A%22journalArticle%22%2C%22title%22%3A%22Homo%20Socialis%3A%20An%20Analytical%20Core%20for%20Sociological%20Theory%22%2C%22creators%22%3A%5B%7B%22creatorType%22%3A%22author%22%2C%22firstName%22%3A%22Herbert%22%2C%22lastName%22%3A%22Gintis%22%7D%2C%7B%22creatorType%22%3A%22author%22%2C%22name%22%3A%22Helbing%2C%20Dirk%22%7D%5D%2C%22abstractNote%22%3A%22We%20develop%20an%20analytical%20core%20for%20sociology.%20We%20follow%20standard%20dynamical%20systems%20theory%20by%20first%20specifying%20the%20conditions%20for%20social%20equilibrium%2C%20and%20then%20studying%20the%20dynamical%20principles%20that%20govern%20disequilibrium%20behavior.%20Our%20general%20social%20equilibrium%20model%20is%20an%20expansion%20of%20the%20general%20equilibrium%20model%20of%20economic%20theory%2C%20and%20our%20dynamical%20principles%20treat%20the%20society%20as%20a%20complex%20adaptive%20system%20that%20can%20be%20studied%20using%20evolutionary%20game%20theory%20and%20agent-based%20Markov%20models%20based%20on%20variants%20of%20the%20replicator%20dynamic.%22%2C%22date%22%3A%222015-07-29%22%2C%22language%22%3A%22en%22%2C%22DOI%22%3A%2210.1561%5C%2F105.00000016%22%2C%22ISSN%22%3A%2223266198%2C%2023266201%22%2C%22url%22%3A%22http%3A%5C%2F%5C%2Fdx.doi.org%5C%2F10.1561%5C%2F105.00000016%22%2C%22collections%22%3A%5B%22SYDUSCWH%22%5D%2C%22dateModified%22%3A%222022-11-25T13%3A46%3A55Z%22%7D%7D%2C%7B%22key%22%3A%22N27AR9SW%22%2C%22library%22%3A%7B%22id%22%3A4869801%7D%2C%22meta%22%3A%7B%22lastModifiedByUser%22%3A%7B%22id%22%3A9911611%2C%22username%22%3A%22dustin_eirdosh%22%2C%22name%22%3A%22Dustin%20Eirdosh%22%2C%22links%22%3A%7B%22alternate%22%3A%7B%22href%22%3A%22https%3A%5C%2F%5C%2Fwww.zotero.org%5C%2Fdustin_eirdosh%22%2C%22type%22%3A%22text%5C%2Fhtml%22%7D%7D%7D%2C%22creatorSummary%22%3A%22Gkiolmas%20et%20al.%22%2C%22parsedDate%22%3A%222013%22%2C%22numChildren%22%3A0%7D%2C%22bib%22%3A%22%3Cdiv%20class%3D%5C%22csl-bib-body%5C%22%20style%3D%5C%22line-height%3A%202%3B%20padding-left%3A%201em%3B%20text-indent%3A-1em%3B%5C%22%3E%5Cn%20%20%3Cdiv%20class%3D%5C%22csl-entry%5C%22%3EGkiolmas%2C%20A.%2C%20Karamanos%2C%20K.%2C%20Chalkidis%2C%20A.%2C%20Skordoulis%2C%20C.%2C%20Papaconstantinou%2C%20M.%2C%20%26amp%3B%20Stavrou%2C%20D.%20%282013%29.%20Using%20simulations%20of%20NetLogo%20as%20a%20tool%20for%20introducing%20greek%20high-school%20students%20to%20eco-systemic%20thinking.%20%3Ci%3EAdvances%20in%20Systems%20Science%20and%20Applications%3C%5C%2Fi%3E%2C%20%3Ci%3E13%3C%5C%2Fi%3E%283%29%2C%20276%26%23x2013%3B298.%3C%5C%2Fdiv%3E%5Cn%3C%5C%2Fdiv%3E%22%2C%22data%22%3A%7B%22itemType%22%3A%22journalArticle%22%2C%22title%22%3A%22Using%20simulations%20of%20NetLogo%20as%20a%20tool%20for%20introducing%20greek%20high-school%20students%20to%20eco-systemic%20thinking%22%2C%22creators%22%3A%5B%7B%22creatorType%22%3A%22author%22%2C%22firstName%22%3A%22Aristotelis%22%2C%22lastName%22%3A%22Gkiolmas%22%7D%2C%7B%22creatorType%22%3A%22author%22%2C%22firstName%22%3A%22Kostas%22%2C%22lastName%22%3A%22Karamanos%22%7D%2C%7B%22creatorType%22%3A%22author%22%2C%22firstName%22%3A%22Anthimos%22%2C%22lastName%22%3A%22Chalkidis%22%7D%2C%7B%22creatorType%22%3A%22author%22%2C%22firstName%22%3A%22Constantine%22%2C%22lastName%22%3A%22Skordoulis%22%7D%2C%7B%22creatorType%22%3A%22author%22%2C%22firstName%22%3A%22Maria%22%2C%22lastName%22%3A%22Papaconstantinou%22%7D%2C%7B%22creatorType%22%3A%22author%22%2C%22firstName%22%3A%22Dimitrios%22%2C%22lastName%22%3A%22Stavrou%22%7D%5D%2C%22abstractNote%22%3A%22In%20this%20paper%2C%20the%20effectiveness%20of%20the%20NetLogo%20programming%20environment%20is%20investigated%2C%20as%20regards%20assisting%20students%20%28of%20various%20levels%20of%20achievement%29%20of%20the%20Greek%20Higher%20Secondary%20Education%2C%20to%20understand%20how%20some%20simple%20ecosystems%20are%20structured%20and%20to%20model%20the%20systemic%20behaviour%20of%20such%20ecosystems%20by%20conceptualising%20their%20Complexity%20features.%20This%20paper%20is%20part%20of%20a%20wider%20research%20on%20teaching%20Ecosystem%20Complexity%20to%20high-school%20students%2C%20with%20the%20use%20of%20Information%20and%20Communication%20Technologies%20%28ICT%27s%29.%20Specific%20models%20from%20the%20NetLogo%20Models%27%20Library%20were%20used%20and%20students%20of%20the%202nd%20class%20of%20the%20Greek%20Lyceum%20%28aged%20between%2016%20and%2017%29%20participated%20in%20the%20investigation.%20Apart%20from%20oral%20instruction%2C%20the%20students%20were%20asked%20to%20run%20the%20NetLogo%20simulations%20and%20do%20specific%20things%20with%20the%20models%2C%20answering%20simultaneously%20questions%20on%20worksheets%20provided%20to%20them.%20The%20studying%20and%20the%20evaluation%20of%20the%20worksheets%20by%20the%20researchers%2C%20as%20well%20as%20the%20postinstructional%20evaluation%20of%20the%20students%2C%20both%20oral%20%28by%20means%20of%20cassettes%29%20and%20written%2C%20through%20the%20use%20of%20an%20evaluation%20sheet%2C%20gave%20research%20findings%20that%20proved%20to%20be%20encouraging%20in%20that%3A%20a%29%20students%20developed%20a%20greater%20understanding%20of%20the%20complex%5C%2Fsystemic%20behaviour%20of%20ecosystems%20and%20b%29%20they%20were%20capable%2C%20to%20a%20certain%20extent%2C%20of%20analyzing%20the%20systemic%20relations%20within%20simple%20ecosystems%20and%20built%20analogous%20relations%20in%20other%2C%20also%20simple%2C%20ecosystems.%22%2C%22date%22%3A%222013%22%2C%22language%22%3A%22%22%2C%22DOI%22%3A%22%22%2C%22ISSN%22%3A%2210786236%22%2C%22url%22%3A%22%22%2C%22collections%22%3A%5B%22SYDUSCWH%22%5D%2C%22dateModified%22%3A%222022-11-25T13%3A47%3A59Z%22%7D%7D%2C%7B%22key%22%3A%225BSMS9V3%22%2C%22library%22%3A%7B%22id%22%3A4869801%7D%2C%22meta%22%3A%7B%22lastModifiedByUser%22%3A%7B%22id%22%3A9911611%2C%22username%22%3A%22dustin_eirdosh%22%2C%22name%22%3A%22Dustin%20Eirdosh%22%2C%22links%22%3A%7B%22alternate%22%3A%7B%22href%22%3A%22https%3A%5C%2F%5C%2Fwww.zotero.org%5C%2Fdustin_eirdosh%22%2C%22type%22%3A%22text%5C%2Fhtml%22%7D%7D%7D%2C%22creatorSummary%22%3A%22Gkiolmas%20et%20al.%22%2C%22parsedDate%22%3A%222015%22%2C%22numChildren%22%3A0%7D%2C%22bib%22%3A%22%3Cdiv%20class%3D%5C%22csl-bib-body%5C%22%20style%3D%5C%22line-height%3A%202%3B%20padding-left%3A%201em%3B%20text-indent%3A-1em%3B%5C%22%3E%5Cn%20%20%3Cdiv%20class%3D%5C%22csl-entry%5C%22%3EGkiolmas%2C%20A.%2C%20Chalkidis%2C%20A.%2C%20Papaconstantinou%2C%20M.%2C%20Iqbal%2C%20Z.%2C%20%26amp%3B%20Skordoulis%2C%20C.%20%282015%29.%20An%20alternative%20use%20of%20the%20NetLogo%20modeling%20environment%2C%20where%20the%20student%20thinks%20and%20acts%20like%20an%20Agent%2C%20in%20order%20to%20teach%20concepts%20of%20Ecology.%20%3Ci%3EProceedings%20of%20the%209th%20Pan-Hellenic%20Conference%20with%20International%20Participation%3A%20%26%23x201C%3BICT%26%23x2019%3Bs%20in%20Education%26%23x201D%3B%20%28HCICTE%202014%29%203rd-5th%20October%202014%2C%20University%20of%20Crete%2C%20Rethymno%2C%20Greece%3C%5C%2Fi%3E%2C%20379%26%23x2013%3B386.%20%3Ca%20href%3D%27http%3A%5C%2F%5C%2Farxiv.org%5C%2Fabs%5C%2F1501.05779%27%3Ehttp%3A%5C%2F%5C%2Farxiv.org%5C%2Fabs%5C%2F1501.05779%3C%5C%2Fa%3E%3C%5C%2Fdiv%3E%5Cn%3C%5C%2Fdiv%3E%22%2C%22data%22%3A%7B%22itemType%22%3A%22conferencePaper%22%2C%22title%22%3A%22An%20alternative%20use%20of%20the%20NetLogo%20modeling%20environment%2C%20where%20the%20student%20thinks%20and%20acts%20like%20an%20Agent%2C%20in%20order%20to%20teach%20concepts%20of%20Ecology%22%2C%22creators%22%3A%5B%7B%22creatorType%22%3A%22author%22%2C%22firstName%22%3A%22Aristotelis%22%2C%22lastName%22%3A%22Gkiolmas%22%7D%2C%7B%22creatorType%22%3A%22author%22%2C%22firstName%22%3A%22Anthimos%22%2C%22lastName%22%3A%22Chalkidis%22%7D%2C%7B%22creatorType%22%3A%22author%22%2C%22firstName%22%3A%22Maria%22%2C%22lastName%22%3A%22Papaconstantinou%22%7D%2C%7B%22creatorType%22%3A%22author%22%2C%22firstName%22%3A%22Zafar%22%2C%22lastName%22%3A%22Iqbal%22%7D%2C%7B%22creatorType%22%3A%22author%22%2C%22firstName%22%3A%22Constantine%22%2C%22lastName%22%3A%22Skordoulis%22%7D%5D%2C%22abstractNote%22%3A%22The%20Multi%20Agent%20Based%20programming%2C%20modeling%20and%20simulation%20environment%20of%20NetLogo%20has%20been%20used%20extensively%20during%20the%20last%20fifteen%20years%20for%20educational%20among%20other%20purposes.%20The%20learning%20subject%2C%20upon%20interacting%20with%20the%20Users%20Interface%20of%20NetLogo%2C%20can%20easily%20study%20properties%20of%20the%20simulated%20natural%20systems%2C%20as%20well%20as%20observe%20the%20latters%20response%2C%20when%20altering%20their%20parameters.%20In%20this%20research%2C%20NetLogo%20was%20used%20under%20the%20perspective%20that%20the%20learning%20subject%20%28student%20or%20prospective%20teacher%29interacts%20with%20the%20model%20in%20a%20deeper%20way%2C%20obtaining%20the%20role%20of%20an%20agent.%20This%20is%20not%20achieved%20by%20obliging%20the%20learner%20to%20program%20%28write%20NetLogo%20code%29%20but%20by%20interviewing%20them%2C%20together%20with%20applying%20the%20choices%20that%20they%20make%20on%20the%20model.%20The%20scheme%20was%20carried%20out%2C%20as%20part%20of%20a%20broader%20research%2C%20with%20interviews%2C%20and%20web%20page%20like%20interface%20menu%20selections%2C%20in%20a%20sample%20of%2017%20University%20students%20in%20Athens%20%28prospective%20Primary%20School%20teachers%29%20and%20the%20results%20were%20judged%20as%20encouraging.%20At%20a%20further%20stage%2C%20the%20computers%20were%20set%20as%20a%20network%2C%20where%20all%20the%20agents%20performed%20together.%20In%20this%20way%20the%20learners%20could%20watch%20onscreen%20the%20overall%20outcome%20of%20their%20choices%20and%20actions%20on%20the%20modeled%20ecosystem.%20This%20seems%20to%20open%20a%20new%2C%20small%2C%20area%20of%20research%20in%20NetLogo%20educational%20applications.%22%2C%22date%22%3A%222015%22%2C%22proceedingsTitle%22%3A%22Proceedings%20of%20the%209th%20Pan-Hellenic%20Conference%20with%20International%20Participation%3A%20%5C%22ICT%27s%20in%20Education%5C%22%20%28HCICTE%202014%29%203rd-5th%20October%202014%2C%20University%20of%20Crete%2C%20Rethymno%2C%20Greece%22%2C%22conferenceName%22%3A%22%22%2C%22language%22%3A%22%22%2C%22DOI%22%3A%22%22%2C%22ISBN%22%3A%22%22%2C%22url%22%3A%22http%3A%5C%2F%5C%2Farxiv.org%5C%2Fabs%5C%2F1501.05779%22%2C%22collections%22%3A%5B%22SYDUSCWH%22%5D%2C%22dateModified%22%3A%222022-11-25T13%3A46%3A55Z%22%7D%7D%2C%7B%22key%22%3A%22VFNB8XSM%22%2C%22library%22%3A%7B%22id%22%3A4869801%7D%2C%22meta%22%3A%7B%22creatorSummary%22%3A%22Grimm%20et%20al.%22%2C%22parsedDate%22%3A%222010%22%2C%22numChildren%22%3A0%7D%2C%22bib%22%3A%22%3Cdiv%20class%3D%5C%22csl-bib-body%5C%22%20style%3D%5C%22line-height%3A%202%3B%20padding-left%3A%201em%3B%20text-indent%3A-1em%3B%5C%22%3E%5Cn%20%20%3Cdiv%20class%3D%5C%22csl-entry%5C%22%3EGrimm%2C%20V.%2C%20Berger%2C%20U.%2C%20Deangelis%2C%20D.%20L.%2C%20Polhill%2C%20J.%20G.%2C%20Giske%2C%20J.%2C%20%26amp%3B%20Railsback%2C%20S.%20F.%20%282010%29.%20The%20ODD%20protocol%3A%20A%20review%20and%20first%20update.%20%3Ci%3EEcological%20Modelling%3C%5C%2Fi%3E%2C%20%3Ci%3E221%3C%5C%2Fi%3E%2C%202760%26%23x2013%3B2768.%20%3Ca%20href%3D%27https%3A%5C%2F%5C%2Fdoi.org%5C%2F10.1016%5C%2Fj.ecolmodel.2010.08.019%27%3Ehttps%3A%5C%2F%5C%2Fdoi.org%5C%2F10.1016%5C%2Fj.ecolmodel.2010.08.019%3C%5C%2Fa%3E%3C%5C%2Fdiv%3E%5Cn%3C%5C%2Fdiv%3E%22%2C%22data%22%3A%7B%22itemType%22%3A%22journalArticle%22%2C%22title%22%3A%22The%20ODD%20protocol%3A%20A%20review%20and%20first%20update%22%2C%22creators%22%3A%5B%7B%22creatorType%22%3A%22author%22%2C%22firstName%22%3A%22Volker%22%2C%22lastName%22%3A%22Grimm%22%7D%2C%7B%22creatorType%22%3A%22author%22%2C%22firstName%22%3A%22Uta%22%2C%22lastName%22%3A%22Berger%22%7D%2C%7B%22creatorType%22%3A%22author%22%2C%22firstName%22%3A%22Donald%20L%22%2C%22lastName%22%3A%22Deangelis%22%7D%2C%7B%22creatorType%22%3A%22author%22%2C%22firstName%22%3A%22J%20Gary%22%2C%22lastName%22%3A%22Polhill%22%7D%2C%7B%22creatorType%22%3A%22author%22%2C%22firstName%22%3A%22Jarl%22%2C%22lastName%22%3A%22Giske%22%7D%2C%7B%22creatorType%22%3A%22author%22%2C%22firstName%22%3A%22Steven%20F%22%2C%22lastName%22%3A%22Railsback%22%7D%5D%2C%22abstractNote%22%3A%22The%20ODD%20%28Overview%20Design%20concepts%20and%20Details%29%20protocol%20was%20published%20in%202006%20to%20standardize%20the%20published%20descriptions%20of%20individual-based%20and%20agent-based%20models%20%28ABMs%29%20The%20primary%20objectives%20of%20ODD%20are%20to%20make%20model%20descriptions%20more%20understandable%20and%20complete%20thereby%20making%20ABMs%20less%20subject%20to%20criticism%20for%20being%20irreproducible%20We%20have%20systematically%20evaluated%20existing%20uses%20of%20the%20ODD%20protocol%20and%20identified%20as%20expected%20parts%20of%20ODD%20needing%20Improvement%20and%20clarification%20Accordingly%20we%20revise%20the%20definition%20of%20ODD%20to%20clarify%20aspects%20of%20the%20original%20version%20and%20thereby%20facilitate%20future%20standardization%20of%20ABM%20descriptions%20We%20discuss%20frequently%20raised%20critiques%20in%20ODD%20but%20also%20two%20emerging%20and%20unanticipated%20benefits%20ODD%20Improves%20the%20rigorous%20formulation%20of%20models%20and%20helps%20make%20the%20theoretical%20foundations%20of%20large%20models%20more%20visible%20Although%20the%20protocol%20was%20designed%20for%20ABMs%20it%20can%20help%20with%20documenting%20any%20large%20complex%20model%20alleviating%20some%20general%20objections%20against%20such%20models%20%28C%29%202010%20Elsevier%20B%20V%20All%20rights%20reserved%22%2C%22date%22%3A%222010%22%2C%22language%22%3A%22%22%2C%22DOI%22%3A%2210.1016%5C%2Fj.ecolmodel.2010.08.019%22%2C%22ISSN%22%3A%2203043800%22%2C%22url%22%3A%22%22%2C%22collections%22%3A%5B%22SYDUSCWH%22%5D%2C%22dateModified%22%3A%222022-11-25T13%3A46%3A55Z%22%7D%7D%2C%7B%22key%22%3A%22J8LJ5JV6%22%2C%22library%22%3A%7B%22id%22%3A4869801%7D%2C%22meta%22%3A%7B%22lastModifiedByUser%22%3A%7B%22id%22%3A9911611%2C%22username%22%3A%22dustin_eirdosh%22%2C%22name%22%3A%22Dustin%20Eirdosh%22%2C%22links%22%3A%7B%22alternate%22%3A%7B%22href%22%3A%22https%3A%5C%2F%5C%2Fwww.zotero.org%5C%2Fdustin_eirdosh%22%2C%22type%22%3A%22text%5C%2Fhtml%22%7D%7D%7D%2C%22creatorSummary%22%3A%22Gu%5Cu00e9nin-Carlut%22%2C%22numChildren%22%3A0%7D%2C%22bib%22%3A%22%3Cdiv%20class%3D%5C%22csl-bib-body%5C%22%20style%3D%5C%22line-height%3A%202%3B%20padding-left%3A%201em%3B%20text-indent%3A-1em%3B%5C%22%3E%5Cn%20%20%3Cdiv%20class%3D%5C%22csl-entry%5C%22%3EGu%26%23xE9%3Bnin-Carlut%2C%20A.%20%28n.d.%29.%20%3Ci%3ECognitive%20agency%20in%20sociocultural%20evolution.%20A%20proposal%20to%20ground%20social%20modelling%20in%20the%20active%20inference%20framework%3C%5C%2Fi%3E.%3C%5C%2Fdiv%3E%5Cn%3C%5C%2Fdiv%3E%22%2C%22data%22%3A%7B%22itemType%22%3A%22journalArticle%22%2C%22title%22%3A%22Cognitive%20agency%20in%20sociocultural%20evolution.%20A%20proposal%20to%20ground%20social%20modelling%20in%20the%20active%20inference%20framework%22%2C%22creators%22%3A%5B%7B%22creatorType%22%3A%22author%22%2C%22firstName%22%3A%22Avel%22%2C%22lastName%22%3A%22Gu%5Cu00e9nin-Carlut%22%7D%5D%2C%22abstractNote%22%3A%22Models%20of%20sociocultural%20evolution%20generally%20study%20the%20population%20dynamics%20of%20cultural%20traits%20given%20known%20biases%20in%20social%20learning.%20Cognitive%20agency%2C%20understood%20as%20the%20dynamics%20underlying%20a%20specific%20agent%5Cu2019s%20adoption%20of%20a%20given%20trait%2C%20is%20essentially%20irrelevant%20in%20this%20framework.%20This%20article%20argues%20that%20although%20implementing%20and%20instrumenting%20agency%20in%20computational%20models%20is%20fundamentally%20challenging%2C%20it%20is%20ultimately%20possible%20and%20would%20help%20us%20overcome%20major%20limitations%20in%20our%20understanding%20of%20sociocultural%20dynamics.%20Indeed%2C%20the%20behaviour%20of%20humans%20is%20not%20causally%20generated%20by%20a%20set%20of%20predefined%20behavioural%20laws%2C%20but%20by%20the%20situated%20activity%20of%20their%20cognitive%20architecture.%20Idealised%20models%20of%20biased%20transmission%20certainly%20help%20us%20understand%20specific%20features%20of%20population%20dynamics.%20However%2C%20they%20distract%20us%20from%20the%20deep%20entanglement%20of%20the%20cognitive%20and%20ecological%20processes%20underlying%20sociocultural%20evolution%2C%20and%20erase%20their%20embodied%2C%20subjective%20nature.%20In%20line%20with%20the%20earlier%20%5Cu201cThinking%20Through%20Other%20Minds%5Cu201d%20account%20of%20sociocultural%20evolution%2C%20this%20article%20highlights%20how%20the%20Active%20Inference%20framework%20can%20help%20us%20implement%20and%20instrument%20computational%20models%20that%20address%20these%20limitations.%20Such%20models%20would%20not%20only%20help%20ground%20our%20understanding%20of%20sociocultural%20evolution%20in%20the%20underlying%20cognitive%20dynamics%2C%20but%20also%20help%20solve%20%28or%20frame%29%20open%20questions%20in%20the%20study%20of%20ritual%2C%20relation%20between%20cultural%20transmission%20and%20innovation%2C%20as%20well%20as%20scales%20of%20cultural%20evolution.%22%2C%22date%22%3A%22%22%2C%22language%22%3A%22%22%2C%22DOI%22%3A%22%22%2C%22ISSN%22%3A%22%22%2C%22url%22%3A%22%22%2C%22collections%22%3A%5B%22SYDUSCWH%22%5D%2C%22dateModified%22%3A%222022-11-25T13%3A46%3A55Z%22%7D%7D%2C%7B%22key%22%3A%226V24BN83%22%2C%22library%22%3A%7B%22id%22%3A4869801%7D%2C%22meta%22%3A%7B%22creatorSummary%22%3A%22Hauert%20et%20al.%22%2C%22parsedDate%22%3A%222007%22%2C%22numChildren%22%3A0%7D%2C%22bib%22%3A%22%3Cdiv%20class%3D%5C%22csl-bib-body%5C%22%20style%3D%5C%22line-height%3A%202%3B%20padding-left%3A%201em%3B%20text-indent%3A-1em%3B%5C%22%3E%5Cn%20%20%3Cdiv%20class%3D%5C%22csl-entry%5C%22%3EHauert%2C%20C.%2C%20Traulsen%2C%20A.%2C%20Brandt%2C%20H.%2C%20Nowak%2C%20M.%20A.%2C%20%26amp%3B%20Sigmund%2C%20K.%20%282007%29.%20Via%20freedom%20to%20coercion%3A%20The%20emergence%20of%20costly%20punishment.%20%3Ci%3EScience%3C%5C%2Fi%3E%2C%20%3Ci%3E316%3C%5C%2Fi%3E%285833%29%2C%201905%26%23x2013%3B1907.%20%3Ca%20href%3D%27https%3A%5C%2F%5C%2Fdoi.org%5C%2F10.1126%5C%2Fscience.1141588%27%3Ehttps%3A%5C%2F%5C%2Fdoi.org%5C%2F10.1126%5C%2Fscience.1141588%3C%5C%2Fa%3E%3C%5C%2Fdiv%3E%5Cn%3C%5C%2Fdiv%3E%22%2C%22data%22%3A%7B%22itemType%22%3A%22journalArticle%22%2C%22title%22%3A%22Via%20freedom%20to%20coercion%3A%20The%20emergence%20of%20costly%20punishment%22%2C%22creators%22%3A%5B%7B%22creatorType%22%3A%22author%22%2C%22firstName%22%3A%22Christoph%22%2C%22lastName%22%3A%22Hauert%22%7D%2C%7B%22creatorType%22%3A%22author%22%2C%22firstName%22%3A%22Arne%22%2C%22lastName%22%3A%22Traulsen%22%7D%2C%7B%22creatorType%22%3A%22author%22%2C%22firstName%22%3A%22Hannelore%22%2C%22lastName%22%3A%22Brandt%22%7D%2C%7B%22creatorType%22%3A%22author%22%2C%22firstName%22%3A%22Martin%20A.%22%2C%22lastName%22%3A%22Nowak%22%7D%2C%7B%22creatorType%22%3A%22author%22%2C%22firstName%22%3A%22Karl%22%2C%22lastName%22%3A%22Sigmund%22%7D%5D%2C%22abstractNote%22%3A%22In%20human%20societies%2C%20cooperative%20behavior%20in%20joint%20enterprises%20is%20often%20enforced%20through%20institutions%20that%20impose%20sanctions%20on%20defectors.%20Many%20experiments%20on%20so-called%20public%20goods%20games%20have%20shown%20that%20in%20the%20absence%20of%20such%20institutions%2C%20individuals%20are%20willing%20to%20punish%20defectors%2C%20even%20at%20a%20cost%20to%20themselves.%20Theoretical%20models%20confirm%20that%20social%20norms%20prescribing%20the%20punishment%20of%20uncooperative%20behavior%20are%20stable-once%20established%2C%20they%20prevent%20dissident%20minorities%20from%20spreading.%20But%20how%20can%20such%20costly%20punishing%20behavior%20gain%20a%20foothold%20in%20the%20population%3F%20A%20surprisingly%20simple%20model%20shows%20that%20if%20individuals%20have%20the%20option%20to%20stand%20aside%20and%20abstain%20from%20the%20joint%20endeavor%2C%20this%20paves%20the%20way%20for%20the%20emergence%20and%20establishment%20of%20cooperative%20behavior%20based%20on%20the%20punishment%20of%20defectors.%20Paradoxically%2C%20the%20freedom%20to%20withdraw%20from%20the%20common%20enterprise%20leads%20to%20enforcement%20of%20social%20norms.%20Joint%20enterprises%20that%20are%20compulsory%20rather%20than%20voluntary%20are%20less%20likely%20to%20lead%20to%20cooperation.%22%2C%22date%22%3A%222007%22%2C%22language%22%3A%22%22%2C%22DOI%22%3A%2210.1126%5C%2Fscience.1141588%22%2C%22ISSN%22%3A%2200368075%22%2C%22url%22%3A%22https%3A%5C%2F%5C%2Fdoi.org%5C%2F10.1126%5C%2Fscience.1141588%22%2C%22collections%22%3A%5B%22SYDUSCWH%22%5D%2C%22dateModified%22%3A%222022-11-25T14%3A52%3A57Z%22%7D%7D%2C%7B%22key%22%3A%22ZY7UIS5Q%22%2C%22library%22%3A%7B%22id%22%3A4869801%7D%2C%22meta%22%3A%7B%22creatorSummary%22%3A%22Henrich%20and%20Boyd%22%2C%22parsedDate%22%3A%222001%22%2C%22numChildren%22%3A0%7D%2C%22bib%22%3A%22%3Cdiv%20class%3D%5C%22csl-bib-body%5C%22%20style%3D%5C%22line-height%3A%202%3B%20padding-left%3A%201em%3B%20text-indent%3A-1em%3B%5C%22%3E%5Cn%20%20%3Cdiv%20class%3D%5C%22csl-entry%5C%22%3EHenrich%2C%20J.%2C%20%26amp%3B%20Boyd%2C%20R.%20T.%20%282001%29.%20Why%20people%20punish%20defectors%3A%20Weak%20conformist%20transmission%20can%20stabilize%20costly%20enforcement%20of%20norms%20in%20cooperative%20dilemmas.%20%3Ci%3EJournal%20of%20Theoretical%20Biology%3C%5C%2Fi%3E%2C%20%3Ci%3E208%3C%5C%2Fi%3E%281%29%2C%2079%26%23x2013%3B89.%20%3Ca%20href%3D%27https%3A%5C%2F%5C%2Fdoi.org%5C%2F10.1006%5C%2Fjtbi.2000.2202%27%3Ehttps%3A%5C%2F%5C%2Fdoi.org%5C%2F10.1006%5C%2Fjtbi.2000.2202%3C%5C%2Fa%3E%3C%5C%2Fdiv%3E%5Cn%3C%5C%2Fdiv%3E%22%2C%22data%22%3A%7B%22itemType%22%3A%22journalArticle%22%2C%22title%22%3A%22Why%20people%20punish%20defectors%3A%20Weak%20conformist%20transmission%20can%20stabilize%20costly%20enforcement%20of%20norms%20in%20cooperative%20dilemmas%22%2C%22creators%22%3A%5B%7B%22creatorType%22%3A%22author%22%2C%22firstName%22%3A%22Joseph%22%2C%22lastName%22%3A%22Henrich%22%7D%2C%7B%22creatorType%22%3A%22author%22%2C%22firstName%22%3A%22Robert%20T%22%2C%22lastName%22%3A%22Boyd%22%7D%5D%2C%22abstractNote%22%3A%22In%20this%20paper%2C%20we%20present%20a%20cultural%20evolutionary%20model%20in%20which%20norms%20for%20cooperation%20and%20punishment%20are%20acquired%20via%20two%20cognitive%20mechanisms%3A%20%281%29%20payoff-biased%20transmission%20-%20a%20tendency%20to%20copy%20the%20most%20successful%20individual%3B%20and%20%282%29%20conformist%20transmission%20-%20a%20tendency%20to%20copy%20the%20most%20frequent%20behavior%20in%20the%20population.%20We%20first%20show%20that%20if%20a%20finite%20number%20of%20punishment%20stages%20is%20permitted%20%28e.g.%20two%20stages%20of%20punishment%20occur%20if%20some%20individuals%20punish%20people%20who%20fail%20to%20punish%20non-cooperators%29%2C%20then%20an%20arbitrarily%20small%20amount%20of%20conformist%20transmission%20will%20stabilize%20cooperative%20behavior%20by%20stabilizing%20punishment%20at%20some%20n-th%20stage.%20We%20then%20explain%20how%2C%20once%20cooperation%20is%20stabilized%20in%20one%20group%2C%20it%20may%20spread%20through%20a%20multi-group%20population%20via%20cultural%20group%20selection.%20Finally%2C%20once%20cooperation%20is%20prevalent%2C%20we%20show%20how%20prosocial%20genes%20favoring%20cooperation%20and%20punishment%20may%20invade%20in%20the%20wake%20of%20cultural%20group%20selection.%20%5Cu00a9%202001%20Academic%20Press.%22%2C%22date%22%3A%222001%22%2C%22language%22%3A%22%22%2C%22DOI%22%3A%2210.1006%5C%2Fjtbi.2000.2202%22%2C%22ISSN%22%3A%2200225193%22%2C%22url%22%3A%22https%3A%5C%2F%5C%2Fdoi.org%5C%2F10.1006%5C%2Fjtbi.2000.2202%22%2C%22collections%22%3A%5B%22SYDUSCWH%22%5D%2C%22dateModified%22%3A%222022-11-25T14%3A52%3A57Z%22%7D%7D%2C%7B%22key%22%3A%22C4W9L86T%22%2C%22library%22%3A%7B%22id%22%3A4869801%7D%2C%22meta%22%3A%7B%22lastModifiedByUser%22%3A%7B%22id%22%3A9911611%2C%22username%22%3A%22dustin_eirdosh%22%2C%22name%22%3A%22Dustin%20Eirdosh%22%2C%22links%22%3A%7B%22alternate%22%3A%7B%22href%22%3A%22https%3A%5C%2F%5C%2Fwww.zotero.org%5C%2Fdustin_eirdosh%22%2C%22type%22%3A%22text%5C%2Fhtml%22%7D%7D%7D%2C%22creatorSummary%22%3A%22Horn%20and%20Gisi%22%2C%22parsedDate%22%3A%222009%22%2C%22numChildren%22%3A0%7D%2C%22bib%22%3A%22%3Cdiv%20class%3D%5C%22csl-bib-body%5C%22%20style%3D%5C%22line-height%3A%202%3B%20padding-left%3A%201em%3B%20text-indent%3A-1em%3B%5C%22%3E%5Cn%20%20%3Cdiv%20class%3D%5C%22csl-entry%5C%22%3EHorn%2C%20E.%2C%20%26amp%3B%20Gisi%2C%20L.%20M.%20%282009%29.%20%3Ci%3ESchw%26%23xE4%3Brme.%20Kollektive%20ohne%20Zentrum.%20Eine%20Wissensgeschichte%20zwischen%20Leben%20und%20Information%3C%5C%2Fi%3E.%20transcript%20Verlag.%3C%5C%2Fdiv%3E%5Cn%3C%5C%2Fdiv%3E%22%2C%22data%22%3A%7B%22itemType%22%3A%22book%22%2C%22title%22%3A%22Schw%5Cu00e4rme.%20Kollektive%20ohne%20Zentrum.%20Eine%20Wissensgeschichte%20zwischen%20Leben%20und%20Information%22%2C%22creators%22%3A%5B%7B%22creatorType%22%3A%22author%22%2C%22firstName%22%3A%22Eva%22%2C%22lastName%22%3A%22Horn%22%7D%2C%7B%22creatorType%22%3A%22author%22%2C%22firstName%22%3A%22Lucas%20Marco%22%2C%22lastName%22%3A%22Gisi%22%7D%5D%2C%22abstractNote%22%3A%22%22%2C%22date%22%3A%222009%22%2C%22language%22%3A%22%22%2C%22ISBN%22%3A%22978-3-8376-1133-5%22%2C%22url%22%3A%22%22%2C%22collections%22%3A%5B%22SYDUSCWH%22%5D%2C%22dateModified%22%3A%222022-11-25T14%3A52%3A57Z%22%7D%7D%2C%7B%22key%22%3A%223CIZ5BCD%22%2C%22library%22%3A%7B%22id%22%3A4869801%7D%2C%22meta%22%3A%7B%22creatorSummary%22%3A%22Jacobson%20et%20al.%22%2C%22parsedDate%22%3A%222013%22%2C%22numChildren%22%3A0%7D%2C%22bib%22%3A%22%3Cdiv%20class%3D%5C%22csl-bib-body%5C%22%20style%3D%5C%22line-height%3A%202%3B%20padding-left%3A%201em%3B%20text-indent%3A-1em%3B%5C%22%3E%5Cn%20%20%3Cdiv%20class%3D%5C%22csl-entry%5C%22%3EJacobson%2C%20M.%20J.%2C%20Kim%2C%20B.%2C%20Pathak%2C%20S.%2C%20%26amp%3B%20Zhang%2C%20B.%20H.%20%282013%29.%20To%20guide%20or%20not%20to%20guide%3A%20issues%20in%20the%20sequencing%20of%20pedagogical%20structure%20in%20computational%20model-based%20learning.%20%3Ci%3EInteractive%20Learning%20Environments%3C%5C%2Fi%3E%2C%20%3Ci%3E23%3C%5C%2Fi%3E%286%29%2C%20715%26%23x2013%3B730.%20%3Ca%20href%3D%27https%3A%5C%2F%5C%2Fdoi.org%5C%2F10.1080%5C%2F10494820.2013.792845%27%3Ehttps%3A%5C%2F%5C%2Fdoi.org%5C%2F10.1080%5C%2F10494820.2013.792845%3C%5C%2Fa%3E%3C%5C%2Fdiv%3E%5Cn%3C%5C%2Fdiv%3E%22%2C%22data%22%3A%7B%22itemType%22%3A%22journalArticle%22%2C%22title%22%3A%22To%20guide%20or%20not%20to%20guide%3A%20issues%20in%20the%20sequencing%20of%20pedagogical%20structure%20in%20computational%20model-based%20learning%22%2C%22creators%22%3A%5B%7B%22creatorType%22%3A%22author%22%2C%22firstName%22%3A%22Michael%20J.%22%2C%22lastName%22%3A%22Jacobson%22%7D%2C%7B%22creatorType%22%3A%22author%22%2C%22firstName%22%3A%22Beaumie%22%2C%22lastName%22%3A%22Kim%22%7D%2C%7B%22creatorType%22%3A%22author%22%2C%22firstName%22%3A%22Suneeta%22%2C%22lastName%22%3A%22Pathak%22%7D%2C%7B%22creatorType%22%3A%22author%22%2C%22firstName%22%3A%22Bao%20Hui%22%2C%22lastName%22%3A%22Zhang%22%7D%5D%2C%22abstractNote%22%3A%22This%20research%20explores%20issues%20related%20to%20the%20sequencing%20of%20structure%20that%20is%20provided%20as%20pedagogical%20guidance.%20A%20study%20was%20conducted%20that%20involved%20grade%2010%20students%20in%20Singapore%20as%20they%20learned%20concepts%20about%20electricity%20using%20four%20NetLogo%20Investigations%20of%20Electricity%20agent-based%20models.%20It%20was%20found%20that%20the%20low-to-high%20structure%20learning%20sequences%20group%20participants%20scored%20significantly%20higher%20on%20the%20posttest%20assessments%20of%20conceptual%20and%20procedural%20understanding%20of%20electricity%20concepts%2C%20whereas%20the%20high-to-high%20structure%20learning%20sequences%20showed%20no%20significant%20changes%20from%20pretest%20to%20posttest.%20The%20implications%20of%20these%20findings%20are%20discussed%20with%20respect%20to%20other%20research%20into%20the%20sequencing%20and%20design%20of%20pedagogical%20structure%20and%20guidance%20in%20the%20literature.%22%2C%22date%22%3A%222013%22%2C%22language%22%3A%22%22%2C%22DOI%22%3A%2210.1080%5C%2F10494820.2013.792845%22%2C%22ISSN%22%3A%2217445191%22%2C%22url%22%3A%22https%3A%5C%2F%5C%2Fdoi.org%5C%2F10.1080%5C%2F10494820.2013.792845%22%2C%22collections%22%3A%5B%22SYDUSCWH%22%5D%2C%22dateModified%22%3A%222022-11-25T13%3A46%3A55Z%22%7D%7D%2C%7B%22key%22%3A%22TC95Z96I%22%2C%22library%22%3A%7B%22id%22%3A4869801%7D%2C%22meta%22%3A%7B%22lastModifiedByUser%22%3A%7B%22id%22%3A9911611%2C%22username%22%3A%22dustin_eirdosh%22%2C%22name%22%3A%22Dustin%20Eirdosh%22%2C%22links%22%3A%7B%22alternate%22%3A%7B%22href%22%3A%22https%3A%5C%2F%5C%2Fwww.zotero.org%5C%2Fdustin_eirdosh%22%2C%22type%22%3A%22text%5C%2Fhtml%22%7D%7D%7D%2C%22creatorSummary%22%3A%22Jager%20et%20al.%22%2C%22parsedDate%22%3A%222017%22%2C%22numChildren%22%3A0%7D%2C%22bib%22%3A%22%3Cdiv%20class%3D%5C%22csl-bib-body%5C%22%20style%3D%5C%22line-height%3A%202%3B%20padding-left%3A%201em%3B%20text-indent%3A-1em%3B%5C%22%3E%5Cn%20%20%3Cdiv%20class%3D%5C%22csl-entry%5C%22%3EJager%2C%20W.%2C%20Verbrugge%2C%20R.%2C%20Flache%2C%20A.%2C%20Roo%2C%20G.%20de%2C%20Hoogduin%2C%20L.%2C%20%26amp%3B%20Hemelrijk%2C%20C.%20%282017%29.%20%3Ci%3EAdvances%20in%20Social%20Simulation%202015%3C%5C%2Fi%3E%20%28W.%20Jager%2C%20R.%20Verbrugge%2C%20A.%20Flache%2C%20G.%20de%20Roo%2C%20L.%20Hoogduin%2C%20%26amp%3B%20C.%20Hemelrijk%2C%20Eds.%3B%20Vol.%20528%29.%20Springer%20International%20Publishing.%20%3Ca%20href%3D%27https%3A%5C%2F%5C%2Fdoi.org%5C%2F10.1007%5C%2F978-3-319-47253-9%27%3Ehttps%3A%5C%2F%5C%2Fdoi.org%5C%2F10.1007%5C%2F978-3-319-47253-9%3C%5C%2Fa%3E%3C%5C%2Fdiv%3E%5Cn%3C%5C%2Fdiv%3E%22%2C%22data%22%3A%7B%22itemType%22%3A%22book%22%2C%22title%22%3A%22Advances%20in%20Social%20Simulation%202015%22%2C%22creators%22%3A%5B%7B%22creatorType%22%3A%22author%22%2C%22firstName%22%3A%22Wander%22%2C%22lastName%22%3A%22Jager%22%7D%2C%7B%22creatorType%22%3A%22author%22%2C%22firstName%22%3A%22Rineke%22%2C%22lastName%22%3A%22Verbrugge%22%7D%2C%7B%22creatorType%22%3A%22author%22%2C%22firstName%22%3A%22Andreas%22%2C%22lastName%22%3A%22Flache%22%7D%2C%7B%22creatorType%22%3A%22author%22%2C%22firstName%22%3A%22Gert%20de%22%2C%22lastName%22%3A%22Roo%22%7D%2C%7B%22creatorType%22%3A%22author%22%2C%22firstName%22%3A%22Lex%22%2C%22lastName%22%3A%22Hoogduin%22%7D%2C%7B%22creatorType%22%3A%22author%22%2C%22firstName%22%3A%22Charlotte%22%2C%22lastName%22%3A%22Hemelrijk%22%7D%2C%7B%22creatorType%22%3A%22editor%22%2C%22firstName%22%3A%22Wander%22%2C%22lastName%22%3A%22Jager%22%7D%2C%7B%22creatorType%22%3A%22editor%22%2C%22firstName%22%3A%22Rineke%22%2C%22lastName%22%3A%22Verbrugge%22%7D%2C%7B%22creatorType%22%3A%22editor%22%2C%22firstName%22%3A%22Andreas%22%2C%22lastName%22%3A%22Flache%22%7D%2C%7B%22creatorType%22%3A%22editor%22%2C%22firstName%22%3A%22Gert%22%2C%22lastName%22%3A%22de%20Roo%22%7D%2C%7B%22creatorType%22%3A%22editor%22%2C%22firstName%22%3A%22Lex%22%2C%22lastName%22%3A%22Hoogduin%22%7D%2C%7B%22creatorType%22%3A%22editor%22%2C%22firstName%22%3A%22Charlotte%22%2C%22lastName%22%3A%22Hemelrijk%22%7D%5D%2C%22abstractNote%22%3A%22Precise%20analysis%20of%20agent-based%20model%20%28ABM%29%20outputs%20can%20be%20a%20challenging%20and%20even%20onerous%20endeavor.%20Multiple%20runs%20or%20Monte%20Carlo%20sampling%20of%20one%5Cu2019s%20model%20%28for%20the%20purposes%20of%20calibration%2C%20sensitivity%2C%20or%20parameter-outcome%20analysis%29%20often%20yields%20a%20large%20set%20of%20trajectories%20or%20state%20transitions%20which%20may%2C%20under%20certain%20measurements%2C%20characterize%20the%20model%5Cu2019s%20behavior.%20These%20temporal%20state%20transitions%20can%20be%20represented%20as%20a%20directed%20graph%20%28or%20network%29%20which%20is%20then%20amenable%20to%20network%20analytic%20and%20graph%20theoretic%20measurements.%20Building%20on%20strategies%20of%20aggregating%20model%20outputs%20from%20multiple%20runs%20into%20graphs%2C%20we%20devise%20a%20temporally%20constrained%20graph%20aggregating%20state%20changes%20from%20runs%20and%20examine%20its%20properties%20in%20order%20to%20characterize%20the%20behavior%20of%20a%20land-use%20change%20ABM%2C%20the%20RHEA%20model.%20Features%20of%20these%20graphs%20are%20transformed%20into%20measures%20of%20complexity%20which%20in%20turn%20vary%20with%20different%20parameter%20or%20experimental%20conditions.%20This%20approach%20provides%20insights%20into%20the%20model%20behavior%20beyond%20traditional%20statistical%20analysis.%20We%20find%20that%20increasing%20the%20complexity%20in%20our%20experimental%20conditions%20can%20ironically%20decrease%20the%20complexity%20in%20the%20model%20behavior.%22%2C%22date%22%3A%222017%22%2C%22language%22%3A%22%22%2C%22ISBN%22%3A%22978-3-319-47253-9%22%2C%22url%22%3A%22https%3A%5C%2F%5C%2Fdoi.org%5C%2F10.1007%5C%2F978-3-319-47253-9%22%2C%22collections%22%3A%5B%22SYDUSCWH%22%5D%2C%22dateModified%22%3A%222022-11-25T13%3A46%3A55Z%22%7D%7D%2C%7B%22key%22%3A%225XF4ANPJ%22%2C%22library%22%3A%7B%22id%22%3A4869801%7D%2C%22meta%22%3A%7B%22creatorSummary%22%3A%22Janssen%20and%20Ostrom%22%2C%22parsedDate%22%3A%222006%22%2C%22numChildren%22%3A0%7D%2C%22bib%22%3A%22%3Cdiv%20class%3D%5C%22csl-bib-body%5C%22%20style%3D%5C%22line-height%3A%202%3B%20padding-left%3A%201em%3B%20text-indent%3A-1em%3B%5C%22%3E%5Cn%20%20%3Cdiv%20class%3D%5C%22csl-entry%5C%22%3EJanssen%2C%20M.%20A.%2C%20%26amp%3B%20Ostrom%2C%20E.%20%282006%29.%20Adoption%20of%20a%20New%20Regulation%20for%20the%20Governance%20of%20Common-Pool%20Resources%20by%20a%20Heterogeneous%20Population.%20In%20J.-M.%20Baland%2C%20P.%20Bardhan%2C%20%26amp%3B%20S.%20Bowles%20%28Eds.%29%2C%20%3Ci%3EInequality%2C%20Cooperation%2C%20and%20Environmental%20Sustainability%3C%5C%2Fi%3E%20%28pp.%2060%26%23x2013%3B96%29.%20Princeton%20University%20Press.%3C%5C%2Fdiv%3E%5Cn%3C%5C%2Fdiv%3E%22%2C%22data%22%3A%7B%22itemType%22%3A%22bookSection%22%2C%22title%22%3A%22Adoption%20of%20a%20New%20Regulation%20for%20the%20Governance%20of%20Common-Pool%20Resources%20by%20a%20Heterogeneous%20Population%22%2C%22creators%22%3A%5B%7B%22creatorType%22%3A%22author%22%2C%22firstName%22%3A%22Marco%20A.%22%2C%22lastName%22%3A%22Janssen%22%7D%2C%7B%22creatorType%22%3A%22author%22%2C%22firstName%22%3A%22Elinor%22%2C%22lastName%22%3A%22Ostrom%22%7D%2C%7B%22creatorType%22%3A%22editor%22%2C%22firstName%22%3A%22J.-M.%22%2C%22lastName%22%3A%22Baland%22%7D%2C%7B%22creatorType%22%3A%22editor%22%2C%22firstName%22%3A%22P.%22%2C%22lastName%22%3A%22Bardhan%22%7D%2C%7B%22creatorType%22%3A%22editor%22%2C%22firstName%22%3A%22S.%22%2C%22lastName%22%3A%22Bowles%22%7D%5D%2C%22abstractNote%22%3A%22%22%2C%22bookTitle%22%3A%22Inequality%2C%20Cooperation%2C%20and%20Environmental%20Sustainability%22%2C%22date%22%3A%222006%22%2C%22language%22%3A%22%22%2C%22ISBN%22%3A%220-691-12879-0%22%2C%22url%22%3A%22%22%2C%22collections%22%3A%5B%22SYDUSCWH%22%5D%2C%22dateModified%22%3A%222022-11-25T14%3A52%3A04Z%22%7D%7D%2C%7B%22key%22%3A%223EXR7C8C%22%2C%22library%22%3A%7B%22id%22%3A4869801%7D%2C%22meta%22%3A%7B%22lastModifiedByUser%22%3A%7B%22id%22%3A9911611%2C%22username%22%3A%22dustin_eirdosh%22%2C%22name%22%3A%22Dustin%20Eirdosh%22%2C%22links%22%3A%7B%22alternate%22%3A%7B%22href%22%3A%22https%3A%5C%2F%5C%2Fwww.zotero.org%5C%2Fdustin_eirdosh%22%2C%22type%22%3A%22text%5C%2Fhtml%22%7D%7D%7D%2C%22creatorSummary%22%3A%22Janssen%20et%20al.%22%2C%22parsedDate%22%3A%222014%22%2C%22numChildren%22%3A0%7D%2C%22bib%22%3A%22%3Cdiv%20class%3D%5C%22csl-bib-body%5C%22%20style%3D%5C%22line-height%3A%202%3B%20padding-left%3A%201em%3B%20text-indent%3A-1em%3B%5C%22%3E%5Cn%20%20%3Cdiv%20class%3D%5C%22csl-entry%5C%22%3EJanssen%2C%20M.%20A.%2C%20Lee%2C%20A.%2C%20%26amp%3B%20Waring%2C%20T.%20M.%20%282014%29.%20Experimental%20platforms%20for%20behavioral%20experiments%20on%20social-ecological%20systems.%20%3Ci%3EEcology%20and%20Society%3C%5C%2Fi%3E%2C%20%3Ci%3E19%3C%5C%2Fi%3E%284%29.%20%3Ca%20href%3D%27https%3A%5C%2F%5C%2Fdoi.org%5C%2F10.5751%5C%2FES-06895-190420%27%3Ehttps%3A%5C%2F%5C%2Fdoi.org%5C%2F10.5751%5C%2FES-06895-190420%3C%5C%2Fa%3E%3C%5C%2Fdiv%3E%5Cn%3C%5C%2Fdiv%3E%22%2C%22data%22%3A%7B%22itemType%22%3A%22journalArticle%22%2C%22title%22%3A%22Experimental%20platforms%20for%20behavioral%20experiments%20on%20social-ecological%20systems%22%2C%22creators%22%3A%5B%7B%22creatorType%22%3A%22author%22%2C%22firstName%22%3A%22Marco%20A.%22%2C%22lastName%22%3A%22Janssen%22%7D%2C%7B%22creatorType%22%3A%22author%22%2C%22firstName%22%3A%22Allen%22%2C%22lastName%22%3A%22Lee%22%7D%2C%7B%22creatorType%22%3A%22author%22%2C%22firstName%22%3A%22Timothy%20M.%22%2C%22lastName%22%3A%22Waring%22%7D%5D%2C%22abstractNote%22%3A%22Recently%2C%20there%20has%20been%20an%20increased%20interest%20in%20using%20behavioral%20experiments%20to%20study%20hypotheses%20on%20the%20governance%20of%20social-ecological%20systems.%20A%20diversity%20of%20software%20tools%20are%20used%20to%20implement%20such%20experiments.%20We%20evaluated%20various%20publicly%20available%20platforms%20that%20could%20be%20used%20in%20research%20and%20education%20on%20the%20governance%20of%20social-ecological%20systems.%20The%20aims%20of%20the%20various%20platforms%20are%20distinct%2C%20and%20this%20is%20noticeable%20in%20the%20differences%20in%20their%20user-friendliness%20and%20their%20adaptability%20to%20novel%20research%20questions.%20The%20more%20easily%20accessible%20platforms%20are%20useful%20for%20prototyping%20experiments%20and%20for%20educational%20purposes%20to%20illustrate%20theoretical%20concepts.%20To%20advance%20novel%20research%20aims%2C%20more%20elaborate%20programming%20experience%20is%20required%20to%20either%20implement%20an%20experiment%20from%20scratch%20or%20adjust%20existing%20experimental%20software.%20There%20is%20no%20ideal%20platform%20best%20suited%20for%20all%20possible%20use%20cases%2C%20but%20we%20have%20provided%20a%20menu%20of%20options%20and%20their%20associated%20trade-offs%22%2C%22date%22%3A%222014%22%2C%22language%22%3A%22%22%2C%22DOI%22%3A%2210.5751%5C%2FES-06895-190420%22%2C%22ISSN%22%3A%2217083087%22%2C%22url%22%3A%22http%3A%5C%2F%5C%2Fdx.doi.org%5C%2F10.5751%5C%2FES-06895-190420%22%2C%22collections%22%3A%5B%22SYDUSCWH%22%5D%2C%22dateModified%22%3A%222022-11-25T14%3A52%3A04Z%22%7D%7D%2C%7B%22key%22%3A%225NU7ZTY7%22%2C%22library%22%3A%7B%22id%22%3A4869801%7D%2C%22meta%22%3A%7B%22lastModifiedByUser%22%3A%7B%22id%22%3A9911611%2C%22username%22%3A%22dustin_eirdosh%22%2C%22name%22%3A%22Dustin%20Eirdosh%22%2C%22links%22%3A%7B%22alternate%22%3A%7B%22href%22%3A%22https%3A%5C%2F%5C%2Fwww.zotero.org%5C%2Fdustin_eirdosh%22%2C%22type%22%3A%22text%5C%2Fhtml%22%7D%7D%7D%2C%22creatorSummary%22%3A%22Janssen%20et%20al.%22%2C%22parsedDate%22%3A%222009%22%2C%22numChildren%22%3A0%7D%2C%22bib%22%3A%22%3Cdiv%20class%3D%5C%22csl-bib-body%5C%22%20style%3D%5C%22line-height%3A%202%3B%20padding-left%3A%201em%3B%20text-indent%3A-1em%3B%5C%22%3E%5Cn%20%20%3Cdiv%20class%3D%5C%22csl-entry%5C%22%3EJanssen%2C%20M.%20A.%2C%20Radtke%2C%20N.%20P.%2C%20%26amp%3B%20Lee%2C%20A.%20%282009%29.%20Pattern-oriented%20modeling%20of%20commons%20dilemma%20experiments.%20%3Ci%3EAdaptive%20Behavior%3C%5C%2Fi%3E%2C%20%3Ci%3E17%3C%5C%2Fi%3E%286%29%2C%20508%26%23x2013%3B523.%20%3Ca%20href%3D%27https%3A%5C%2F%5C%2Fdoi.org%5C%2F10.1177%5C%2F1059712309342488%27%3Ehttps%3A%5C%2F%5C%2Fdoi.org%5C%2F10.1177%5C%2F1059712309342488%3C%5C%2Fa%3E%3C%5C%2Fdiv%3E%5Cn%3C%5C%2Fdiv%3E%22%2C%22data%22%3A%7B%22itemType%22%3A%22journalArticle%22%2C%22title%22%3A%22Pattern-oriented%20modeling%20of%20commons%20dilemma%20experiments%22%2C%22creators%22%3A%5B%7B%22creatorType%22%3A%22author%22%2C%22firstName%22%3A%22Marco%20A.%22%2C%22lastName%22%3A%22Janssen%22%7D%2C%7B%22creatorType%22%3A%22author%22%2C%22firstName%22%3A%22Nicholas%20P.%22%2C%22lastName%22%3A%22Radtke%22%7D%2C%7B%22creatorType%22%3A%22author%22%2C%22firstName%22%3A%22Allen%22%2C%22lastName%22%3A%22Lee%22%7D%5D%2C%22abstractNote%22%3A%22A%20major%20challenge%20in%20the%20development%20of%20computational%20models%20of%20collective%20behavior%20is%20the%20empirical%20validation.%20Experimental%20data%20from%20a%20spatially%20explicit%20dynamic%20commons%20dilemma%20experiment%20is%20used%20to%20empirically%20ground%20an%20agent-based%20model.%20Four%20distinct%20patterns%20are%20identified%20in%20the%20data.%20Two%20na%5Cu00efve%20models%2C%20random%20walk%20and%20greedy%20agents%2C%20do%20not%20produce%20data%20that%20match%20the%20patterns.%20A%20more%20comprehensive%20model%20is%20presented%20that%20explains%20how%20participants%20make%20movement%20and%20harvest%20decisions.%20Using%20pattern-oriented%20modeling%20the%20parameter%20space%20is%20explored%20to%20identify%20the%20parameter%20combinations%20that%20meet%20the%20four%20identified%20patterns.%20Less%20than%200.1%25%20of%20the%20parameter%20combinations%20meet%20all%20the%20patterns.%20These%20parameter%20settings%20were%20used%20to%20successfully%20predict%20the%20patterns%20of%20a%20new%20set%20of%20experiments.%22%2C%22date%22%3A%222009%22%2C%22language%22%3A%22%22%2C%22DOI%22%3A%2210.1177%5C%2F1059712309342488%22%2C%22ISSN%22%3A%2210597123%22%2C%22url%22%3A%22%22%2C%22collections%22%3A%5B%22SYDUSCWH%22%2C%2299GRK5IK%22%5D%2C%22dateModified%22%3A%222022-11-25T13%3A46%3A55Z%22%7D%7D%2C%7B%22key%22%3A%22QWD8NDTQ%22%2C%22library%22%3A%7B%22id%22%3A4869801%7D%2C%22meta%22%3A%7B%22lastModifiedByUser%22%3A%7B%22id%22%3A9911611%2C%22username%22%3A%22dustin_eirdosh%22%2C%22name%22%3A%22Dustin%20Eirdosh%22%2C%22links%22%3A%7B%22alternate%22%3A%7B%22href%22%3A%22https%3A%5C%2F%5C%2Fwww.zotero.org%5C%2Fdustin_eirdosh%22%2C%22type%22%3A%22text%5C%2Fhtml%22%7D%7D%7D%2C%22creatorSummary%22%3A%22Joshi%20et%20al.%22%2C%22parsedDate%22%3A%222017%22%2C%22numChildren%22%3A0%7D%2C%22bib%22%3A%22%3Cdiv%20class%3D%5C%22csl-bib-body%5C%22%20style%3D%5C%22line-height%3A%202%3B%20padding-left%3A%201em%3B%20text-indent%3A-1em%3B%5C%22%3E%5Cn%20%20%3Cdiv%20class%3D%5C%22csl-entry%5C%22%3EJoshi%2C%20J.%2C%20Couzin%2C%20I.%20D.%2C%20Levin%2C%20S.%20A.%2C%20%26amp%3B%20Guttal%2C%20V.%20%282017%29.%20Mobility%20can%20promote%20the%20evolution%20of%20cooperation%20via%20emergent%20self-assortment%20dynamics.%20%3Ci%3EPLoS%20Computational%20Biology%3C%5C%2Fi%3E%2C%20%3Ci%3E13%3C%5C%2Fi%3E%289%29%2C%201%26%23x2013%3B19.%20%3Ca%20href%3D%27https%3A%5C%2F%5C%2Fdoi.org%5C%2F10.1371%5C%2Fjournal.pcbi.1005732%27%3Ehttps%3A%5C%2F%5C%2Fdoi.org%5C%2F10.1371%5C%2Fjournal.pcbi.1005732%3C%5C%2Fa%3E%3C%5C%2Fdiv%3E%5Cn%3C%5C%2Fdiv%3E%22%2C%22data%22%3A%7B%22itemType%22%3A%22journalArticle%22%2C%22title%22%3A%22Mobility%20can%20promote%20the%20evolution%20of%20cooperation%20via%20emergent%20self-assortment%20dynamics%22%2C%22creators%22%3A%5B%7B%22creatorType%22%3A%22author%22%2C%22firstName%22%3A%22Jaideep%22%2C%22lastName%22%3A%22Joshi%22%7D%2C%7B%22creatorType%22%3A%22author%22%2C%22firstName%22%3A%22Iain%20D.%22%2C%22lastName%22%3A%22Couzin%22%7D%2C%7B%22creatorType%22%3A%22author%22%2C%22firstName%22%3A%22Simon%20A.%22%2C%22lastName%22%3A%22Levin%22%7D%2C%7B%22creatorType%22%3A%22author%22%2C%22firstName%22%3A%22Vishwesha%22%2C%22lastName%22%3A%22Guttal%22%7D%5D%2C%22abstractNote%22%3A%22The%20evolution%20of%20costly%20cooperation%2C%20where%20cooperators%20pay%20a%20personal%20cost%20to%20benefit%20others%2C%20requires%20that%20cooperators%20interact%20more%20frequently%20with%20other%20cooperators.%20This%20condition%2C%20called%20positive%20assortment%2C%20is%20known%20to%20occur%20in%20spatially-structured%20viscous%20populations%2C%20where%20individuals%20typically%20have%20low%20mobility%20and%20limited%20dispersal.%20However%20many%20social%20organisms%20across%20taxa%2C%20from%20cells%20and%20bacteria%2C%20to%20birds%2C%20fish%20and%20ungulates%2C%20are%20mobile%2C%20and%20live%20in%20populations%20with%20considerable%20inter-group%20mixing.%20In%20the%20absence%20of%20information%20regarding%20others%27%20traits%20or%20conditional%20strategies%2C%20such%20mixing%20may%20inhibit%20assortment%20and%20limit%20the%20potential%20for%20cooperation%20to%20evolve.%20Here%20we%20employ%20spatially-explicit%20individual-based%20evolutionary%20simulations%20to%20incorporate%20costs%20and%20benefits%20of%20two%20coevolving%20costly%20traits%3A%20cooperative%20and%20local%20cohesive%20tendencies.%20We%20demonstrate%20that%2C%20despite%20possessing%20no%20information%20about%20others%27%20traits%20or%20payoffs%2C%20mobility%20%28via%20self-propulsion%20or%20environmental%20forcing%29%20facilitates%20assortment%20of%20cooperators%20via%20a%20dynamically%20evolving%20difference%20in%20the%20cohesive%20tendencies%20of%20cooperators%20and%20defectors.%20We%20show%20analytically%20that%20this%20assortment%20can%20also%20be%20viewed%20in%20a%20multilevel%20selection%20framework%2C%20where%20selection%20for%20cooperation%20among%20emergent%20groups%20can%20overcome%20selection%20against%20cooperators%20within%20the%20groups.%20As%20a%20result%20of%20these%20dynamics%2C%20we%20find%20an%20oscillatory%20pattern%20of%20cooperation%20and%20defection%20that%20maintains%20cooperation%20even%20in%20the%20absence%20of%20well%20known%20mechanisms%20such%20as%20kin%20interactions%2C%20reciprocity%2C%20local%20dispersal%20or%20conditional%20strategies%20that%20require%20information%20on%20others%27%20strategies%20or%20payoffs.%20Our%20results%20offer%20insights%20into%20differential%20adhesion%20based%20mechanisms%20for%20positive%20assortment%20and%20reveal%20the%20possibility%20of%20cooperative%20aggregations%20in%20dynamic%20fission-fusion%20populations.%22%2C%22date%22%3A%222017%22%2C%22language%22%3A%22%22%2C%22DOI%22%3A%2210.1371%5C%2Fjournal.pcbi.1005732%22%2C%22ISSN%22%3A%2215537358%22%2C%22url%22%3A%22https%3A%5C%2F%5C%2Fdoi.org%5C%2F10.1371%5C%2Fjournal.pcbi.1005732%22%2C%22collections%22%3A%5B%22SYDUSCWH%22%5D%2C%22dateModified%22%3A%222022-11-25T14%3A52%3A04Z%22%7D%7D%2C%7B%22key%22%3A%22CWTVFWU2%22%2C%22library%22%3A%7B%22id%22%3A4869801%7D%2C%22meta%22%3A%7B%22lastModifiedByUser%22%3A%7B%22id%22%3A9911611%2C%22username%22%3A%22dustin_eirdosh%22%2C%22name%22%3A%22Dustin%20Eirdosh%22%2C%22links%22%3A%7B%22alternate%22%3A%7B%22href%22%3A%22https%3A%5C%2F%5C%2Fwww.zotero.org%5C%2Fdustin_eirdosh%22%2C%22type%22%3A%22text%5C%2Fhtml%22%7D%7D%7D%2C%22creatorSummary%22%3A%22Kaaronen%20and%20Strelkovskii%22%2C%22parsedDate%22%3A%222020%22%2C%22numChildren%22%3A0%7D%2C%22bib%22%3A%22%3Cdiv%20class%3D%5C%22csl-bib-body%5C%22%20style%3D%5C%22line-height%3A%202%3B%20padding-left%3A%201em%3B%20text-indent%3A-1em%3B%5C%22%3E%5Cn%20%20%3Cdiv%20class%3D%5C%22csl-entry%5C%22%3EKaaronen%2C%20R.%20O.%2C%20%26amp%3B%20Strelkovskii%2C%20N.%20%282020%29.%20Cultural%20Evolution%20of%20Sustainable%20Behaviors%3A%20Pro-environmental%20Tipping%20Points%20in%20an%20Agent-Based%20Model.%20%3Ci%3EOne%20Earth%3C%5C%2Fi%3E%2C%20%3Ci%3E2%3C%5C%2Fi%3E%281%29%2C%2085%26%23x2013%3B97.%20%3Ca%20href%3D%27https%3A%5C%2F%5C%2Fdoi.org%5C%2F10.1016%5C%2Fj.oneear.2020.01.003%27%3Ehttps%3A%5C%2F%5C%2Fdoi.org%5C%2F10.1016%5C%2Fj.oneear.2020.01.003%3C%5C%2Fa%3E%3C%5C%2Fdiv%3E%5Cn%3C%5C%2Fdiv%3E%22%2C%22data%22%3A%7B%22itemType%22%3A%22journalArticle%22%2C%22title%22%3A%22Cultural%20Evolution%20of%20Sustainable%20Behaviors%3A%20Pro-environmental%20Tipping%20Points%20in%20an%20Agent-Based%20Model%22%2C%22creators%22%3A%5B%7B%22creatorType%22%3A%22author%22%2C%22firstName%22%3A%22Roope%20Oskari%22%2C%22lastName%22%3A%22Kaaronen%22%7D%2C%7B%22creatorType%22%3A%22author%22%2C%22firstName%22%3A%22Nikita%22%2C%22lastName%22%3A%22Strelkovskii%22%7D%5D%2C%22abstractNote%22%3A%22To%20reach%20sustainability%20transitions%2C%20we%20must%20learn%20to%20leverage%20social%20systems%20into%20tipping%20points%2C%20where%20societies%20exhibit%20positive-feedback%20loops%20in%20the%20adoption%20of%20sustainable%20behavioral%20and%20cultural%20traits.%20However%2C%20much%20less%20is%20known%20about%20the%20most%20efficient%20ways%20to%20reach%20such%20transitions%20or%20how%20self-reinforcing%20systemic%20transformations%20might%20be%20instigated%20through%20policy.%20We%20employ%20an%20agent-based%20model%20to%20study%20the%20emergence%20of%20social%20tipping%20points%20through%20various%20feedback%20loops%20that%20have%20been%20previously%20identified%20to%20constitute%20an%20ecological%20approach%20to%20human%20behavior.%20Our%20model%20suggests%20that%20even%20a%20linear%20introduction%20of%20pro-environmental%20affordances%20%28action%20opportunities%29%20to%20a%20social%20system%20can%20have%20non-linear%20positive%20effects%20on%20the%20emergence%20of%20collective%20pro-environmental%20behavior%20patterns.%20We%20validate%20the%20model%20against%20data%20on%20the%20evolution%20of%20cycling%20and%20driving%20behaviors%20in%20Copenhagen.%20Our%20model%20gives%20further%20evidence%20and%20justification%20for%20policies%20that%20make%20pro-environmental%20behavior%20psychologically%20salient%2C%20easy%2C%20and%20the%20path%20of%20least%20resistance.%22%2C%22date%22%3A%222020%22%2C%22language%22%3A%22%22%2C%22DOI%22%3A%2210.1016%5C%2Fj.oneear.2020.01.003%22%2C%22ISSN%22%3A%2225903322%22%2C%22url%22%3A%22https%3A%5C%2F%5C%2Fdoi.org%5C%2F10.1016%5C%2Fj.oneear.2020.01.003%22%2C%22collections%22%3A%5B%22SYDUSCWH%22%5D%2C%22dateModified%22%3A%222022-11-25T13%3A46%3A55Z%22%7D%7D%2C%7B%22key%22%3A%22XUFIMRZE%22%2C%22library%22%3A%7B%22id%22%3A4869801%7D%2C%22meta%22%3A%7B%22creatorSummary%22%3A%22Ke%20et%20al.%22%2C%22parsedDate%22%3A%222021%22%2C%22numChildren%22%3A0%7D%2C%22bib%22%3A%22%3Cdiv%20class%3D%5C%22csl-bib-body%5C%22%20style%3D%5C%22line-height%3A%202%3B%20padding-left%3A%201em%3B%20text-indent%3A-1em%3B%5C%22%3E%5Cn%20%20%3Cdiv%20class%3D%5C%22csl-entry%5C%22%3EKe%2C%20L.%2C%20Sadler%2C%20T.%20D.%2C%20Zangori%2C%20L.%2C%20%26amp%3B%20Friedrichsen%2C%20P.%20J.%20%282021%29.%20Developing%20and%20Using%20Multiple%20Models%20to%20Promote%20Scientific%20Literacy%20in%20the%20Context%20of%20Socio-Scientific%20Issues.%20%3Ci%3EScience%20and%20Education%3C%5C%2Fi%3E%2C%20%3Ci%3E30%3C%5C%2Fi%3E%283%29%2C%20589%26%23x2013%3B607.%20%3Ca%20href%3D%27https%3A%5C%2F%5C%2Fdoi.org%5C%2F10.1007%5C%2Fs11191-021-00206-1%27%3Ehttps%3A%5C%2F%5C%2Fdoi.org%5C%2F10.1007%5C%2Fs11191-021-00206-1%3C%5C%2Fa%3E%3C%5C%2Fdiv%3E%5Cn%3C%5C%2Fdiv%3E%22%2C%22data%22%3A%7B%22itemType%22%3A%22journalArticle%22%2C%22title%22%3A%22Developing%20and%20Using%20Multiple%20Models%20to%20Promote%20Scientific%20Literacy%20in%20the%20Context%20of%20Socio-Scientific%20Issues%22%2C%22creators%22%3A%5B%7B%22creatorType%22%3A%22author%22%2C%22firstName%22%3A%22Li%22%2C%22lastName%22%3A%22Ke%22%7D%2C%7B%22creatorType%22%3A%22author%22%2C%22firstName%22%3A%22Troy%20D.%22%2C%22lastName%22%3A%22Sadler%22%7D%2C%7B%22creatorType%22%3A%22author%22%2C%22firstName%22%3A%22Laura%22%2C%22lastName%22%3A%22Zangori%22%7D%2C%7B%22creatorType%22%3A%22author%22%2C%22firstName%22%3A%22Patricia%20J.%22%2C%22lastName%22%3A%22Friedrichsen%22%7D%5D%2C%22abstractNote%22%3A%22Learning%20science%20in%20the%20context%20of%20socio-scientific%20issues%20%28SSI%29%20can%20promote%20scientific%20literacy%20that%20links%20science%20to%20everyday%20life%20and%20society.%20In%20this%20position%20paper%2C%20we%20argue%20that%20developing%20and%20using%20multiple%20models%20equip%20students%20with%20the%20appropriate%20knowledge%20and%20skills%20needed%20to%20deal%20with%20complex%20issues.%20We%20draw%20upon%20literature%20from%20science%20education%20and%20philosophy%20of%20science%20and%20advance%20our%20theoretical%20argument%20about%20why%20it%20is%20critical%20for%20students%20to%20develop%20and%20use%20multiple%20models%20as%20part%20of%20their%20science%20learning%20experiences%20in%20general%2C%20and%20how%20the%20practice%20benefits%20students%20in%20the%20context%20of%20SSI%20in%20particular.%20We%20posit%20that%20students%20should%20engage%20in%20both%20scientific%20and%20socio-scientific%20models%20as%20they%20explore%20a%20complex%20societal%20issue%20because%20%281%29%20engagement%20in%20multiple%20scientific%20models%20promotes%20students%5Cu2019%20understanding%20about%20the%20phenomena%20relevant%20to%20the%20focal%20issue%2C%20and%20%282%29%20engagement%20in%20socio-scientific%20models%20helps%20students%20to%20use%20that%20scientific%20knowledge%20in%20the%20larger%20social%20contexts%20and%20reason%20about%20how%20interacting%20science%20and%20social%20factors%20may%20impact%20students%5Cu2019%20positions%20on%20the%20complex%20issue.%20We%20take%20COVID-19%20as%20the%20learning%20context%20and%20present%20exemplar%20models%20students%20can%20develop%20and%20use%20as%20they%20learn%20about%20the%20pandemic.%20We%20conclude%20the%20paper%20by%20discussing%20the%20teaching%20aspects%20of%20the%20proposed%20modeling%20approach%20for%20SSI-based%20instruction%20as%20well%20as%20identifying%20possible%20areas%20for%20future%20research.%22%2C%22date%22%3A%222021%22%2C%22language%22%3A%22%22%2C%22DOI%22%3A%2210.1007%5C%2Fs11191-021-00206-1%22%2C%22ISSN%22%3A%2215731901%22%2C%22url%22%3A%22https%3A%5C%2F%5C%2Fdoi.org%5C%2F10.1007%5C%2Fs11191-021-00206-1%22%2C%22collections%22%3A%5B%22SYDUSCWH%22%5D%2C%22dateModified%22%3A%222022-11-25T13%3A47%3A59Z%22%7D%7D%2C%7B%22key%22%3A%22UC2LHAKH%22%2C%22library%22%3A%7B%22id%22%3A4869801%7D%2C%22meta%22%3A%7B%22creatorSummary%22%3A%22Kornhauser%20et%20al.%22%2C%22parsedDate%22%3A%222009%22%2C%22numChildren%22%3A0%7D%2C%22bib%22%3A%22%3Cdiv%20class%3D%5C%22csl-bib-body%5C%22%20style%3D%5C%22line-height%3A%202%3B%20padding-left%3A%201em%3B%20text-indent%3A-1em%3B%5C%22%3E%5Cn%20%20%3Cdiv%20class%3D%5C%22csl-entry%5C%22%3EKornhauser%2C%20D.%2C%20Wilensky%2C%20U.%2C%20%26amp%3B%20Rand%2C%20W.%20%282009%29.%20Design%20Guidelines%20for%20Agent%20Based%20Model%20Visualization.%20%3Ci%3EJournal%20of%20Artificial%20Societies%20and%20Social%20Simulation%3C%5C%2Fi%3E%2C%20%3Ci%3E12%3C%5C%2Fi%3E%282%29%2C%2032.%20%3Ca%20href%3D%27http%3A%5C%2F%5C%2Fjasss.soc.surrey.ac.uk%5C%2F12%5C%2F2%5C%2F1.html%27%3Ehttp%3A%5C%2F%5C%2Fjasss.soc.surrey.ac.uk%5C%2F12%5C%2F2%5C%2F1.html%3C%5C%2Fa%3E%3C%5C%2Fdiv%3E%5Cn%3C%5C%2Fdiv%3E%22%2C%22data%22%3A%7B%22itemType%22%3A%22journalArticle%22%2C%22title%22%3A%22Design%20Guidelines%20for%20Agent%20Based%20Model%20Visualization%22%2C%22creators%22%3A%5B%7B%22creatorType%22%3A%22author%22%2C%22firstName%22%3A%22Daniel%22%2C%22lastName%22%3A%22Kornhauser%22%7D%2C%7B%22creatorType%22%3A%22author%22%2C%22firstName%22%3A%22Uri%22%2C%22lastName%22%3A%22Wilensky%22%7D%2C%7B%22creatorType%22%3A%22author%22%2C%22firstName%22%3A%22William%22%2C%22lastName%22%3A%22Rand%22%7D%5D%2C%22abstractNote%22%3A%22In%20the%20field%20of%20agent-based%20modeling%20%28ABM%29%2C%20visualizations%20play%20an%20important%20role%20in%20identifying%2C%20communicating%20and%20understanding%20important%20behavior%20of%20the%20modeled%20phenomenon.%20However%2C%20many%20modelers%20tend%20to%20create%20ineffective%20visualizations%20of%20Agent%20Based%20Models%20%28ABM%29%20due%20to%20lack%20of%20experience%20with%20visual%20design.%20This%20paper%20provides%20ABM%20visualization%20design%20guidelines%20in%20order%20to%20improve%20visual%20design%20with%20ABM%20toolkits.%20These%20guidelines%20will%20assist%20the%20modeler%20in%20creating%20clear%20and%20understandable%20ABM%20visualizations.%20We%20begin%20by%20introducing%20a%20non-hierarchical%20categorization%20of%20ABM%20visualizations.%20This%20categorization%20serves%20as%20a%20starting%20point%20in%20the%20creation%20of%20an%20ABM%20visualization.%20We%20go%20on%20to%20present%20well-known%20design%20techniques%20in%20the%20context%20of%20ABM%20visualization.%20These%20techniques%20are%20based%20on%20Gestalt%20psychology%2C%20semiology%20of%20graphics%2C%20and%20scientific%20visualization.%20They%20improve%20the%20visualization%20design%20by%20facilitating%20specific%20tasks%2C%20and%20providing%20a%20common%20language%20to%20critique%20visualizations%20through%20the%20use%20of%20visual%20variables.%20Subsequently%2C%20we%20discuss%20the%20application%20of%20these%20design%20techniques%20to%20simplify%2C%20emphasize%20and%20explain%20an%20ABM%20visualization.%20Finally%2C%20we%20illustrate%20these%20guidelines%20using%20a%20simple%20redesign%20of%20a%20NetLogo%20ABM%20visualization.%20These%20guidelines%20can%20be%20used%20to%20inform%20the%20development%20of%20design%20tools%20that%20assist%20users%20in%20the%20creation%20of%20ABM%20visualizations.%22%2C%22date%22%3A%222009%22%2C%22language%22%3A%22en%22%2C%22DOI%22%3A%22%22%2C%22ISSN%22%3A%22%22%2C%22url%22%3A%22http%3A%5C%2F%5C%2Fjasss.soc.surrey.ac.uk%5C%2F12%5C%2F2%5C%2F1.html%22%2C%22collections%22%3A%5B%22SYDUSCWH%22%5D%2C%22dateModified%22%3A%222022-11-25T13%3A53%3A15Z%22%7D%7D%2C%7B%22key%22%3A%22L8M7AXEA%22%2C%22library%22%3A%7B%22id%22%3A4869801%7D%2C%22meta%22%3A%7B%22lastModifiedByUser%22%3A%7B%22id%22%3A9911611%2C%22username%22%3A%22dustin_eirdosh%22%2C%22name%22%3A%22Dustin%20Eirdosh%22%2C%22links%22%3A%7B%22alternate%22%3A%7B%22href%22%3A%22https%3A%5C%2F%5C%2Fwww.zotero.org%5C%2Fdustin_eirdosh%22%2C%22type%22%3A%22text%5C%2Fhtml%22%7D%7D%7D%2C%22creatorSummary%22%3A%22Leighton%22%2C%22parsedDate%22%3A%222014%22%2C%22numChildren%22%3A0%7D%2C%22bib%22%3A%22%3Cdiv%20class%3D%5C%22csl-bib-body%5C%22%20style%3D%5C%22line-height%3A%202%3B%20padding-left%3A%201em%3B%20text-indent%3A-1em%3B%5C%22%3E%5Cn%20%20%3Cdiv%20class%3D%5C%22csl-entry%5C%22%3ELeighton%2C%20G.%20M.%20%282014%29.%20Multiple%20interactive%20public%20goods%20games%20allows%20for%20exploration%20of%20evolutionary%20mechanisms%20that%20maintain%20cooperation.%20%3Ci%3EEvolution%3A%20Education%20and%20Outreach%3C%5C%2Fi%3E%2C%20%3Ci%3E7%3C%5C%2Fi%3E%281%29%2C%2019%2B.%20%3Ca%20href%3D%27https%3A%5C%2F%5C%2Fdoi.org%5C%2F10.1186%5C%2Fs12052-014-0019-y%27%3Ehttps%3A%5C%2F%5C%2Fdoi.org%5C%2F10.1186%5C%2Fs12052-014-0019-y%3C%5C%2Fa%3E%3C%5C%2Fdiv%3E%5Cn%3C%5C%2Fdiv%3E%22%2C%22data%22%3A%7B%22itemType%22%3A%22journalArticle%22%2C%22title%22%3A%22Multiple%20interactive%20public%20goods%20games%20allows%20for%20exploration%20of%20evolutionary%20mechanisms%20that%20maintain%20cooperation%22%2C%22creators%22%3A%5B%7B%22creatorType%22%3A%22author%22%2C%22firstName%22%3A%22Gavin%20M%22%2C%22lastName%22%3A%22Leighton%22%7D%5D%2C%22abstractNote%22%3A%22Cooperative%20behaviors%20are%20both%20prevalent%20and%20perplexing%20because%20selfish%20behaviors%20often%20return%20higher%20immediate%20fitness%20benefits.%20Additionally%2C%20cooperative%20behaviors%20are%20a%20prominent%20component%20of%20the%20human%20behavioral%20repertoire%20and%20therefore%20represent%20a%20useful%20teaching%20tool.%20To%20use%20cooperation%20as%20a%20teaching%20tool%2C%20I%20present%20software%20where%20students%20participate%20in%20a%20public%20goods%20game%20via%20a%20set%20of%20laptops%20connected%20to%20a%20Wi-Fi%20network.%20The%20public%20goods%20game%20entails%20multiple%20scenarios%20where%20students%20invest%20in%20a%20communal%20bank.%20The%20bank%20is%20then%20multiplied%20and%20money%20is%20divided%20and%20returned%20to%20all%20individuals%20equally.%20In%20this%20public%20goods%20game%2C%20students%20can%20partake%20in%20scenarios%20where%20reputation%20is%20displayed%2C%20as%20well%20as%20situations%20where%20individuals%20can%20punish%20players%20monetarily%20for%20not%20investing%20in%20the%20public%20good.%20Utilizing%20these%20scenarios%2C%20instructors%20can%20introduce%20fundamental%20concepts%20in%20evolution%20to%20students%20using%20intuitive%20interactive%20software.%22%2C%22date%22%3A%222014%22%2C%22language%22%3A%22%22%2C%22DOI%22%3A%2210.1186%5C%2Fs12052-014-0019-y%22%2C%22ISSN%22%3A%221936-6434%22%2C%22url%22%3A%22http%3A%5C%2F%5C%2Fdx.doi.org%5C%2F10.1186%5C%2Fs12052-014-0019-y%22%2C%22collections%22%3A%5B%22SYDUSCWH%22%2C%22BD66UTKR%22%2C%22GKIYCK9E%22%5D%2C%22dateModified%22%3A%222022-11-26T12%3A25%3A15Z%22%7D%7D%2C%7B%22key%22%3A%22AP6JJNBI%22%2C%22library%22%3A%7B%22id%22%3A4869801%7D%2C%22meta%22%3A%7B%22lastModifiedByUser%22%3A%7B%22id%22%3A9911611%2C%22username%22%3A%22dustin_eirdosh%22%2C%22name%22%3A%22Dustin%20Eirdosh%22%2C%22links%22%3A%7B%22alternate%22%3A%7B%22href%22%3A%22https%3A%5C%2F%5C%2Fwww.zotero.org%5C%2Fdustin_eirdosh%22%2C%22type%22%3A%22text%5C%2Fhtml%22%7D%7D%7D%2C%22creatorSummary%22%3A%22Lounsbury%20et%20al.%22%2C%22parsedDate%22%3A%222020%22%2C%22numChildren%22%3A0%7D%2C%22bib%22%3A%22%3Cdiv%20class%3D%5C%22csl-bib-body%5C%22%20style%3D%5C%22line-height%3A%202%3B%20padding-left%3A%201em%3B%20text-indent%3A-1em%3B%5C%22%3E%5Cn%20%20%3Cdiv%20class%3D%5C%22csl-entry%5C%22%3ELounsbury%2C%20D.%20W.%2C%20Fredericks%2C%20L.%2C%20Jimenez%2C%20C.%2C%20Martin%2C%20S.%20N.%2C%20Lim%2C%20J.%2C%20Nimmer%2C%20K.%2C%20Heo%2C%20M.%2C%20Levine%2C%20R.%2C%20Bouchard%2C%20M.%2C%20%26amp%3B%20Wylie-Rosett%2C%20J.%20%282020%29.%20Using%20Systems%20Thinking%20to%20Promote%20Wellness%20Program%20Planning%20and%20Implementation%20in%20Urban%20High%20Schools.%20In%20L.%20Schmitt%20Olabisi%2C%20M.%20McNall%2C%20W.%20Porter%2C%20%26amp%3B%20I.%20Zhao%20%28Eds.%29%2C%20%3Ci%3EInnovations%20in%20Collaborative%20Modeling%3C%5C%2Fi%3E%20%28pp.%20241%26%23x2013%3B266%29.%20Michigan%20State%20University%20Press.%20https%3A%5C%2F%5C%2Fdoi.org%5C%2F10.14321%5C%2Fj.ctvz9396g.16%3C%5C%2Fdiv%3E%5Cn%3C%5C%2Fdiv%3E%22%2C%22data%22%3A%7B%22itemType%22%3A%22bookSection%22%2C%22title%22%3A%22Using%20Systems%20Thinking%20to%20Promote%20Wellness%20Program%20Planning%20and%20Implementation%20in%20Urban%20High%20Schools%22%2C%22creators%22%3A%5B%7B%22creatorType%22%3A%22author%22%2C%22firstName%22%3A%22David%20W.%22%2C%22lastName%22%3A%22Lounsbury%22%7D%2C%7B%22creatorType%22%3A%22author%22%2C%22firstName%22%3A%22Lynn%22%2C%22lastName%22%3A%22Fredericks%22%7D%2C%7B%22creatorType%22%3A%22author%22%2C%22firstName%22%3A%22Camille%22%2C%22lastName%22%3A%22Jimenez%22%7D%2C%7B%22creatorType%22%3A%22author%22%2C%22firstName%22%3A%22Sarah%20N.%22%2C%22lastName%22%3A%22Martin%22%7D%2C%7B%22creatorType%22%3A%22author%22%2C%22firstName%22%3A%22Jean%22%2C%22lastName%22%3A%22Lim%22%7D%2C%7B%22creatorType%22%3A%22author%22%2C%22firstName%22%3A%22Kelly%22%2C%22lastName%22%3A%22Nimmer%22%7D%2C%7B%22creatorType%22%3A%22author%22%2C%22firstName%22%3A%22Moonseong%22%2C%22lastName%22%3A%22Heo%22%7D%2C%7B%22creatorType%22%3A%22author%22%2C%22firstName%22%3A%22Ralph%22%2C%22lastName%22%3A%22Levine%22%7D%2C%7B%22creatorType%22%3A%22author%22%2C%22firstName%22%3A%22Michelle%22%2C%22lastName%22%3A%22Bouchard%22%7D%2C%7B%22creatorType%22%3A%22author%22%2C%22firstName%22%3A%22Judith%22%2C%22lastName%22%3A%22Wylie-Rosett%22%7D%2C%7B%22creatorType%22%3A%22editor%22%2C%22firstName%22%3A%22Laura%22%2C%22lastName%22%3A%22Schmitt%20Olabisi%22%7D%2C%7B%22creatorType%22%3A%22editor%22%2C%22firstName%22%3A%22Miles%22%2C%22lastName%22%3A%22McNall%22%7D%2C%7B%22creatorType%22%3A%22editor%22%2C%22firstName%22%3A%22William%22%2C%22lastName%22%3A%22Porter%22%7D%2C%7B%22creatorType%22%3A%22editor%22%2C%22firstName%22%3A%22Inhua%22%2C%22lastName%22%3A%22Zhao%22%7D%5D%2C%22abstractNote%22%3A%22%22%2C%22bookTitle%22%3A%22Innovations%20in%20Collaborative%20Modeling%22%2C%22date%22%3A%222020%22%2C%22language%22%3A%22%22%2C%22ISBN%22%3A%22978-1-60917-629-7%22%2C%22url%22%3A%22%22%2C%22collections%22%3A%5B%22SYDUSCWH%22%2C%22QE3DGZ54%22%5D%2C%22dateModified%22%3A%222022-11-25T13%3A47%3A59Z%22%7D%7D%2C%7B%22key%22%3A%228TIF2CG6%22%2C%22library%22%3A%7B%22id%22%3A4869801%7D%2C%22meta%22%3A%7B%22lastModifiedByUser%22%3A%7B%22id%22%3A9911611%2C%22username%22%3A%22dustin_eirdosh%22%2C%22name%22%3A%22Dustin%20Eirdosh%22%2C%22links%22%3A%7B%22alternate%22%3A%7B%22href%22%3A%22https%3A%5C%2F%5C%2Fwww.zotero.org%5C%2Fdustin_eirdosh%22%2C%22type%22%3A%22text%5C%2Fhtml%22%7D%7D%7D%2C%22creatorSummary%22%3A%22McElreath%20and%20Boyd%22%2C%22parsedDate%22%3A%222007%22%2C%22numChildren%22%3A0%7D%2C%22bib%22%3A%22%3Cdiv%20class%3D%5C%22csl-bib-body%5C%22%20style%3D%5C%22line-height%3A%202%3B%20padding-left%3A%201em%3B%20text-indent%3A-1em%3B%5C%22%3E%5Cn%20%20%3Cdiv%20class%3D%5C%22csl-entry%5C%22%3EMcElreath%2C%20R.%2C%20%26amp%3B%20Boyd%2C%20R.%20T.%20%282007%29.%20%3Ci%3EMathematical%20Models%20of%20Social%20Evolution.%20A%20Guide%20for%20the%20Perplexed%3C%5C%2Fi%3E.%20University%20of%20Chicago%20Press.%3C%5C%2Fdiv%3E%5Cn%3C%5C%2Fdiv%3E%22%2C%22data%22%3A%7B%22itemType%22%3A%22book%22%2C%22title%22%3A%22Mathematical%20Models%20of%20Social%20Evolution.%20A%20Guide%20for%20the%20Perplexed%22%2C%22creators%22%3A%5B%7B%22creatorType%22%3A%22author%22%2C%22firstName%22%3A%22Richard%22%2C%22lastName%22%3A%22McElreath%22%7D%2C%7B%22creatorType%22%3A%22author%22%2C%22firstName%22%3A%22Robert%20T%22%2C%22lastName%22%3A%22Boyd%22%7D%5D%2C%22abstractNote%22%3A%22%22%2C%22date%22%3A%222007%22%2C%22language%22%3A%22%22%2C%22ISBN%22%3A%22978-0-226-55826-4%22%2C%22url%22%3A%22%22%2C%22collections%22%3A%5B%22SYDUSCWH%22%5D%2C%22dateModified%22%3A%222022-11-25T14%3A51%3A23Z%22%7D%7D%2C%7B%22key%22%3A%22ZZAZYUBK%22%2C%22library%22%3A%7B%22id%22%3A4869801%7D%2C%22meta%22%3A%7B%22creatorSummary%22%3A%22M%5Cu00fcller%20et%20al.%22%2C%22parsedDate%22%3A%222013%22%2C%22numChildren%22%3A0%7D%2C%22bib%22%3A%22%3Cdiv%20class%3D%5C%22csl-bib-body%5C%22%20style%3D%5C%22line-height%3A%202%3B%20padding-left%3A%201em%3B%20text-indent%3A-1em%3B%5C%22%3E%5Cn%20%20%3Cdiv%20class%3D%5C%22csl-entry%5C%22%3EM%26%23xFC%3Bller%2C%20B.%2C%20Bohn%2C%20F.%2C%20Dre%26%23xDF%3Bler%2C%20G.%2C%20Groeneveld%2C%20J.%2C%20Klassert%2C%20C.%2C%20Martin%2C%20R.%2C%20Schl%26%23xFC%3Bter%2C%20M.%2C%20Schulze%2C%20J.%2C%20Weise%2C%20H.%2C%20%26amp%3B%20Schwarz%2C%20N.%20%282013%29.%20Describing%20human%20decisions%20in%20agent%20based%20models%20-%20ODD%20%2B%20D%2C%20an%20extension%20of%20the%20ODD%20protocol.%20%3Ci%3EEnvironmental%20Modelling%20%26amp%3B%20Software%3C%5C%2Fi%3E%2C%20%3Ci%3E48%3C%5C%2Fi%3E%280%29%2C%2037%26%23x2013%3B48.%20%3Ca%20href%3D%27https%3A%5C%2F%5C%2Fdoi.org%5C%2Fhttp%3A%5C%2F%5C%2Fdx.doi.org%5C%2F10.1016%5C%2Fj.envsoft.2013.06.003%27%3Ehttps%3A%5C%2F%5C%2Fdoi.org%5C%2Fhttp%3A%5C%2F%5C%2Fdx.doi.org%5C%2F10.1016%5C%2Fj.envsoft.2013.06.003%3C%5C%2Fa%3E%3C%5C%2Fdiv%3E%5Cn%3C%5C%2Fdiv%3E%22%2C%22data%22%3A%7B%22itemType%22%3A%22journalArticle%22%2C%22title%22%3A%22Describing%20human%20decisions%20in%20agent%20based%20models%20-%20ODD%20%2B%20D%2C%20an%20extension%20of%20the%20ODD%20protocol%22%2C%22creators%22%3A%5B%7B%22creatorType%22%3A%22author%22%2C%22firstName%22%3A%22Birgit%22%2C%22lastName%22%3A%22M%5Cu00fcller%22%7D%2C%7B%22creatorType%22%3A%22author%22%2C%22firstName%22%3A%22Friedrich%22%2C%22lastName%22%3A%22Bohn%22%7D%2C%7B%22creatorType%22%3A%22author%22%2C%22firstName%22%3A%22Gunnar%22%2C%22lastName%22%3A%22Dre%5Cu00dfler%22%7D%2C%7B%22creatorType%22%3A%22author%22%2C%22firstName%22%3A%22J%5Cu00fcrgen%22%2C%22lastName%22%3A%22Groeneveld%22%7D%2C%7B%22creatorType%22%3A%22author%22%2C%22firstName%22%3A%22Christian%22%2C%22lastName%22%3A%22Klassert%22%7D%2C%7B%22creatorType%22%3A%22author%22%2C%22firstName%22%3A%22Romina%22%2C%22lastName%22%3A%22Martin%22%7D%2C%7B%22creatorType%22%3A%22author%22%2C%22firstName%22%3A%22Maja%22%2C%22lastName%22%3A%22Schl%5Cu00fcter%22%7D%2C%7B%22creatorType%22%3A%22author%22%2C%22firstName%22%3A%22Jule%22%2C%22lastName%22%3A%22Schulze%22%7D%2C%7B%22creatorType%22%3A%22author%22%2C%22firstName%22%3A%22Hanna%22%2C%22lastName%22%3A%22Weise%22%7D%2C%7B%22creatorType%22%3A%22author%22%2C%22firstName%22%3A%22Nina%22%2C%22lastName%22%3A%22Schwarz%22%7D%5D%2C%22abstractNote%22%3A%22Multiple%20agent-based%20models%20%28ABM%29%20on%20social-ecological%20systems%20exist%20in%20parallel%20investigating%20similar%20research%20questions.%20However%2C%20the%20choice%20of%20a%20particular%20human%20decision%20model%20is%20often%20not%20sufficiently%20empirically%20or%20theoretically%20substantiated%20in%20the%20model%20documentation.%20Furthermore%2C%20model%20comparison%20is%20difficult%20because%20model%20descriptions%20are%20often%20incomplete%2C%20intransparent%20and%20difficult%20to%20understand.%20Therefore%20we%20expand%20and%20refine%20the%20%5Cu2018ODD%5Cu2019%20%28Overview%2C%20Design%20Concepts%2C%20and%20Details%29%20protocol%20to%20establish%20a%20standard%20to%20describe%20ABMs%20which%20includes%20human%20decision%20making%20%28ODD%2BD%29.%20Since%20the%20original%20ODD%20is%20mainly%20from%20an%20ecological%20perspective%2C%20some%20adaptations%20are%20necessary%20for%20the%20social-%20ecological%20context.%20We%20extended%20and%20rearranged%20the%20design%20concepts%20and%20related%20guiding%20questions%20to%20differentiate%20and%20describe%20decision%20making%2C%20adaptation%20and%20learning%20of%20the%20agents%20in%20a%20comprehensive%20and%20clearly%20structured%20way.%20Furthermore%2C%20ODD%2BD%20encompasses%20a%20section%20on%20%5Cu2018Theoretical%20and%20empirical%20background%5Cu2019%20to%20encourage%20that%20model%20design%20and%20model%20assumptions%20are%20related%20more%20closely%20to%20theory.%20The%20application%20of%20ODD%2BD%20is%20illustrated%20with%20a%20description%20of%20a%20social-ecological%20ABM%20on%20water%20use.%20We%20believe%20that%20our%20expansions%20help%20to%20make%20the%20ODD%20protocol%20a%20most%20suitable%20protocol%20to%20describe%20social-ecological%20ABMs%20and%20may%20support%20the%20review%20process%20of%20related%20manuscripts.%20The%20ODD%2BD%20protocol%20does%20not%20only%20improve%20the%20quality%20of%20model%20descriptions%20but%20also%20improves%20our%20understanding%20of%20models%20and%20is%20an%20important%20necessary%20step%20forward%20developing%20theory%20respectively%20frameworks%20for%20social-%20ecological%20ABMs.%22%2C%22date%22%3A%222013%22%2C%22language%22%3A%22%22%2C%22DOI%22%3A%22http%3A%5C%2F%5C%2Fdx.doi.org%5C%2F10.1016%5C%2Fj.envsoft.2013.06.003%22%2C%22ISSN%22%3A%221364-8152%22%2C%22url%22%3A%22http%3A%5C%2F%5C%2Fwww.sciencedirect.com%5C%2Fscience%5C%2Farticle%5C%2Fpii%5C%2FS1364815213001394%22%2C%22collections%22%3A%5B%22SYDUSCWH%22%5D%2C%22dateModified%22%3A%222022-11-25T13%3A46%3A55Z%22%7D%7D%2C%7B%22key%22%3A%22E7A5ZCDA%22%2C%22library%22%3A%7B%22id%22%3A4869801%7D%2C%22meta%22%3A%7B%22lastModifiedByUser%22%3A%7B%22id%22%3A9911611%2C%22username%22%3A%22dustin_eirdosh%22%2C%22name%22%3A%22Dustin%20Eirdosh%22%2C%22links%22%3A%7B%22alternate%22%3A%7B%22href%22%3A%22https%3A%5C%2F%5C%2Fwww.zotero.org%5C%2Fdustin_eirdosh%22%2C%22type%22%3A%22text%5C%2Fhtml%22%7D%7D%7D%2C%22creatorSummary%22%3A%22Naivinit%20et%20al.%22%2C%22parsedDate%22%3A%222010-11%22%2C%22numChildren%22%3A0%7D%2C%22bib%22%3A%22%3Cdiv%20class%3D%5C%22csl-bib-body%5C%22%20style%3D%5C%22line-height%3A%202%3B%20padding-left%3A%201em%3B%20text-indent%3A-1em%3B%5C%22%3E%5Cn%20%20%3Cdiv%20class%3D%5C%22csl-entry%5C%22%3ENaivinit%2C%20W.%2C%20Le%20Page%2C%20C.%2C%20Tr%26%23xE9%3Bbuil%2C%20G.%2C%20%26amp%3B%20Gajaseni%2C%20N.%20%282010%29.%20Participatory%20agent-based%20modeling%20and%20simulation%20of%20rice%20production%20and%20labor%20migrations%20in%20Northeast%20Thailand.%20%3Ci%3EEnvironmental%20Modelling%20%26amp%3B%20Software%3C%5C%2Fi%3E%2C%20%3Ci%3E25%3C%5C%2Fi%3E%2811%29%2C%201345%26%23x2013%3B1358.%20%3Ca%20href%3D%27https%3A%5C%2F%5C%2Fdoi.org%5C%2F10.1016%5C%2Fj.envsoft.2010.01.012%27%3Ehttps%3A%5C%2F%5C%2Fdoi.org%5C%2F10.1016%5C%2Fj.envsoft.2010.01.012%3C%5C%2Fa%3E%3C%5C%2Fdiv%3E%5Cn%3C%5C%2Fdiv%3E%22%2C%22data%22%3A%7B%22itemType%22%3A%22journalArticle%22%2C%22title%22%3A%22Participatory%20agent-based%20modeling%20and%20simulation%20of%20rice%20production%20and%20labor%20migrations%20in%20Northeast%20Thailand%22%2C%22creators%22%3A%5B%7B%22creatorType%22%3A%22author%22%2C%22firstName%22%3A%22W.%22%2C%22lastName%22%3A%22Naivinit%22%7D%2C%7B%22creatorType%22%3A%22author%22%2C%22firstName%22%3A%22C.%22%2C%22lastName%22%3A%22Le%20Page%22%7D%2C%7B%22creatorType%22%3A%22author%22%2C%22firstName%22%3A%22G.%22%2C%22lastName%22%3A%22Tr%5Cu00e9buil%22%7D%2C%7B%22creatorType%22%3A%22author%22%2C%22firstName%22%3A%22N.%22%2C%22lastName%22%3A%22Gajaseni%22%7D%5D%2C%22abstractNote%22%3A%22%22%2C%22date%22%3A%222010-11%22%2C%22language%22%3A%22%22%2C%22DOI%22%3A%2210.1016%5C%2Fj.envsoft.2010.01.012%22%2C%22ISSN%22%3A%2213648152%22%2C%22url%22%3A%22http%3A%5C%2F%5C%2Flinkinghub.elsevier.com%5C%2Fretrieve%5C%2Fpii%5C%2FS1364815210000381%22%2C%22collections%22%3A%5B%22SYDUSCWH%22%5D%2C%22dateModified%22%3A%222022-11-25T15%3A12%3A52Z%22%7D%7D%2C%7B%22key%22%3A%22HFATAKVG%22%2C%22library%22%3A%7B%22id%22%3A4869801%7D%2C%22meta%22%3A%7B%22creatorSummary%22%3A%22Natalini%20et%20al.%22%2C%22parsedDate%22%3A%222019%22%2C%22numChildren%22%3A0%7D%2C%22bib%22%3A%22%3Cdiv%20class%3D%5C%22csl-bib-body%5C%22%20style%3D%5C%22line-height%3A%202%3B%20padding-left%3A%201em%3B%20text-indent%3A-1em%3B%5C%22%3E%5Cn%20%20%3Cdiv%20class%3D%5C%22csl-entry%5C%22%3ENatalini%2C%20D.%2C%20Bravo%2C%20G.%2C%20%26amp%3B%20Jones%2C%20A.%20W.%20%282019%29.%20Global%20food%20security%20and%20food%20riots%20%26%23x2013%3B%20an%20agent-based%20modelling%20approach.%20%3Ci%3EFood%20Security%3C%5C%2Fi%3E%2C%20%3Ci%3E11%3C%5C%2Fi%3E%285%29%2C%201153%26%23x2013%3B1173.%20%3Ca%20href%3D%27https%3A%5C%2F%5C%2Fdoi.org%5C%2F10.1007%5C%2Fs12571-017-0693-z%27%3Ehttps%3A%5C%2F%5C%2Fdoi.org%5C%2F10.1007%5C%2Fs12571-017-0693-z%3C%5C%2Fa%3E%3C%5C%2Fdiv%3E%5Cn%3C%5C%2Fdiv%3E%22%2C%22data%22%3A%7B%22itemType%22%3A%22journalArticle%22%2C%22title%22%3A%22Global%20food%20security%20and%20food%20riots%20%5Cu2013%20an%20agent-based%20modelling%20approach%22%2C%22creators%22%3A%5B%7B%22creatorType%22%3A%22author%22%2C%22firstName%22%3A%22Davide%22%2C%22lastName%22%3A%22Natalini%22%7D%2C%7B%22creatorType%22%3A%22author%22%2C%22firstName%22%3A%22Giangiacomo%22%2C%22lastName%22%3A%22Bravo%22%7D%2C%7B%22creatorType%22%3A%22author%22%2C%22firstName%22%3A%22Aled%20Wynne%22%2C%22lastName%22%3A%22Jones%22%7D%5D%2C%22abstractNote%22%3A%22Due%20to%20negative%20consequences%20of%20climate%20change%20for%20agriculture%20and%20food%20production%20shocks%20affecting%20different%20areas%20of%20the%20world%2C%20the%20past%20two%20decades%20saw%20the%20conditions%20of%20global%20food%20security%20increasingly%20worsen.%20This%20has%20resulted%20in%20negative%20consequences%20for%20the%20world%20economy%2C%20partly%20causing%20international%20food%20price%20spikes%20and%20social%20upheavals.%20In%20this%20paper%20we%20present%20statistical%20findings%20along%20with%20a%20preliminary%20version%20of%20an%20original%20agent-based%20model%20called%20the%20Dawe%20Global%20Security%20Model%20that%20simulates%20the%20global%20food%20market%20and%20the%20political%20fragility%20of%20countries.%20The%20model%20simulates%20the%20effects%20of%20food%20insecurity%20on%20international%20food%20prices%20and%20how%20these%2C%20coupled%20with%20national%20political%20fragility%20and%20international%20food%20trade%20can%2C%20in%20turn%2C%20increase%20the%20probability%20of%20food%20riots%20in%20countries.%20The%20agents%20in%20the%20model%20are%20the%20213%20countries%20of%20the%20world%20whose%20characteristics%20reflect%20empirical%20data%20and%20the%20international%20trade%20of%20food%20is%20also%20simulated%20based%20on%20real%20trade%20partnerships%20and%20data.%20The%20model%20has%20been%20informed%2C%20calibrated%20and%20validated%20using%20real%20data%20and%20the%20results%20of%20these%20procedures%20are%20presented%20in%20the%20paper.%20To%20further%20test%20the%20model%20we%20also%20present%20the%20model%5Cu2019s%20forecasts%20for%20the%20near%20future%20in%20terms%20of%20food%20prices%20and%20incidence%20of%20food%20riots.%20The%20Dawe%20Global%20Security%20Model%20can%20be%20used%20to%20test%20scenarios%20on%20the%20evolution%20of%20shocks%20to%20global%20food%20production%20and%20analyse%20consequences%20for%20food%20riots.%20Further%20developments%20of%20the%20model%20can%20include%20national%20responses%20to%20food%20crises%20to%20investigate%20how%20countries%20can%20influence%20the%20spread%20of%20global%20food%20crises.%22%2C%22date%22%3A%222019%22%2C%22language%22%3A%22%22%2C%22DOI%22%3A%2210.1007%5C%2Fs12571-017-0693-z%22%2C%22ISSN%22%3A%2218764525%22%2C%22url%22%3A%22https%3A%5C%2F%5C%2Fdoi.org%5C%2F10.1007%5C%2Fs12571-017-0693-z%22%2C%22collections%22%3A%5B%22SYDUSCWH%22%5D%2C%22dateModified%22%3A%222022-11-25T13%3A46%3A55Z%22%7D%7D%2C%7B%22key%22%3A%22VVL4SFZK%22%2C%22library%22%3A%7B%22id%22%3A4869801%7D%2C%22meta%22%3A%7B%22lastModifiedByUser%22%3A%7B%22id%22%3A9911611%2C%22username%22%3A%22dustin_eirdosh%22%2C%22name%22%3A%22Dustin%20Eirdosh%22%2C%22links%22%3A%7B%22alternate%22%3A%7B%22href%22%3A%22https%3A%5C%2F%5C%2Fwww.zotero.org%5C%2Fdustin_eirdosh%22%2C%22type%22%3A%22text%5C%2Fhtml%22%7D%7D%7D%2C%22creatorSummary%22%3A%22Orach%20et%20al.%22%2C%22parsedDate%22%3A%222020%22%2C%22numChildren%22%3A0%7D%2C%22bib%22%3A%22%3Cdiv%20class%3D%5C%22csl-bib-body%5C%22%20style%3D%5C%22line-height%3A%202%3B%20padding-left%3A%201em%3B%20text-indent%3A-1em%3B%5C%22%3E%5Cn%20%20%3Cdiv%20class%3D%5C%22csl-entry%5C%22%3EOrach%2C%20K.%2C%20Duit%2C%20A.%2C%20%26amp%3B%20Schl%26%23xFC%3Bter%2C%20M.%20%282020%29.%20Sustainable%20natural%20resource%20governance%20under%20interest%20group%20competition%20in%20policy-making.%20%3Ci%3ENature%20Human%20Behaviour%3C%5C%2Fi%3E%2C%20%3Ci%3E4%3C%5C%2Fi%3E%289%29%2C%20898%26%23x2013%3B909.%20%3Ca%20href%3D%27https%3A%5C%2F%5C%2Fdoi.org%5C%2F10.1038%5C%2Fs41562-020-0885-y%27%3Ehttps%3A%5C%2F%5C%2Fdoi.org%5C%2F10.1038%5C%2Fs41562-020-0885-y%3C%5C%2Fa%3E%3C%5C%2Fdiv%3E%5Cn%3C%5C%2Fdiv%3E%22%2C%22data%22%3A%7B%22itemType%22%3A%22journalArticle%22%2C%22title%22%3A%22Sustainable%20natural%20resource%20governance%20under%20interest%20group%20competition%20in%20policy-making%22%2C%22creators%22%3A%5B%7B%22creatorType%22%3A%22author%22%2C%22firstName%22%3A%22Kirill%22%2C%22lastName%22%3A%22Orach%22%7D%2C%7B%22creatorType%22%3A%22author%22%2C%22firstName%22%3A%22Andreas%22%2C%22lastName%22%3A%22Duit%22%7D%2C%7B%22creatorType%22%3A%22author%22%2C%22firstName%22%3A%22Maja%22%2C%22lastName%22%3A%22Schl%5Cu00fcter%22%7D%5D%2C%22abstractNote%22%3A%22Non-state%20actors%20play%20an%20increasingly%20important%20role%20in%20environmental%20policy.%20Lobbying%20by%20interest%20groups%20has%20been%20associated%20with%20policy%20stagnation%20and%20environmental%20degradation%20as%20well%20as%20with%20sustainable%20governance.%20However%2C%20little%20is%20known%20about%20how%20competition%20between%20economic%20and%20environmental%20interests%20influences%20the%20ability%20of%20governance%20systems%20to%20avoid%20undesirable%20outcomes.%20We%20investigate%20how%20competing%20interest%20group%20behaviour%20affects%20sustainable%20resource%20management%20by%20tracing%20the%20policy%20change%20process%20in%20a%20case%20study%20of%20the%20European%20Union%20fisheries%20policy%20and%20analysing%20its%20dynamics%20with%20an%20agent-based%20model.%20We%20find%20that%20formation%20of%20interest%20group%20coalitions%20in%20response%20to%20a%20perceived%20crisis%20can%20delay%20or%20prevent%20collapses%2C%20even%20when%20the%20competing%20interests%20have%20unequal%20resources.%20We%20attribute%20such%20outcomes%20to%20the%20emergence%20and%20timing%20of%20a%20%5Cu2018tug%20of%20war%5Cu2019%20mechanism%20between%20competing%20interest%20group%20coalitions.%20We%20argue%20that%20attempts%20to%20improve%20sustainable%20resource%20management%20must%20account%20for%20feedbacks%20from%20environmental%20change%20to%20behaviours%20of%20political%20actors.%22%2C%22date%22%3A%222020%22%2C%22language%22%3A%22%22%2C%22DOI%22%3A%2210.1038%5C%2Fs41562-020-0885-y%22%2C%22ISSN%22%3A%2223973374%22%2C%22url%22%3A%22http%3A%5C%2F%5C%2Fdx.doi.org%5C%2F10.1038%5C%2Fs41562-020-0885-y%22%2C%22collections%22%3A%5B%22SYDUSCWH%22%2C%2299GRK5IK%22%5D%2C%22dateModified%22%3A%222022-11-25T13%3A46%3A55Z%22%7D%7D%2C%7B%22key%22%3A%22W4TIHC68%22%2C%22library%22%3A%7B%22id%22%3A4869801%7D%2C%22meta%22%3A%7B%22lastModifiedByUser%22%3A%7B%22id%22%3A9911611%2C%22username%22%3A%22dustin_eirdosh%22%2C%22name%22%3A%22Dustin%20Eirdosh%22%2C%22links%22%3A%7B%22alternate%22%3A%7B%22href%22%3A%22https%3A%5C%2F%5C%2Fwww.zotero.org%5C%2Fdustin_eirdosh%22%2C%22type%22%3A%22text%5C%2Fhtml%22%7D%7D%7D%2C%22creatorSummary%22%3A%22Pepper%20and%20Smuts%22%2C%22parsedDate%22%3A%222001%22%2C%22numChildren%22%3A0%7D%2C%22bib%22%3A%22%3Cdiv%20class%3D%5C%22csl-bib-body%5C%22%20style%3D%5C%22line-height%3A%202%3B%20padding-left%3A%201em%3B%20text-indent%3A-1em%3B%5C%22%3E%5Cn%20%20%3Cdiv%20class%3D%5C%22csl-entry%5C%22%3EPepper%2C%20J.%20W.%2C%20%26amp%3B%20Smuts%2C%20B.%20%282001%29.%20Agent-based%20modeling%20of%20multilevel%20selection%3A%20The%20evolution%20of%20feeding%20restraint%20as%20a%20case%20study.%20%3Ci%3ENatural%20Resources%20and%20Environmental%20Issues%3C%5C%2Fi%3E%2C%20%3Ci%3E8%3C%5C%2Fi%3E%2C%2057%26%23x2013%3B68.%20%3Ca%20href%3D%27http%3A%5C%2F%5C%2Fdigitalcommons.usu.edu%5C%2Fcgi%5C%2Fviewcontent.cgi%3Farticle%3D1340%26context%3Dnrei%27%3Ehttp%3A%5C%2F%5C%2Fdigitalcommons.usu.edu%5C%2Fcgi%5C%2Fviewcontent.cgi%3Farticle%3D1340%26context%3Dnrei%3C%5C%2Fa%3E%3C%5C%2Fdiv%3E%5Cn%3C%5C%2Fdiv%3E%22%2C%22data%22%3A%7B%22itemType%22%3A%22journalArticle%22%2C%22title%22%3A%22Agent-based%20modeling%20of%20multilevel%20selection%3A%20The%20evolution%20of%20feeding%20restraint%20as%20a%20case%20study%22%2C%22creators%22%3A%5B%7B%22creatorType%22%3A%22author%22%2C%22firstName%22%3A%22John%20W.%22%2C%22lastName%22%3A%22Pepper%22%7D%2C%7B%22creatorType%22%3A%22author%22%2C%22firstName%22%3A%22B%22%2C%22lastName%22%3A%22Smuts%22%7D%5D%2C%22abstractNote%22%3A%22Evolutionary%20biologists%20are%20increasingly%20interested%20in%20the%20dynamics%20of%20multilevel%20selection%2C%20or%20selection%20acting%20simultaneously%20at%20more%20than%20one%20level%20in%20a%20hierarchy%20of%20reproducing%20entities%20%28e.g.%2C%20gene%2C%20chromosome%2C%20organelle%2C%20cell%2C%20organism%2C%20social%20group%2C%20multi-species%20community%29.%20Systems%20of%20linear%20equations%20are%20the%20usual%20tool%20for%20studying%20evolution%2C%20but%20are%20limited%20in%20their%20ability%20to%20capture%20important%20dynamics%20of%20multilevel%20selection.%20Here%20we%20use%20an%20agent-based%20model%20to%20study%20the%20evolution%20of%20cooperation%20in%20spatially%20structured%20populations.%20This%20work%20addresses%20the%20long-standing%20controversy%20over%20the%20role%20of%20%5C%22group%20selection%5C%22%2C%20or%20natural%20selection%20between%20versus%20within%20groups%20of%20interacting%20individuals.%20In%20an%20ecologically%20plausible%20setting%2C%20cooperative%20individuals%20with%20lower%20rates%20of%20food%20consumption%20compete%20reproductively%20against%20selfish%20individuals%20with%20higher%20rates%20of%20consumption.%20The%20results%20show%20that%20changing%20the%20spatial%20distribution%20of%20food%2C%20and%20thus%20the%20distribution%20of%20the%20individuals%20seeking%20it%2C%20can%20determine%20whether%20or%20not%20cooperation%20evolves.%20In%20this%20model%20cooperation%20evolved%20under%20a%20fairly%20wide%20range%20of%20parameter%20values%2C%20even%20without%20the%20kinship%20effects%20and%20discrete%20mixing%20phase%20that%20are%20sometimes%20thought%20to%20be%20necessary.%20We%20suggest%20that%20integrating%20equation-based%20analysis%20tools%20into%20agent-based%20models%20is%20a%20powerful%20way%20to%20study%20selection%20in%20systems%20with%20complex%20dynamics.%22%2C%22date%22%3A%222001%22%2C%22language%22%3A%22%22%2C%22DOI%22%3A%22%22%2C%22ISSN%22%3A%22%22%2C%22url%22%3A%22http%3A%5C%2F%5C%2Fdigitalcommons.usu.edu%5C%2Fcgi%5C%2Fviewcontent.cgi%3Farticle%3D1340%26context%3Dnrei%22%2C%22collections%22%3A%5B%22SYDUSCWH%22%2C%2299GRK5IK%22%5D%2C%22dateModified%22%3A%222022-11-25T13%3A46%3A55Z%22%7D%7D%2C%7B%22key%22%3A%22FZZF6XL5%22%2C%22library%22%3A%7B%22id%22%3A4869801%7D%2C%22meta%22%3A%7B%22lastModifiedByUser%22%3A%7B%22id%22%3A9911611%2C%22username%22%3A%22dustin_eirdosh%22%2C%22name%22%3A%22Dustin%20Eirdosh%22%2C%22links%22%3A%7B%22alternate%22%3A%7B%22href%22%3A%22https%3A%5C%2F%5C%2Fwww.zotero.org%5C%2Fdustin_eirdosh%22%2C%22type%22%3A%22text%5C%2Fhtml%22%7D%7D%7D%2C%22creatorSummary%22%3A%22Pepper%20and%20Smuts%22%2C%22parsedDate%22%3A%222002%22%2C%22numChildren%22%3A0%7D%2C%22bib%22%3A%22%3Cdiv%20class%3D%5C%22csl-bib-body%5C%22%20style%3D%5C%22line-height%3A%202%3B%20padding-left%3A%201em%3B%20text-indent%3A-1em%3B%5C%22%3E%5Cn%20%20%3Cdiv%20class%3D%5C%22csl-entry%5C%22%3EPepper%2C%20J.%20W.%2C%20%26amp%3B%20Smuts%2C%20B.%20B.%20%282002%29.%20A%20mechanism%20for%20the%20evolution%20of%20altruism%20among%20nonkin%3A%20Positive%20assortment%20through%20environmental%20feedback.%20%3Ci%3EAmerican%20Naturalist%3C%5C%2Fi%3E%2C%20%3Ci%3E160%3C%5C%2Fi%3E%282%29%2C%20205%26%23x2013%3B213.%20%3Ca%20href%3D%27https%3A%5C%2F%5C%2Fdoi.org%5C%2F10.1086%5C%2F341018%27%3Ehttps%3A%5C%2F%5C%2Fdoi.org%5C%2F10.1086%5C%2F341018%3C%5C%2Fa%3E%3C%5C%2Fdiv%3E%5Cn%3C%5C%2Fdiv%3E%22%2C%22data%22%3A%7B%22itemType%22%3A%22journalArticle%22%2C%22title%22%3A%22A%20mechanism%20for%20the%20evolution%20of%20altruism%20among%20nonkin%3A%20Positive%20assortment%20through%20environmental%20feedback%22%2C%22creators%22%3A%5B%7B%22creatorType%22%3A%22author%22%2C%22firstName%22%3A%22John%20W.%22%2C%22lastName%22%3A%22Pepper%22%7D%2C%7B%22creatorType%22%3A%22author%22%2C%22firstName%22%3A%22B%20B%22%2C%22lastName%22%3A%22Smuts%22%7D%5D%2C%22abstractNote%22%3A%22The%20evolution%20of%20altruism%20often%20requires%20genetic%20similarity%20among%20interactors.%20For%20structured%20populations%20in%20which%20a%20social%20trait%20affects%20all%20group%20members%2C%20this%20entails%20positive%20assortment%2C%20meaning%20that%20cooperators%20and%20noncooperators%20tend%20to%20be%20segregated%20into%20different%20groups.%20Several%20authors%20have%20claimed%20that%20mechanisms%20other%20than%20common%20descent%20can%20produce%20positive%20assortment%2C%20but%20this%20claim%20has%20not%20been%20generally%20accepted.%20Here%2C%20we%20describe%20one%20such%20mechanism.%20The%20process%20of%20%5C%22environmental%20feedback%5C%22%20requires%20only%20that%20the%20cooperative%20trait%20affects%20the%20quality%20of%20the%20local%20environment%20and%20that%20individuals%20are%20more%20likely%20to%20leave%20low-quality%20than%20high-quality%20environments.%20We%20illustrate%20this%20dynamic%20using%20an%20agent-based%20spatial%20model%20of%20feeding%20restraint.%20Depending%20on%20parameter%20settings%2C%20results%20included%20both%20positive%20assortment%20%28required%20for%20the%20evolution%20of%20altruism%29%20and%20negative%20assortment%20%28required%20for%20the%20evolution%20of%20spite%29.%20The%20mechanism%20of%20environmental%20feedback%20appears%20to%20be%20a%20general%20one%20that%20could%20play%20a%20role%20in%20the%20evolution%20of%20many%20forms%20of%20cooperation.%22%2C%22date%22%3A%222002%22%2C%22language%22%3A%22%22%2C%22DOI%22%3A%2210.1086%5C%2F341018%22%2C%22ISSN%22%3A%220003-0147%22%2C%22url%22%3A%22%22%2C%22collections%22%3A%5B%22SYDUSCWH%22%5D%2C%22dateModified%22%3A%222022-11-25T13%3A46%3A55Z%22%7D%7D%5D%7D