The Evolving Schools project works to advance interdisciplinary research for exploring the values and everyday theories of students, teachers, and parents about the origins, purpose, and future of schooling in their community, and globally.
We are interested in the big questions about the nature of schooling as it relates to human origins, diversity, and flexibility.
Evolving Schools has a global scope, aiming to collaborate with school communities across cultural, social, and economic contexts.
The core project emerged in March 2020, from within the Community Science Lab at the Department of Comparative Cultural Psychology within the Max Planck Institute for Evolutionary Anthropology. Early iterations focused on student, teacher, and parent conceptions of the value and causal validity of highly egalitarian school models informed by perspectives in evolutionary anthropology.
Today, Evolving Schools is a multifaceted network of projects and resources to empower students and school communities in using interdisciplinary human sciences as an engine for school improvement.
The scientific advisory and research development branch of the Evolving Schools ecosystem.
The Evolving Schools Summer Institute is a unique series of global online and in person (in Leipzig) events, planned to unfold during June 2023.
Evolving Schools Regional Workshop Models are collections of resources and ideas for teacher education and school innovation research groups to organize around as part of local school improvement strategies.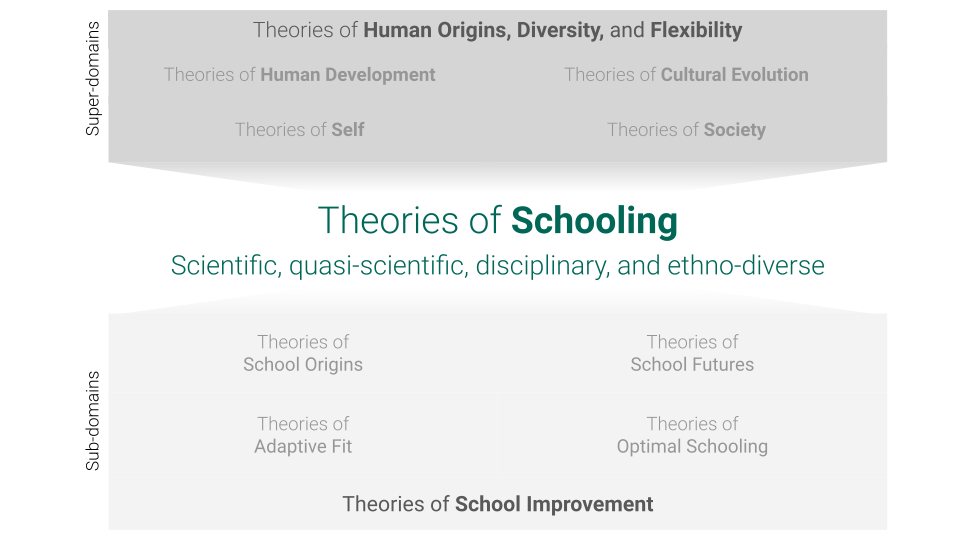 Theories of Schooling​ All humans that grow up attending or adjacent to schools are likely to develop intuitive everyday "theories" about the nature, purpose, function, and potential optimization of schooling within society. 
This exploratory work led to the conceptualization of Theories of Schooling as a broad construct representing the critical cultural dimension of how individuals and communities conceptualize the value and purpose of schooling in society. 
The iteration moving forward builds on this work, but seeks to advance a more accessible protocol usable across developmental and cultural contexts. 
By documenting the global diversity in Theories of Schooling, we can gain foundational insights into universal and culturally specific reasoning about a dominant source of cultural transmission, and simultaneously drive an innovative pathway towards community-based school improvement. 
Related resources on OpenEvo
Schools as Field Sites Part of our Community Science Lab model involves the active development of conceptualizing schools as field sites for community-based cultural evolution.
Rapid Ethnographic Assessment (REA) is a framework for developing rapid, reliable, and valuable assessments of school or community culture.
Community Science Lab Our Community Science Lab model engages school students in applied projects that seek to understand and influence the cooperation dynamics relevant to
Evolving Schools is centrally coordinated by the OpenEvo Educational Innovation Labs within the Department of Comparative Cultural Psychology at the Max Planck Institute for Evolutionary Anthropology, in collaboration with our regional and international partners..