A Teacher's Guide to Evolution, Behavior, and Sustainability Science
One of the core educational opportunities provided by evolution, behavior and sustainability sciences is the rich interdisciplinary nature of their core concepts, principles, methods, and skills.
How can you engage your students in understanding these concepts and developing these skills?
Our creative commons teacher's guide is a great place to start! Providing a fun and easy read, the guide will walk you through the big picture of current scientific thinking across evolution, behavior and sustainability science, in ways that are relevant for students of all ages, across traditional school subjects.
This guide is intended for educators, students, and others, from all subjects and grade levels, interested in advancing Education for Sustainable Development through the lens of Evolutionary Anthropology. Education for Sustainable Development (ESD) is a UNESCO-led global program. The aim is to promote skills and understandings in students in relation to the challenges of global sustainability, enhancing the capacity of communities to take action towards shared values and goals. Many approaches, frameworks, and teaching materials already exist worldwide to support these aims. Our approach to ESD is informed by the human sciences that offer a valuable lens for understanding the challenges and solutions to sustainability from local to planetary scales of social organization.
The purpose of this guide is to offer an introduction to the big ideas and core understandings from across the evolutionary, behavioral, and sustainability sciences. A set of practical tools for teachers can help you to adapt and design lessons for classrooms anywhere in the world.
This guide outlines three practical design principles, nine content anchors, a number of teaching tools and pedagogical approaches that can be integrated to create a wide diversity of lessons and units working towards the big understandings of human evolution, behavior, and sustainable development. Links to specific teaching materials are provided at the end.
In this second edition of the teachers guide, we have added some new content, including a section on Community Science to help students and teachers apply their understanding of human behavior to address real-world challenges in their communities. We invite you to get involved! Think about how the ideas and content in this guide relate to your everyday experience and to your classroom learning aims. Try things out and connect with us to share your experiences or ask us a question.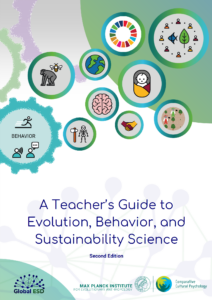 Teaching material type

Reading text

,

Teacher's Guide
Subject Areas

Biology

,

Civics

,

Economics

,

ESD

,

Ethics

,

Human Evolution

,

Interdisciplinary

,

Language

,

Philosophy

,

Politics

,

School Improvement

,

Social Studies

,

Social-Emotional Learning
Learning Goals

Cooperation Competency

,

Critical Thinking

,

Evaluation Competency

,

Evolutionary Thinking

,

Future Thinking

,

Interdisciplinary Thinking

,

Metacognitive Competency

,

Systems Thinking
Suitable Grade Levels

9-12

,

Expert

,

Teacher education

,

Undergraduate
Concepts

Biological evolution

,

Cooperation

,

Cultural evolution

,

Sustainability

,

Sustainable resource use
Content Anchors​

Ancient Ancestors

,

Child development

,

Common-Pool Resource management

,

Computer Models

,

Cooperation Games

,

Cross-species

,

Cultural diversity

,

Games

,

Our Mind

,

Sustainable Development Goals
Attribution-NonCommercial-ShareAlike [CC BY-NC-SA]